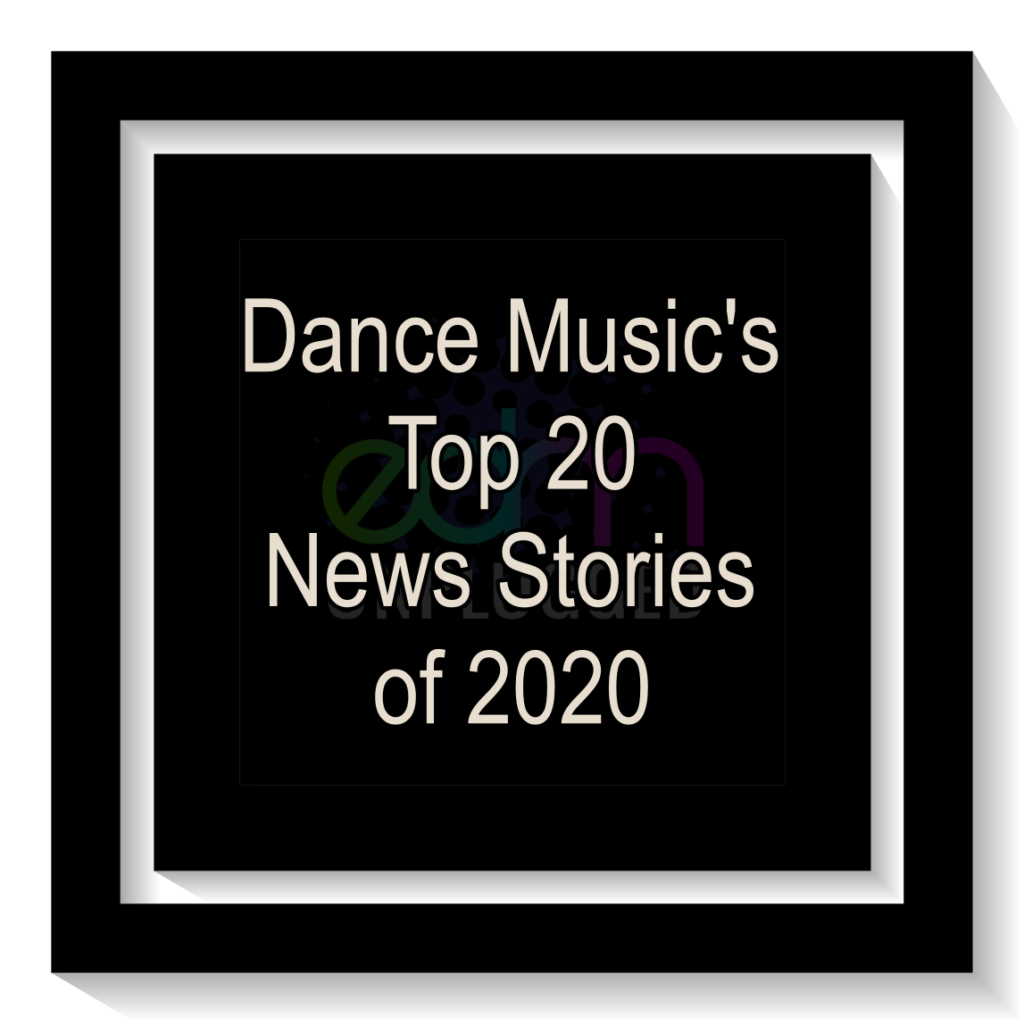 EDM's Top 20 News Stories of 2020 – Year In Review
Phew! We have managed to survive one of the most trying years that will go down in history. 2021 is finally here as everyone holds high hopes and dreams that the world will become a safer place.
In March, COVID-19 changed the world overnight as face masks and hand sanitizer suddenly became just as important when leaving your house as your keys and your cell-phone. In doing so, the pandemic also turned the entire music industry upside down as live entertainment was put on hold and artists were scrambling to find alternative ways to make money. This resulted in the music industry suffering a tremendous loss in 2020.
However, instead of isolating, the dance music industry united as artists began to perform for charity events and a number of tracks were released to help those in need. To make the most of the situation, livestreams and drive-ins became the new norm while virtual reality experiences for those at home also became viable means of entertainment.
Now, with 2021 officially here, the industry has high expectations that the live entertainment sector will return with a vengeance. Major music festivals have already announced dates and lineups for the coming year as the industry holds its breath in anticipation.
Let's take one final look back to see what a whirlwind of a year it has been with EDM's Top 20 news stories of 2020.
Industry News:
The International Music Summit (IMS) Business reported that the Electronic Dance music industry could estimate a falling worth of 56% of its income by the end of this year, dropping to $3.3 billion.
Live concert revenue is expected to drop 64% in 2020, a staggering $18 billion dollar drop as reported by PricewaterhouseCoopers (PwC) in their Global Entertainment & Media Outlook. The report also estimates that $17 billion has been depleted from the value of the global music industry as a whole.
The National Independent Venue Association (NIVA) urged Mr. President Trump to work with legislators on emergency funding for the live entertainment sector of the country as he announced in a tweet that he would be walking away from any further stimulus funding until after the presidential election on Nov. 3.
Artist News:
Electronic bass act Bassnectar announced that he would be taking a "step back" from his career following reported allegations of sexual misconduct, manipulative and abusive behavior from multiple sources made public through an Instagram account.
DJ Erick Morillo was found dead in his Miami Beach home according to Miami Beach Police. The artist who was near and dear to so many fans in the dance music industry paved the way for house music and was most commonly remembered by his hit tracks, "I Like To Move It" and "Muevelo."
World-renowned DJ/producer i_o has died at the age of 30. The news was shared on his social media accounts on Monday, November 23, 2020, with the cause of death still yet to be revealed.
Dubstep DJ Cookie Monsta died at age 31 on Friday. Circus Records, the artist's recording label, reported in a statement on Twitter with no cause of death issued in the statement.
Livestreams & VR Experiences:
It was reported that the first virtual festival, Tomorrowland Around the World earned 1 million subscribers, 150% more with its pay-per-view edition.
Hydeout has secured Don Diablo, Flux Pavilion, Martin Garrix, Nicky Romero, Sam Feldt, and more on its new digital music platform, which is scheduled to launch in 2021.
David Guetta announced that he will be the newest addition to the social virtual reality (VR) platform, Sensorium Galaxy as he is scheduled to feature a series of exclusive performances that will allow fans from around the world to be closer to the artist like never before.
Live Entertainment:
Insomniac's announced a brand-new socially-distantPark 'N Rave concert series, which is scheduled to kick-off with a performance by Maceo Plex.
Bonnaroo announced in a statement on Twitter that it would be rescheduling its three-day festival to Sept. 2-5, 2021 due to COVID-19 concerns.
Tomorrowland spokesperson Debby Wilmsen noted that the festival is looking to make up for its recent cancellation of the 2020 event due to the Coronavirus pandemic by making its 2021 edition a monumental three-weekend festival.
Insomniac announced EDC Portugal 2021 to celebrate the 25th anniversary of EDC. The festival is scheduled to take place at Praia da Rocha, Portugal from June 18-20, 2021.
Amsterdam Dance Event 2021 (ADE) announced dates for next year's edition, which is scheduled to take place from Oct. 13-17, 2021 in the Netherlands.
Awards Shows:
The 2020 MTV Europe Music Awards announced this year's winners on Sunday, Nov. 8, 2020, as it aired in over 180 countries worldwide.
David Guetta has been crowned the World's #1 DJ by DJ Mag's Top 100 DJ poll. The world-renowned French DJ/producer was presented his award during Amsterdam Music Festival's virtual award show on AMFTV.
Charlotte de Witte was crowned #1 Alternative Top 100 DJs 2020 by DJ Mag and Beatport. Rising from last year's #7 position, the techno artist has dethroned the title from Carl Cox who has reigned at the #1 position since the list launched in 2018.
The Top 101 Producers of 2020 have been announced by 1001 Tracklists. Securing this year's #1 position is Heldeep Records Founder, Oliver Heldens.
The 2021 Grammy Awards Nominations were announced for the upcoming 2021 Grammy Awards. In dance music, appearing in both categories for Best Dance/Electronic Recording and Best Dance/Electronic Album is Disclosure and Kaytranada.
That round's out our year in review of EDM's Top 20 news stories of 2020. Be sure to check out our monthly wrap-up articles under "Month In Review" where we feature the top tracks of each month.