Groove Cruise Virtual Sail Aways Live revealed dates and lineup for its September edition, which is scheduled to take place this forthcoming weekend from Sept. 25-27 on Groove Cruise's Twitch channel here.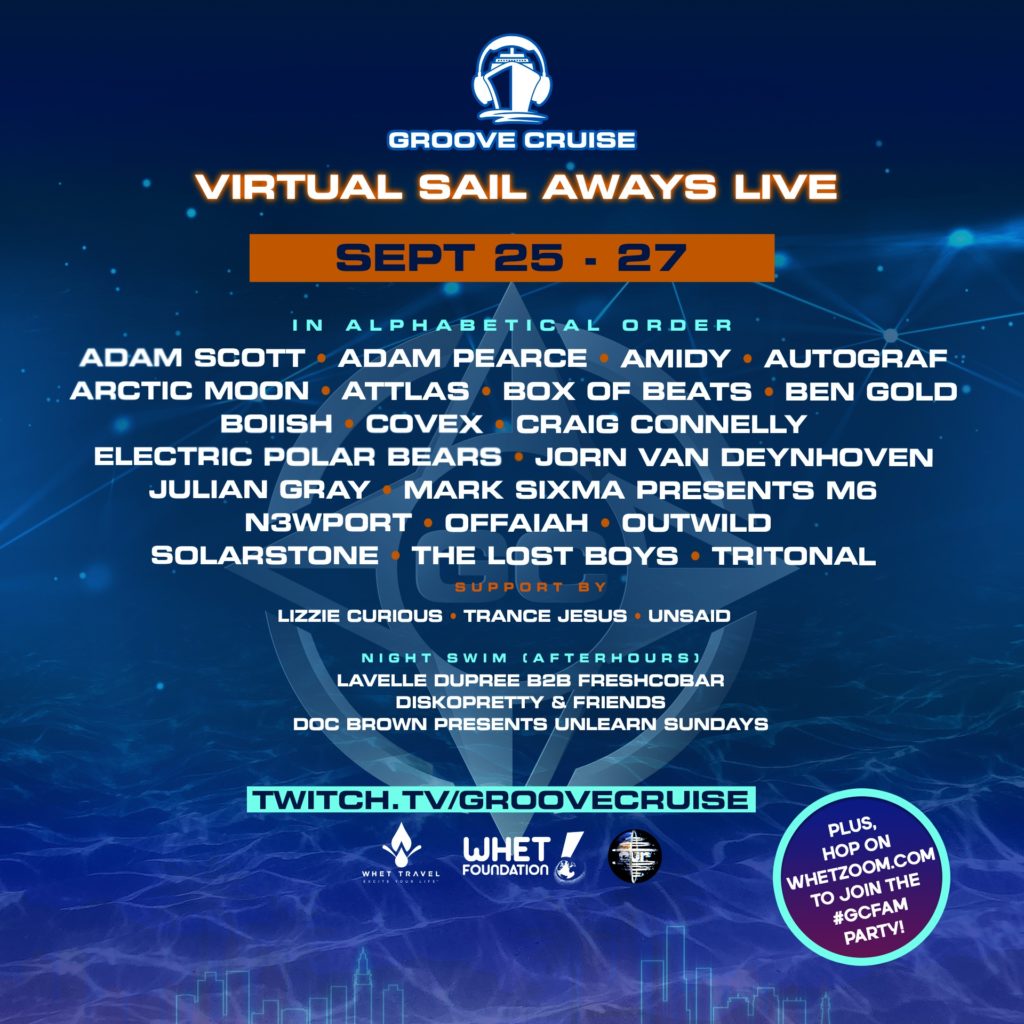 Virtual Sail Aways Live's September edition will welcome headlining performances by Tritonal, Autograf, Jorn Van Deynhoven, Solarstone, and more who will be performing live from various locations around the world including the United Kingdom, The Netherlands, Poland, Miami, Las Vegas, Los Angeles, and San Francisco.  Fans can expect to see over 30 artists perform in support of The Whet Foundation's Relief Fund with mixed visuals, #GCFAM parties, and live talent all weekend long.  
The live-stream will also feature a number of donation incentives including Groove Cruise merchandise, artist activities, and backstage experiences for next year's forthcoming Groove Cruise Miami trip which will set sail on Jan. 7-11, 2021.
This online music festival will also feature Whet Travel's interactive WhetZoom video chat room for viewers to watch, dance, and donate together, simulating an in-person Groove Cruise sailing. Further, the event will be hosting its Groove Cruise Night Swim After Hours series which will feature over 24 hours of entertainment with its usual costume changes and pizza deliveries.
Groove Cruise Virtual Sail Aways Live last stream saw a record-breaking 640,000 live viewers totaling up to 6.19 million minutes watched, allowing Whet Travel to send out 250 relief grants to those facing hardships during this time.
The Whet Travel Foundation's Relief Fund is a nonprofit focused on giving back for anyone dealing with difficulties and creates exciting experiences for underprivileged children in South Florida, the Caribbean, and Mexico.
Whet Travel is a leader in music cruise experiences. Groove Cruise is the first event of its kind which sails from Miami and California each year taking its sailors to exclusive destinations while featuring performances by some of the most revered names in dance music. For additional information regarding next year's edition, please visit Groove Cruise's official webpage or follow the event on social media.