LA Gives Back, presented by Brownies & Lemonade and IHEARTCOMIX revealed its set times for its 24-hour telethon, which is scheduled to take place on December 18 at 5 pm PST exclusively on Twitch here.
LA Gives Back 24 hour Global Telethon Trailer
Marking the fifth annual benefit series for the homeless, LA Gives Back will feature a slew of performances from over 50 acts including A-Trak, AC Slater, Tom Morello, Madeon, Eric Andrew, Matt Berninger (The National), Duff McKagan (Guns N' Roses), Mija, Claud, Pussy Riot, Rufus Wainwright, Baauer & Holly, Crush Club, Manilla Killa, and Snakeships.
This announcement also included additional performances by Claude VonStroke, Dugong Jr., Sarah Squirm, Christian Lee Hutson, Jon Daly, and many more. Please see the complete list of artists, set-times, and appearances below.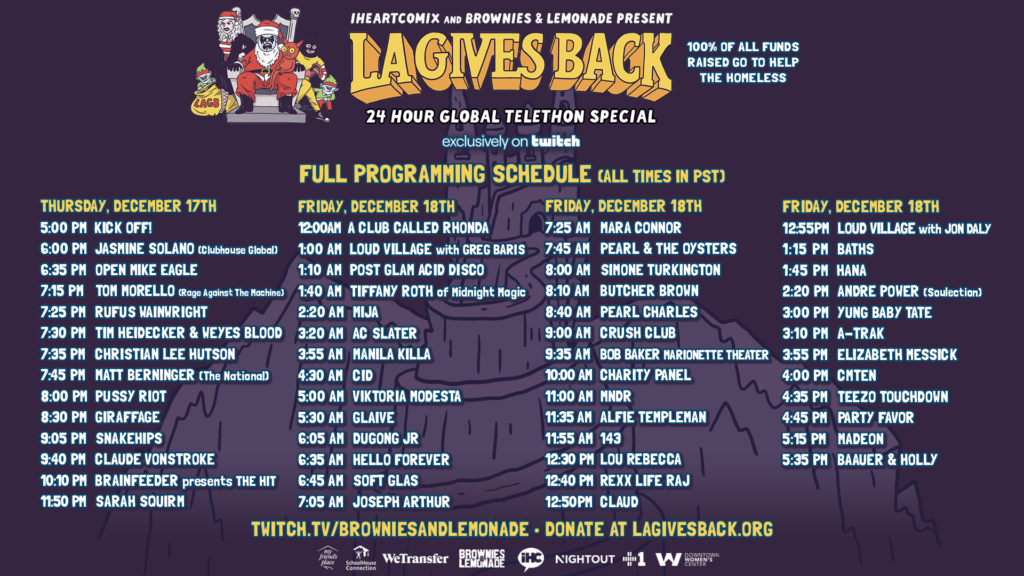 "LA gives back has been a tradition for us the past 4 years. We knew we had to figure out a way to make this event happen again this year so we're very excited to produce this 24-hour stream with IHC exclusively on Twitch. This time, we get to showcase our wild holiday event to the world."

Brownies & Lemonade
Between 2016-2019, the Los Angeles music community united to raise over $200,000 for local charities Downtown Women's Center and My Friend's Place, to bring attention to the homeless epidemic in their backyard.
Due to COVID-19, this year's edition will be held virtually with all proceeds going national with SchoolHouse Connection added. To support SchoolHouse Connection, Downtown Women's Center, and My Friend's Place, LA Gives Back is partnering with Fandiem to give fans an opportunity to donate to receive exclusive experiences and prizes. Some of the prizes include an Ariana Grande mega merchandise pack, a hilarious case of ranch dressing signed by comedian Eric Andre, a limited edition Sofi Tukker x Solé bicycle, and much more. To donate or for more information about Fandiem, please visit the event's official Fandiem page.
For additional information about LA Gives Back, please visit their official website.
IHEARTCOMIX and Brownies & Lemonade Present:
LA GIVES BACK 5
A Special Holiday Benefit for the Homeless
Thursday, DECEMBER 17, 2020
@ 5PM PST until Friday, DECEMBER 18, 2020 @ 5PM PST