On Aug. 13, Groove Cruise announced details for an end-of-summer, Livestream event, 'Virtual Sail Aways Live,' which is scheduled to take place from Aug. 21-23, 2020 on their Twitch channel.
The live stream, which is scheduled to feature performances by over 30 electronic music and live performance artists will feature headlining performances by Markus Schulz, Morgan Page, Nifra, Emma Hewitt, and many more.  For a complete lineup, please see the below flyer.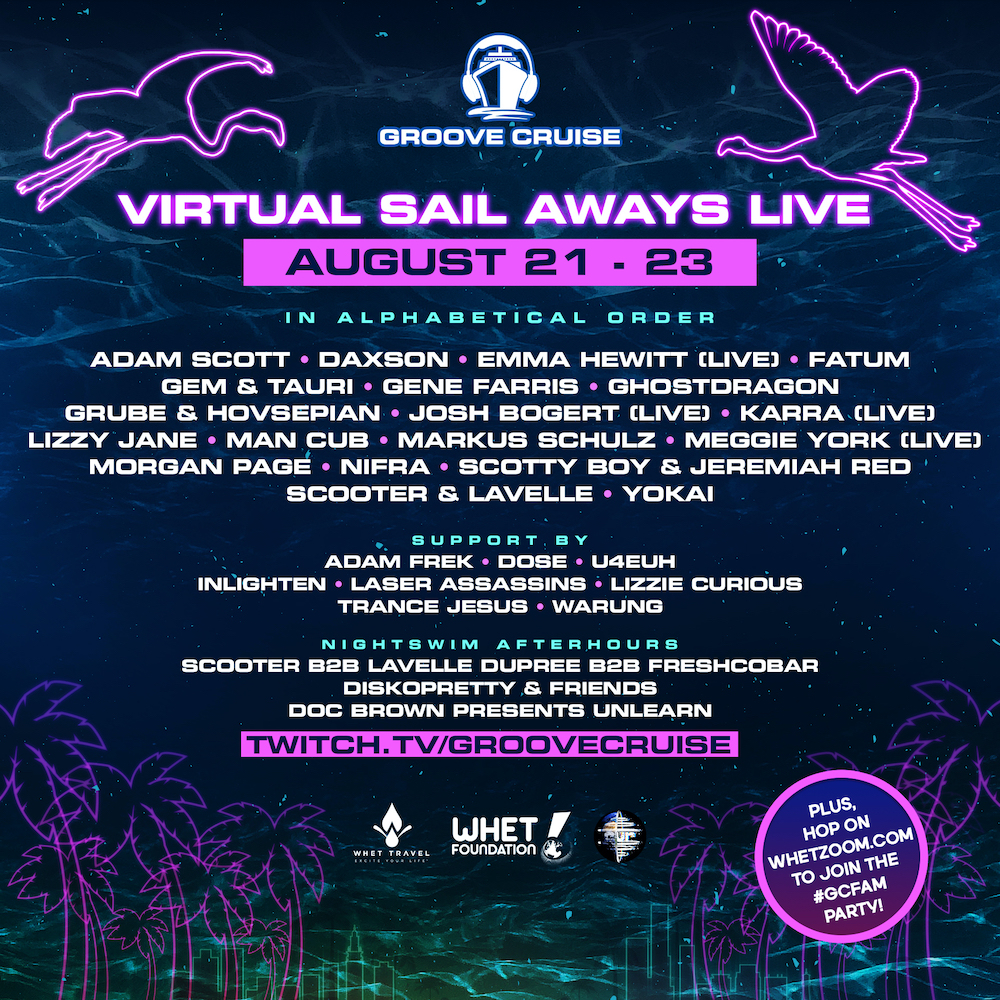 The event will also include a Night Swim After Hours event, which is reputed to stream for over 24 hours with live music.  Also featured amidst the stream will be Whet Travel's interactive WhetZoom video chat room for viewers to watch, dance, and donate together, simulating an in-person Groove Cruise sailing.
Whet Travel, the pioneers behind the first floating music festival, revealed that there will also be donation incentives including free Groove Cruise merchandise, Artist Activities, and backstage experiences aboard their upcoming Miami sailing on Jan 7-11, 2021.
All proceeds will go to Whet Travel's 501c3 nonprofit that focuses on giving back to those facing hardships and creates exciting experiences for underprivileged children in South Florida, the Caribbean, and Mexico.   Groove Cruise's previous virtual extravaganza saw over 100,000 viewers across all platforms. 
The Groove Cruise Twitch will be the main hub and where donations will be collected. It will also go live on Groove Cruise Facebook, Youtube, Zoom, and Instagram pages, and we will also go live on artist, media, and partner pages, such as EVR Worldwide, to generate more exposure and donations. Each day is expected to feature over 11 hours of live entertainment and music.