On Aug. 13, Beatport Reconnect announced a fundraising partnership between Nicole Moudaber, WILD Tulum, and Factory People to present a 2-part DJ marathon titled, 'Together For Beirut' on Saturday, Aug. 22 and Saturday, Sept. 23, 2020.
The 2-day event will feature 24 DJs within a 24-hour timeframe.  Featuring performances by (listed alphabetically): Anane, Anna, Behrouz, Carl Cox, Chris Liebing, Damian Lazarus, Dubfire, John Digweed, Juliet Fox, Kaz James, Louie Vega, Luigi Madonna, Nic Fanciulli, Nicole Moudaber, Paco Osuna, Pan-Pot, Sama' Abdulhadi, Victor Calderone, Victor Ruiz, Wehbba, Yousef and many more still yet to be announced.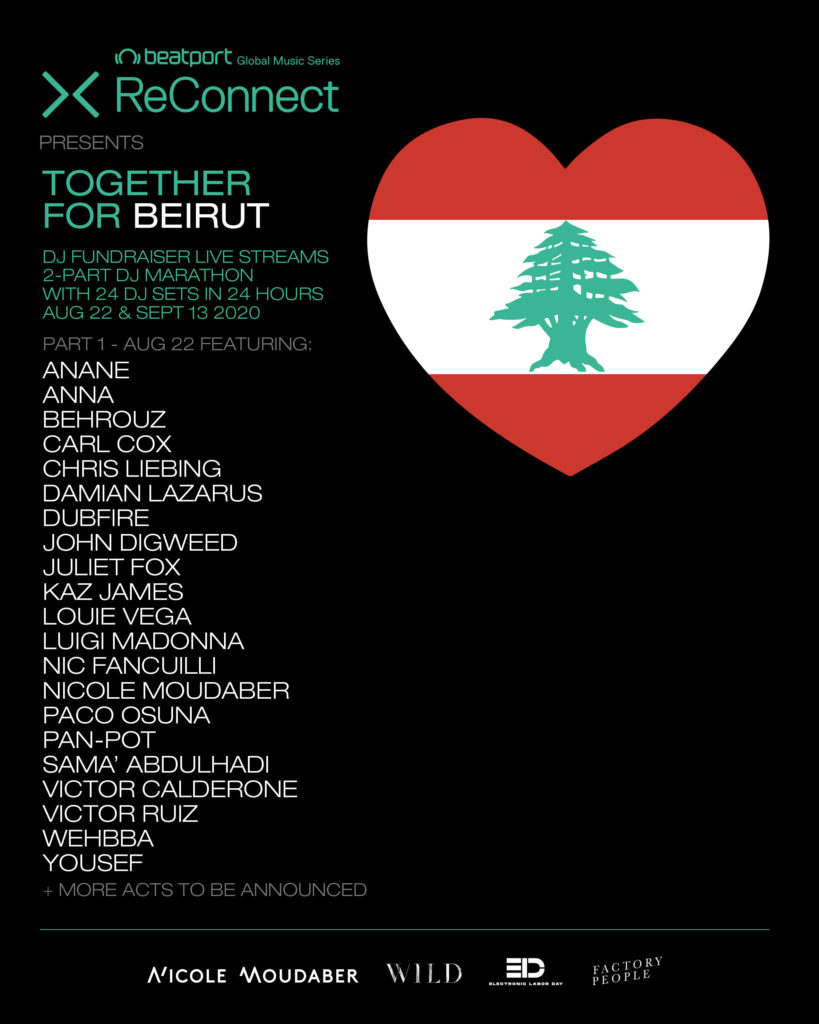 With COVID-19 wreaking havoc across the world, Lebanon was faced with another disaster as an explosion devastated Beirut last week and affected hundreds of thousands of people.  'Together For Beirut' will be a fundraising online event, which will help those in need during these difficult times.
Presented by Beatport, who has been at forefront of live streaming since the pandemic hit, the music platform will aim to raise over $250,000 in disaster relief funds for those in dire need.
"These fundraising events will provide much-needed relief and support to the people of Beirut and the many affected by the recent tragedy. Officials estimate the explosion caused up to $15 billion (£11.5bn) of damage. International financial aid and support have been overwhelming, but it's not enough. We must support in any way we can to help, and in addition, our efforts will also be helping the music and arts industry of Lebanon which has been wiped out."

– Nicole Moudaber
To be a part of the monumental live stream, tune into Beatport's Twitch Channel at the following link on Aug. 22 from 6 pm BST. and on Sept. 13 from 4 pm BST.  All donations will go to Impact Lebanon to support local essential NGOs such as the Lebanese Red Cross,  Arcenciel, and music and arts-related charities in Beirut.