Barcelona-based festival Primavera Sound announced a New Year's Eve livestream titled, Fuck 2020, which is scheduled to take place on December 31, 2020, from 7:00 pm – 3 am on the festival's official Facebook Page.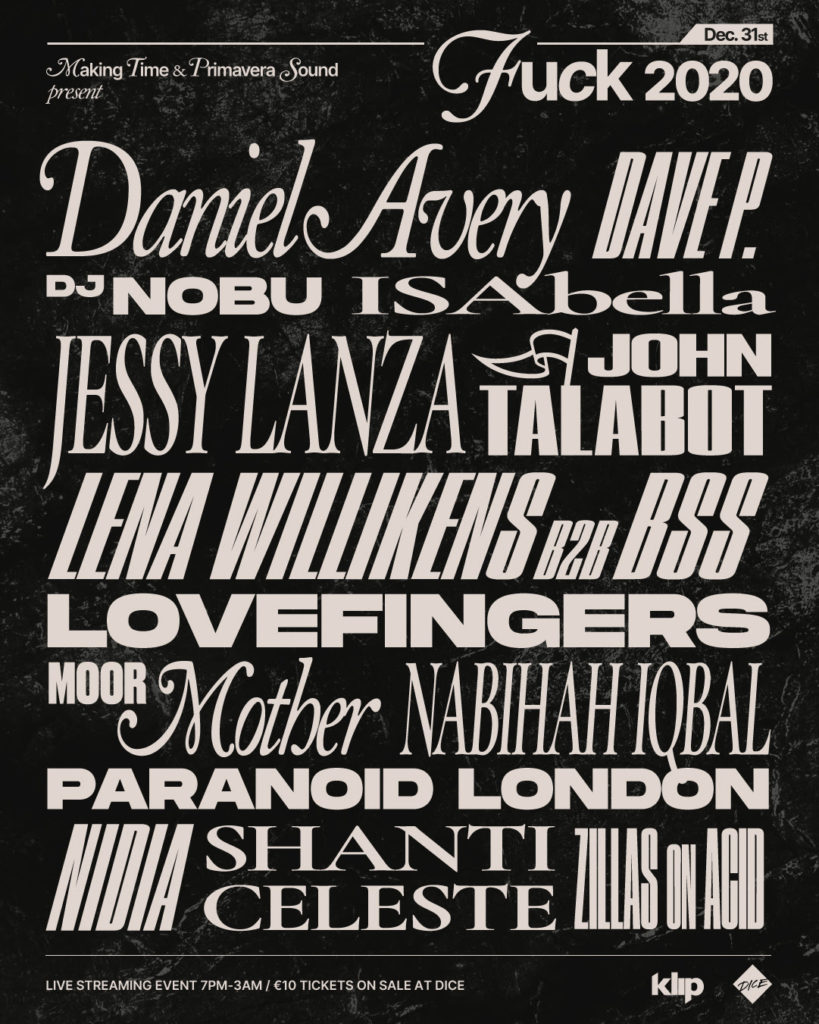 Celebrating what would be their monumental 20th-anniversary, Primavera Sound's New Year's Eve party is scheduled to feature legendary performances by John Talabot, DJ Nobu, Daniel Avery, Jessy Lanza, Paranoid London, and Lena Willikens b2b BSS, to name a few.
Fuck 2020 will be a collaborative worldwide farewell to the year that will stream over a dozen DJ sets from futuristic musical pioneers during eight uninterrupted hours of music. The internationally recognized festival teamed-up with Philadelphia's legendary transcendental sound experience Making Time to close out the year fittingly. Developed by Ricardo Rivera of Philadelphia's Klip Collective, Primavera Sound's New Year's Eve livestream is set to feature futuristic staging through holographic technology and ring in the new year at midnight.
Tickets are currently on sale now for the New Year's Eve event on DICE for € 10. All proceeds from the event will go to the artists directly with one euro of each ticket donated to Philadelphia Lawyers for Social Equity and the Plus 1 for Black Lives Fund.
Primavera Sound – New Year's Eve will be able to be streamed in each of the following six time zones: EST (United States), PST (United States, Canada, and Mexico), CET (Europe and North Africa), WET (Europe and Africa), JST (Japan) and AEST (Australia). For additional information on the event, please visit Primavera Sound's official website.