Amsterdam Music Festival (AMF) 2020 announced this year's lineup for its virtual event, which is scheduled to air live on AMF.TV on Nov. 7 at 8 pm CET (2 pm EST).
Last year marked the festival's fastest-ever selling edition of all time and this year AMF will be returning bigger than ever before.  With headlining performances by Afrojack, Armin van Buuren, David Guetta, Don Diablo, and Nicky Romero, Amsterdam Music Festival will be streaming its headlining sets live from various famous locations in Amsterdam.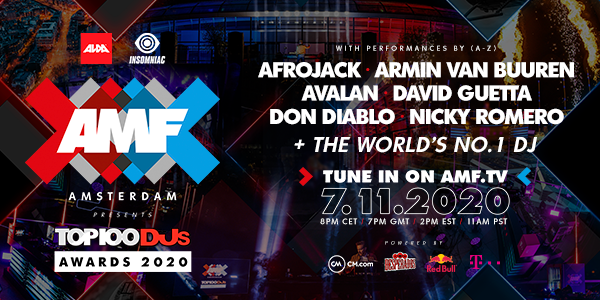 Amsterdam Music Festival 2020 will be joining forces with DJ Mag to present this year's Top 100 DJs Awards. Therefore, there will also be a performance by the crowning #1 DJ of 2020.
Amsterdam Music Festival is an annual electronic music festival typically held during Amsterdam Dance Event. The festival works in collaboration with DJ Mag to announce the Top 100 DJs each year where several prizes are awarded, among which is the award for the #1 DJ in the world.
Since its inaugural edition in 2013, the event has expanded and now features a new concept: "II=I" (pronounced two is one) where during the event they let two DJs or DJ-acts perform a special back-to-back set. Subscribe here to receive Amsterdam Music Festival 2020 updates and news. Tune into AMF.TV here, to see the virtual event broadcast on Nov. 7.