Carl Cox will kick-off Ibiza Soul Food on December 12, 2020, which will be an online series of events to support the Ibiza Food Bank to those in urgent need of food on the beloved island.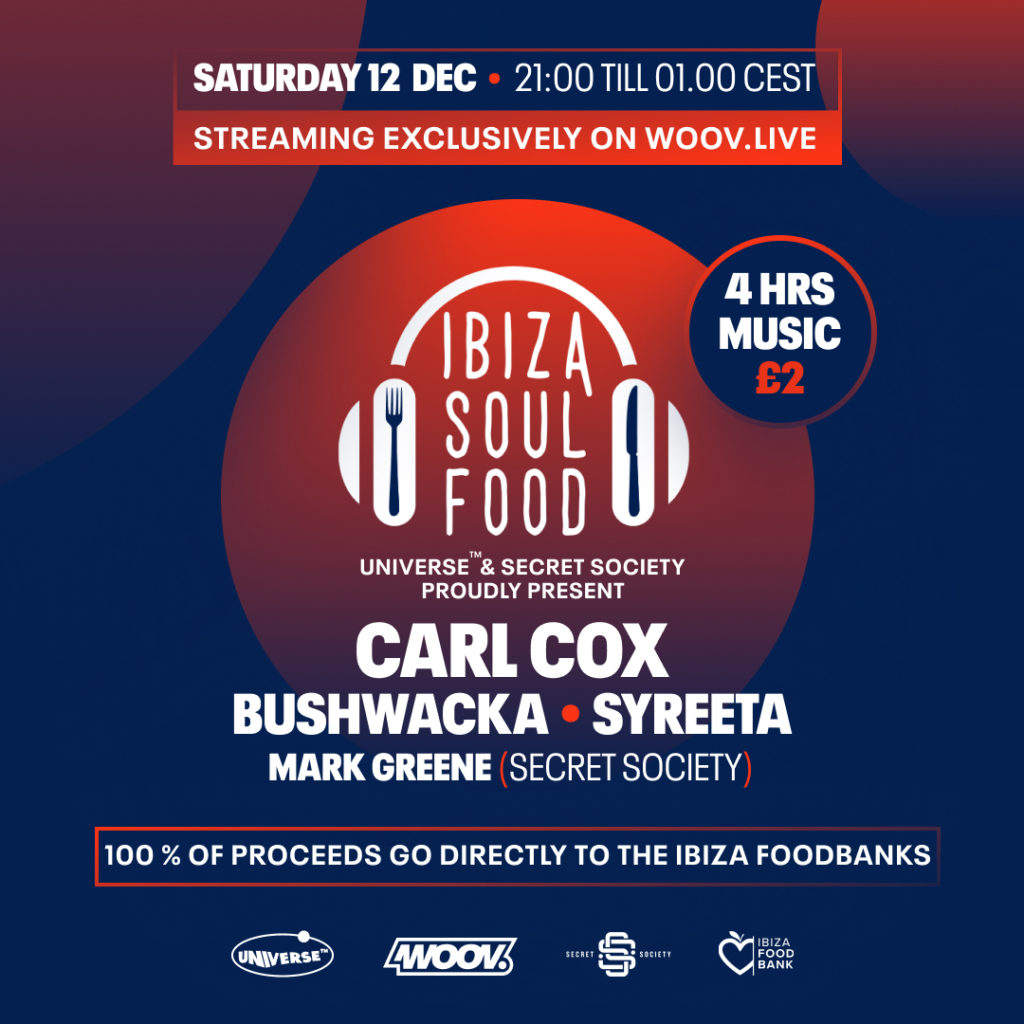 Pioneered by Universe, Ibiza Soul Food will be hosted exclusively in Woov, a virtual venue to bring the world together to enjoy live music experiences.  Gathering more than 250 volunteers who will deliver food to those in need, the event series will be delivering a number of live performances to those at home all for a great cause. 
"Ibiza has been a second home to me for many years. The island is a breeding ground of creativity, amazing friendships, and incredible people. Some of these people now need our help in these turbulent times and I'm super excited to be part of the first Ibiza Soul Food edition."

Carl Cox
Ibiza's music scene has provided unforgettable memories to millions of people who visit the island each year. Now, it is the time to give something back to the people who help nurture the scene in a time when they need it the most.
Much of the island is currently out of work including thousands of businesses that depend on clubbing and tourism.  Among them include bartenders, venue staff, promo teams on the ground, entertainers, hotel receptionists, and sound and lighting teams. These are the people that have made the clubbing experience of Ibiza, delivering some of the best music events for travelers to revel in the Balearic magic. With the devastation of COVID-19, it has left many people without work for over a year, and it is becoming harder each day.
Supported by some of the biggest names and brands that are synonymous with the White Isle, Ibiza Soul Food will help support the people of Ibiza through the winter. 100% of the money raised will be used to purchase coupons for fresh food. These will be given alongside weekly food parcels that are delivered and collected by 5000-6000 people each week.
"We are grateful to Universe and Woov to be able to announce the first in our series of online music events, Ibiza Soul Food and even more excited that one of the first DJ's to step up to the plate and support us is the mighty Carl Cox alongside Bushwacka, Syreeta and Secret Society's Mark Greene that are also supporting us."

Tina Browning, one of the coordinators of the Ibiza Food Bank
"2020 has been an extraordinary year and has made us all realize how fragile things can be. Being asked to help raise awareness and feed families in Ibiza is almost unimaginable which is why we stepped straight in and the first call was to the King, Carl Cox. Hopefully, Coxy's example will encourage others to get on board and for people to join in – after all it's only £2 for four hours of music."

Alon Shulman, CEO Universe
For additional information about Ibiza Soul Food or for updates on any future events,  please visit their official Facebook page.
Carl Cox – Ibiza Soul Food – 1st edition:
Saturday, December 12th (EU & UK only)
Time: 21:00 – 01:00 UTC
Tickets: £2.00 (100% of proceeds go directly to Ibiza Food Bank)