Monster Energy's Up & Up Festival adds to its "Welcome Back" virtual college event, which is scheduled to stream live on Monster Energy's YouTube channel from Oct. 9-11.
The "Welcome Back" virtual festival will feature its largest roster of headlining artists across 21 stages. Featured at the virtual event will be performances by NGHTMRE, San Holo, Ghastly, Ekali, Sullivan King and 3LAU to name a few.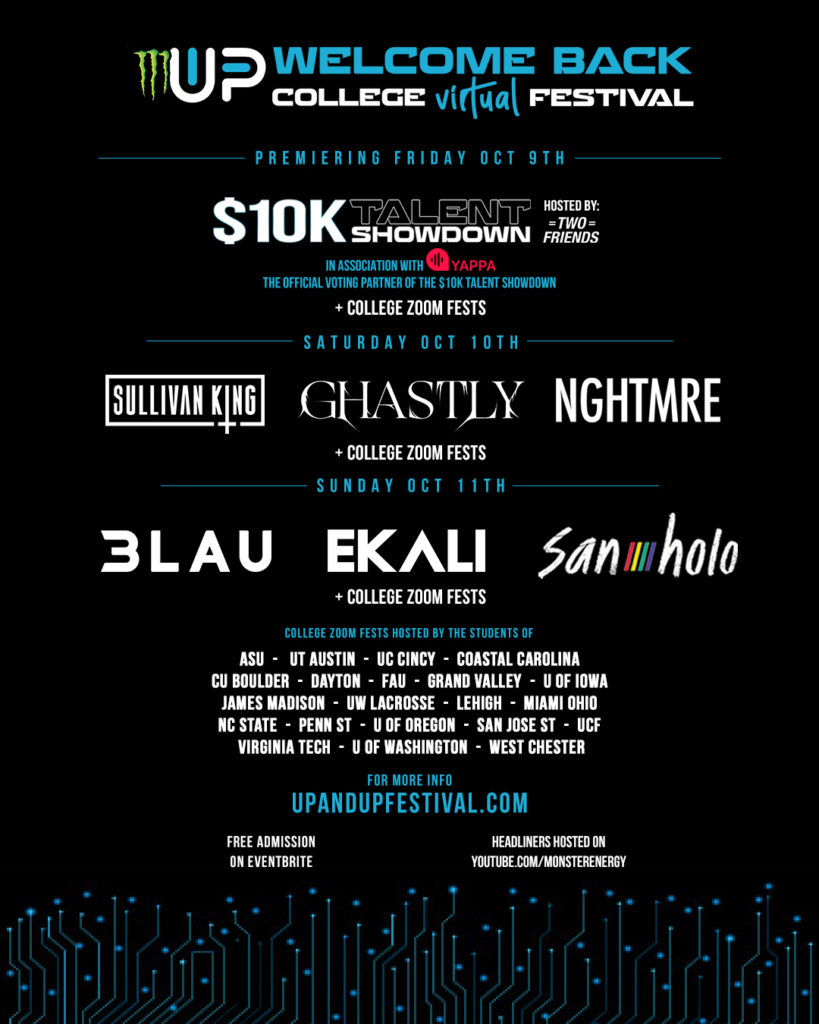 The Welcome Back Virtual Festival will co-stream to an entirely socially distanced audience from stages around the country at various campuses via Zoom conferences. Each stage will highlight student performers, host celebrity appearances, contests, giveaways, and online meet and greets with performing artists.
"When the longer term reality set in of how the live restrictions would affect college campus life, it was important for us to identify a creative, compliant solution to give students a valuable and enjoyable experience — and continue the progression of the Monster Energy Up & Up Festival Series that our college ambassador network has worked so hard in helping us build."

– Stephen Glazer, Monster Energy Up & Up Festival's co-founder/producer
This year will also kick-off the launch of the festival's first-ever Talent Showdown. Students who possess extraordinary talents will compete for a $10K prize. Production duo Two Friends will host the competition and determine the winners along with students voting on their favorites with Yappa. All participants who are interested must register through this link.
"With little to no campus life activities happening currently, the Welcome Back Virtual Festival provides an exciting opportunity for students to interact, dance, and enjoy a weekend of incredible music and entertainment right in their own home! In curating this national-scale, live-streamed concert, the Monster Energy Up & Up Festival is opening the door for student ambassadors to gain unparalleled virtual event production experience and valuable networking opportunities in this forever-evolving music industry."

– Tomer Vagner, a recent Graduate from the University of Oregon
In line with its annual tradition, this year student interns will be given the opportunity to produce their own festivals with production kits and coaching from Monster Energy's Up & Up team. Students will learn valuable areas of the music industry including staging, marketing, and more.
Since 2016, Monster Energy's Up & Up Festival has provided a place for students to cultivate careers and self-growth with students competing to produce a festival on their own college campus each year. The festival features breakthrough EDM artists. Featured in previous years were performances by Alan Walker, TroyBoi, Slushii, Two Friends, Cash Cash, and Gryffin. To learn more about the Monster Energy Up & Up Welcome Back Festival Series, visit their official webpage.