HARD Events launches a brand-new gaming series, TRY HARDs, which will unite the biggest DJs and gamers in a weekly competition on Insomniac TV via Twitch.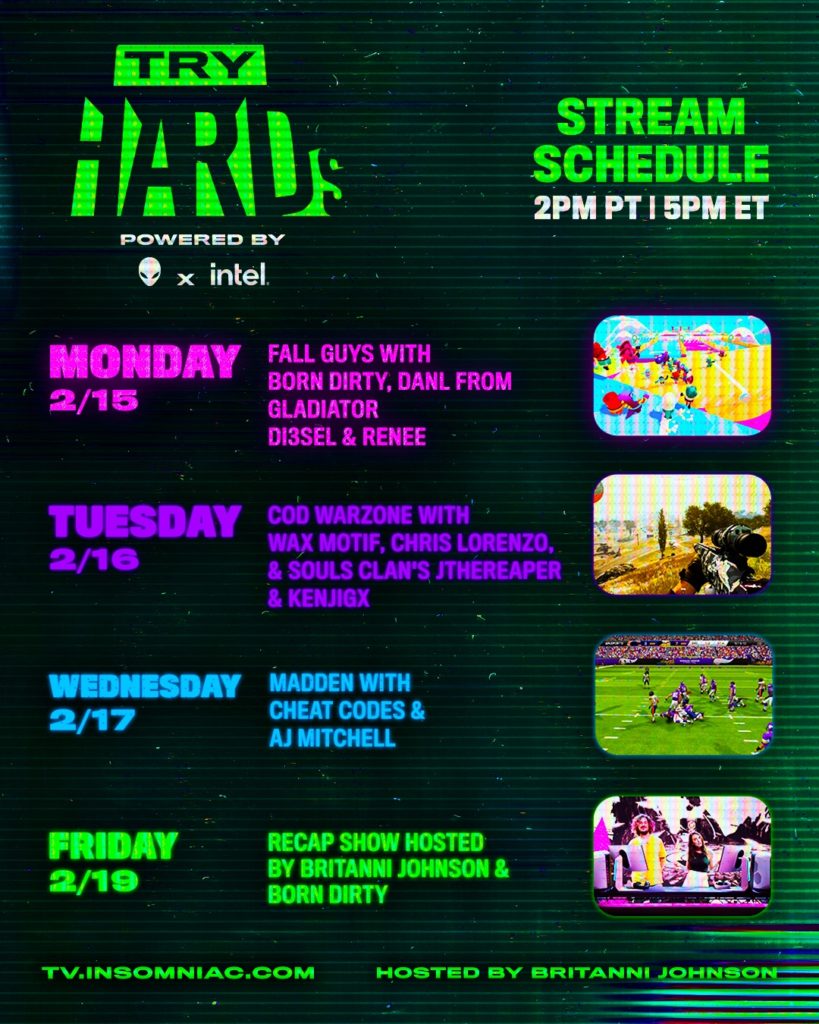 Featuring all-star DJs in a head-to-head competition against professional gamers, TRY HARDs will feature top dance music acts Chris Lorenzo, Cheat Codes, Wax Motif, Born Dirty, Danl from Gladiator, and more in just its first week of programming.  Week one will also welcome pop music star AJ Mitchell with gamers Renée Reynosa, Di3seL, kenjiGX, and JTheReaper.
Every episode will feature two DJs taking on two professional gamers with appearances from some of EDM's elite artists that HARD Events is known to deliver.  With a diverse range of artists from an array of genres, the lighthearted competition will be the perfect entertainment for gamers and music enthusiasts worldwide. 
Hosted by long-time gaming personality Brittani Johnson (E3, G4TV), TRY HARDs will merge the worlds of music, gaming, and streaming into one. Season One will feature six weeks of daily programming with three episodes of gaming and one recap show to close each week.
Each daily broadcast will center around a gaming theme with Mondays focusing on lighthearted titles like Super Smash Brothers, Fall Guy, and Rocketleague while Tuesdays will revolve around first-person shooter games such as Call of Duty and Fortnite.  Wednesday will be tackling sports games like Fifa and NBA 2K. Fridays will see Johnson recap the week's highlights with behind-the-scenes footage, bloopers, and gossip as well as update fans on the latest gaming news.
For more information on HARD Events, please visit their official website.