Relentless Beats revealed its phase-one lineup for its first international destination event WAVES on May 27-31, 2021 in Cabo San Lucas, Mexico.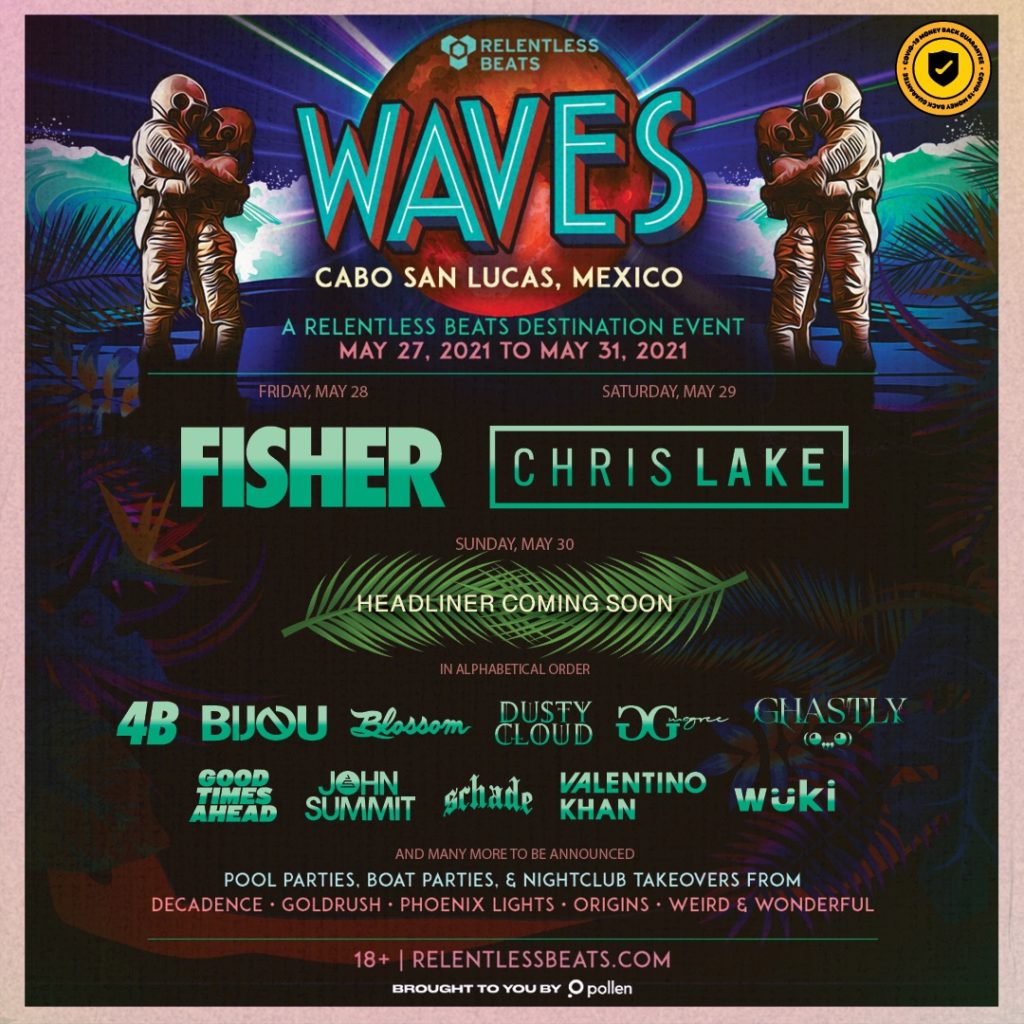 In partnership with Pollen, the phase-one lineup for WAVES features an epic range of artists that include headliners Fisher and Chris Lake along with support by 4B, BIJOU, Blossom, Dusty Cloud, GG Magree, Ghastly, Good Times Ahead, John Summit, Schade, Valentino Khan, Wüki, and many more to come.
The five-day, four-night experience will also include a range of curated pool and boat parties with nightclub takeovers from Decadence, Goldrush, Phoenix Lights  ORIGINS, and Weird & Wonderful. 
There will be multiple hotel options for festival-goers to choose from including ME Cabo, which will be Relentless Beats' headquarters.  The hotel will be home to all main parties and performances, daily parties, nightlife experiences, and club takeovers.  Featured in the plans will also be an all-inclusive food and beverage option at Riu Santa Fe, Bahia, and the Fairfield with boat parties and VIP upgrades to make the event a true getaway. Flights and transport will not be included.  
The festival will be following all government and CDC guidelines for gatherings. Should the event have to be canceled due to COVID-19 related government restrictions, Pollen and Relentless Beats will reschedule and the ticket will be rebooked automatically onto the revised travel dates. Refunds will be provided should the date prohibit fans from travel.
General Admission passes for WAVES are currently on sale now starting at $699 before fees at the following link. Fans can pay in installments with a $30 deposit, with the balance broken up on low, monthly payments. For additional information, please visit Relentless Beats' official website.
WAVES: A Relentless Beats Destination Event
Cabo San Lucas, Mexico
May 27 – May 31, 2021
WAVES – Phase-One lineup:
Headliners
Support
4B
BIJOU
Blossom
Dusty Cloud
GG Magree
Ghastly
Good Times Ahead
John Summit
Schade
Valentino Khan
Wüki