Claude VonStroke's Dirtybird Campout announced a massive lineup for its 2021 edition, which is scheduled to take place at Modesto Reservoir Campgrounds in Central California on October 15-17.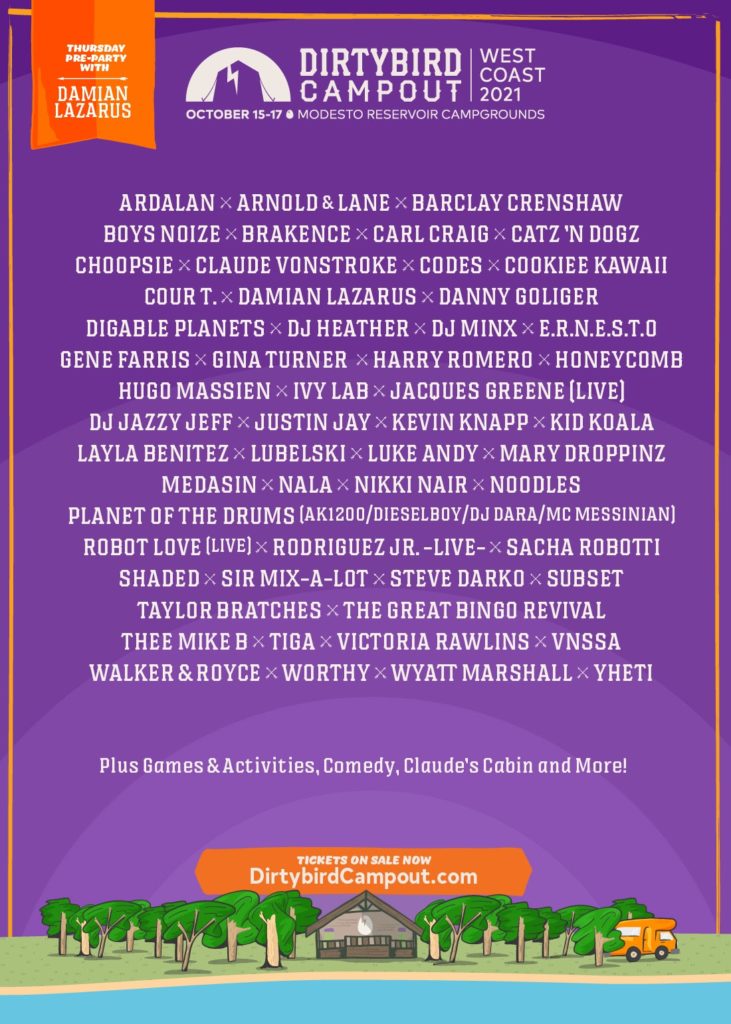 Featuring an eclectic range of up-and-coming talent and techno mainstays, Dirtybird Campout will feature performances by Boys Noize, Carl Craig, Catz 'n Dogz, Claude VonStroke, Digable Planets, DJ Minx, Nala, Ivy Lab, Jacques Greene (Live), Jazzy Jeff, Justin Jay, Medasin, Planet of the Drums, Rodriguez Jr. (Live), Sir Mix-A-Lot, Tiga, Walker & Royce, and Vnssa with an opening night early-arrival pajama party on Thursday hosted by Damian Lazarus.
Hailed as the "best boutique festival in the world," ravers will be divided into teams and compete all weekend in 15 events amongst the artists to receive the famed Iron Bird trophy.  The fun on the field will extend into a range of other inclusive activities such as the talent show, beatboxing competition, pie eating contest, deep house yoga, camper comedy hour and late-night bingo.
Tickets to the Dirtybird Campout are currently on sale now and can be purchased on the festival's official website.
Dirtybird Campout 2021 Lineup
Ardalan
Arnold & Lane
Barclay Crenshaw
Boys Noize
brakence
Carl Craig
Catz 'n Dogz
Choopsie
Claude VonStroke
Codes
Cookiee Kawaii
Cour T.
Damian Lazarus
Danny Goliger
Digable Planets
DJ Heather
DJ Jazzy Jeff
DJ Minx
E.R.N.E.S.T.O
Gene Farris
Gina Turner
Harry Romero
Honeycomb
Hugo Massien
Ivy Lab
Jacques Greene (Live)
Justin Jay
Kevin Knapp
Kid Koala
Layla Benitez
Lubelski
Luke Andy
Mary Droppinz
Medasin
Nala
Nikki Nair
Noodles
Planet Of the Drums (AK1200 / DJ Dara / Dieselboy)
Robot Love (Live)
Rodriguez Jr. (Live)
Sacha Robotti
Shaded
Sir Mix-A-Lot
Steve Darko
Subset
Taylor Bratches
Thee Mike B
Tiga
Victoria Rawlins
VNSSA
Walker & Royce
Worthy
Wyatt Marshall
Yheti