After recently announcing dates and a flash sale for Dirtybird Campout 2021, Claude VonStroke announces an official pre-party for the event, Dirtybird Road To Campout at Los Angeles' Expo Park on August 8, 2021.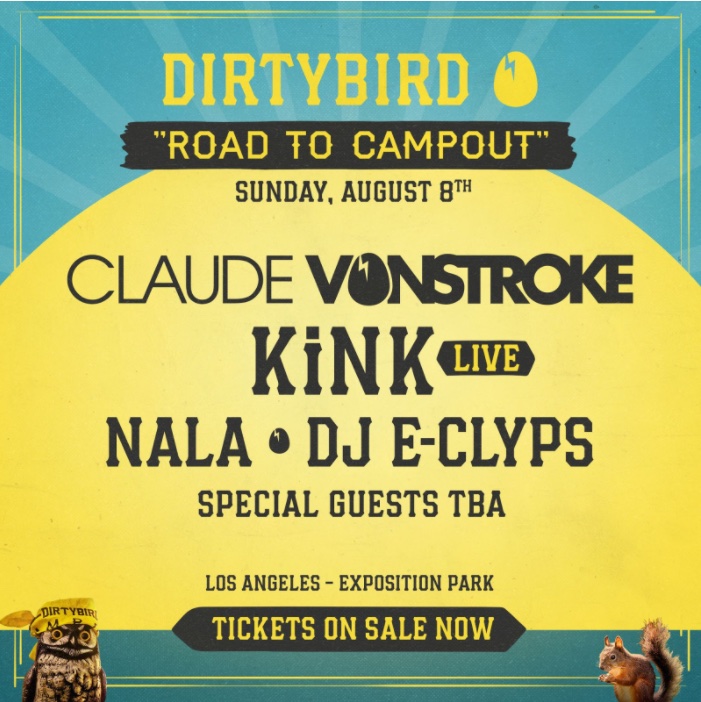 Bringing together a new generation of Dirtybird friends, Claude VonStroke will be welcoming to the event performances by Nala, DJ E-Clyps, global underground dance act KINK with other special guests still yet to be announced.
Dirtybird will be bringing all of its fun and games with many of its favorite team leaders, competitions, activities, a killer BBQ, and exclusive merchandise that have make the Campout experience one-of-a-kind.
Tickets to Dirtybird Road To Campout 2021 are currently on sale now starting at $55 for general admission passes at the following link.
Dirtybird Campout 2021, is scheduled to return to Modesto Reservoir Campground in Central California on October 15-17.  Welcoming an eclectic mix of Dirtybird's favorite artists, the event will include a weekend full of revelry music and activities with lakefront dancefloors as its backdrop.  The weekend will also feature a specially curated set from VonStroke and a range of music from hip-hop to bass to house music. 
Tickets to Dirtybird Campout's flash sale will be available on June 11 at 10 am PDT, and will only be available at that price for 24 hours. For additional information on Dirtybird Campout 2021 or tickets, please visit the event's official website.
Dirtybird Road To Campout 2021
Sunday, August, 8 at 2:00 pm PDT
Expo Park – South Lawn
700 Exposition Park Drive
Los Angeles, CA 90037