KSHMR will celebrate the debut of his new album, 'Harmonica Andromeda' at Insomniac's Park N Rave on Friday, March 19, and Saturday, March 20 at NOS Events Center at 7 pm.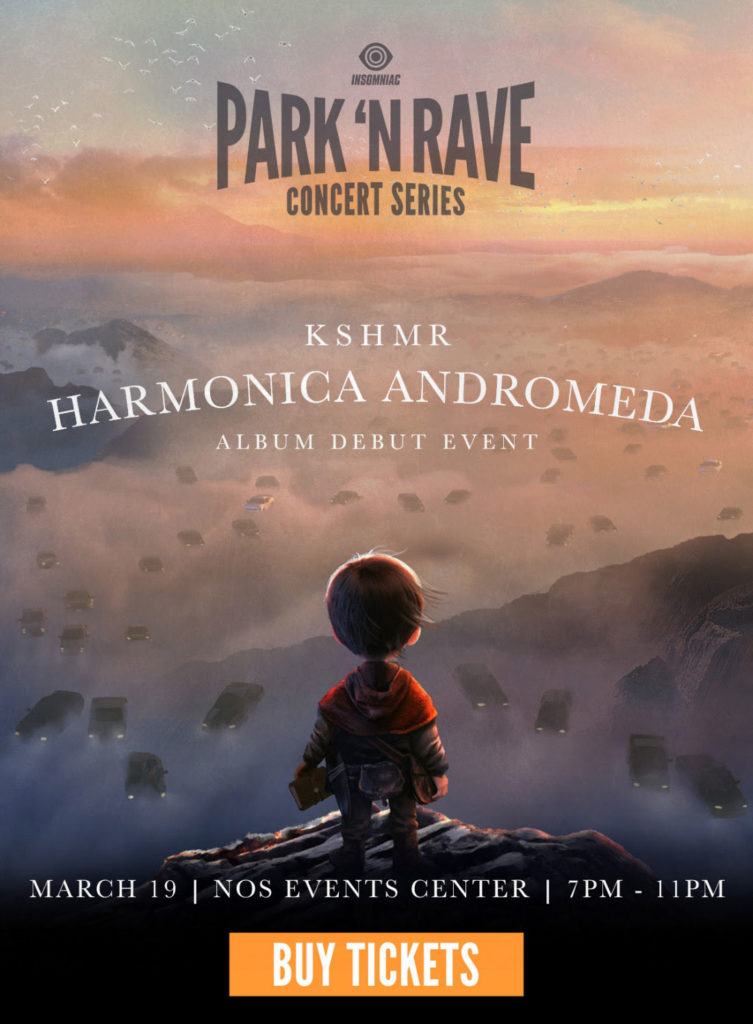 Featuring two packed nights filled with musical surprises, KSHMR will be dedicating the Park N Rave to premiere his brand new album, due out on March 19.  The 16-track body of work, rumored to be the artist's best work to date, features the enchanting vocals of KARRA including the previous release,, "The World We Left Behind" ft. KARRA. The album is currently available to pre-order via Spinnin' Records at the following link. 
KSHMR – The World We Left Behind (feat. KARRA)
This announcement comes recently after Insomniac revealed a massive Park N Rave scheduled for Friday, March 12, and Saturday, March 13 featuring Kill The Noise and Mat Zo. The brand will also see in February an epic 4-hour, open-to-close set by Chris Lorenzo on Friday, February 19, and Saturday, February 20, and a Disciple Recordings Bassrush Park N Rave on Friday, February 26, and Saturday, February 27 with Virtual Riot and Dirtyphonics on Friday and Barely Alive and Modestep on Saturday.
Tickets to KSNMR's Harmonica Andromeda Park N Rave are currently on sale now at the following link starting at $200 per vehicle for up to five people.  Tickets will increase in price for those closer to the stage.  Each spot is given on a first-come, first-serve basis, so it is recommended to arrive prior to the start of the event at 6 pm.  The event will be following all COVID-19 restriction guidelines. For additional information on Insomniac's Park N Rave events, please visit its official website.
KSHMR – Harmonica Andromeda – Park N Rave
Friday, March 19
Saturday, March 20
NOS Events Center
689 S. East Street
San Bernardino, CA 92408