ABRACADABRA announced an all-star lineup for its 24-hour New Year's livestream event, which is scheduled to take place from December 30, 2020 – January 1, 2021, exclusively on Twitch. The global event will raise money with all proceeds benefitting NIVA's #SaveOutStages initiative.
ABRACADABRA NEW YEARS 2021 (Festival Trailer)
The three-day virtual event is scheduled to feature massive performances by some of the most recognized names in music including performances by Jermaine Dupree, John Legend, Claptone, Kaskade, Major Lazer, Aloe Blacc, and ABRACADABRA Co-Founder, BLOND:ISH to name a few.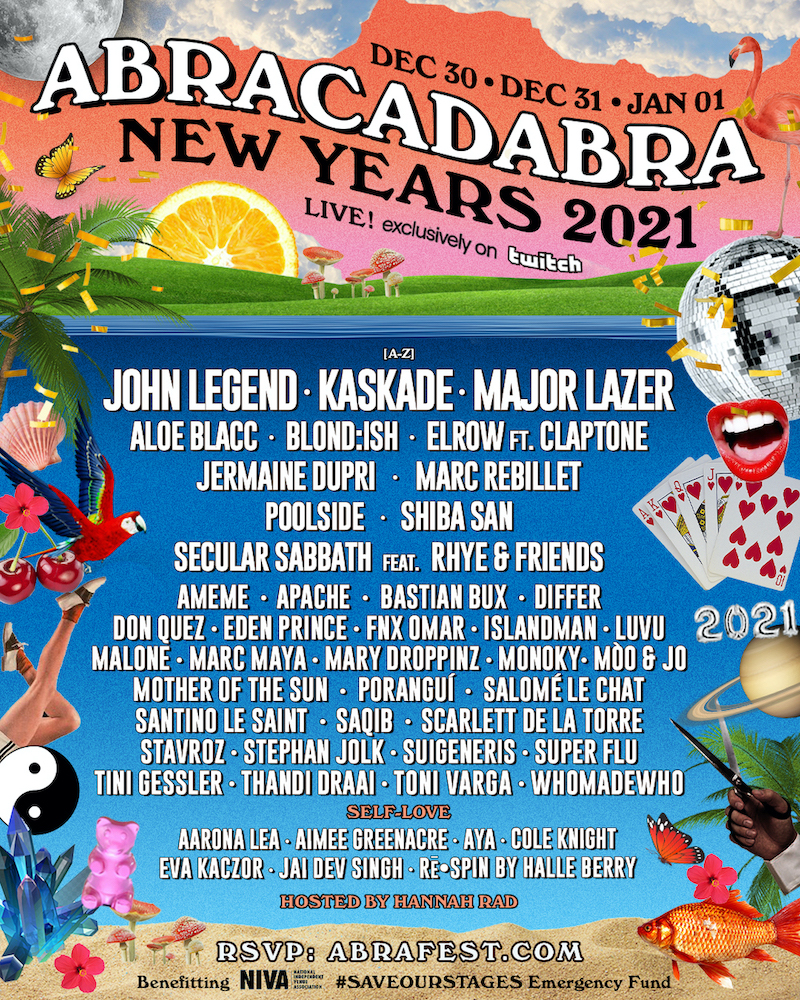 Broadcast live with Hannah Rad from Miami, the music and self-love festival will transport millions of viewers from around the world to an expansive four-hour lineup of mental cleansing each day. Featuring, mental health workshops from healers and visionaries, wellness activities such as mass meditations, sound baths, yoga, psychedelic breathwork, conscious cooking, astrology forecasts, and much more, this part of the event intends to freshen viewers' mental hygiene as they head into the New Year.
All proceeds of viewer donations, brand partner donations, and merchandise sales will benefit #SaveOurStages. Created as an Emergency Relief Fund by The National Independent Venue Association (NIVA), #SaveOurStages aims to preserve and nurture the ecosystem of independent live event venues and promoters during the COVID-19 pandemic.
ABRACADABRA New Year's fundraiser lineup:
Music:
John Legend
Kaskade
Major Lazer Soundsystem
Aloe Blacc
BLOND:ISH
elrow ft. Claptone
Jermaine Dupri
Marc Rebillet
Poolside
Shiba San
Secular Sabbath ft. Rhye & Friends
AMEME
Apache
Bastian Bux
Differ
Don Quez
Eden Prince
FNX OMAR
Islandman
LUVU
Malone
Marc Maya
Mary Droppinz
Monoky
Mòo & Jo
Mother of the Sun
Poranguí
Salomé Le Chat
Santino Le Saint
Saqib
Scarlett de la Torre
Stavroz
Stephan Jolk
Suigeneris
Super Flu
Tini Gessler
Thandi Draai
Toni Varga
WhoMadeWho
Self-Love:
Aarona Lea
Aimee Greenacre
AYA
Cole Knight
Eva Kaczor
Jai Dev Singh
rē•spin by Halle Berry