Insomniac announced a Wax Motif House of Wax Park N Rave, which is scheduled to take place on Saturday, January 16, 2021, at NOS Events Center from 6-10 PM.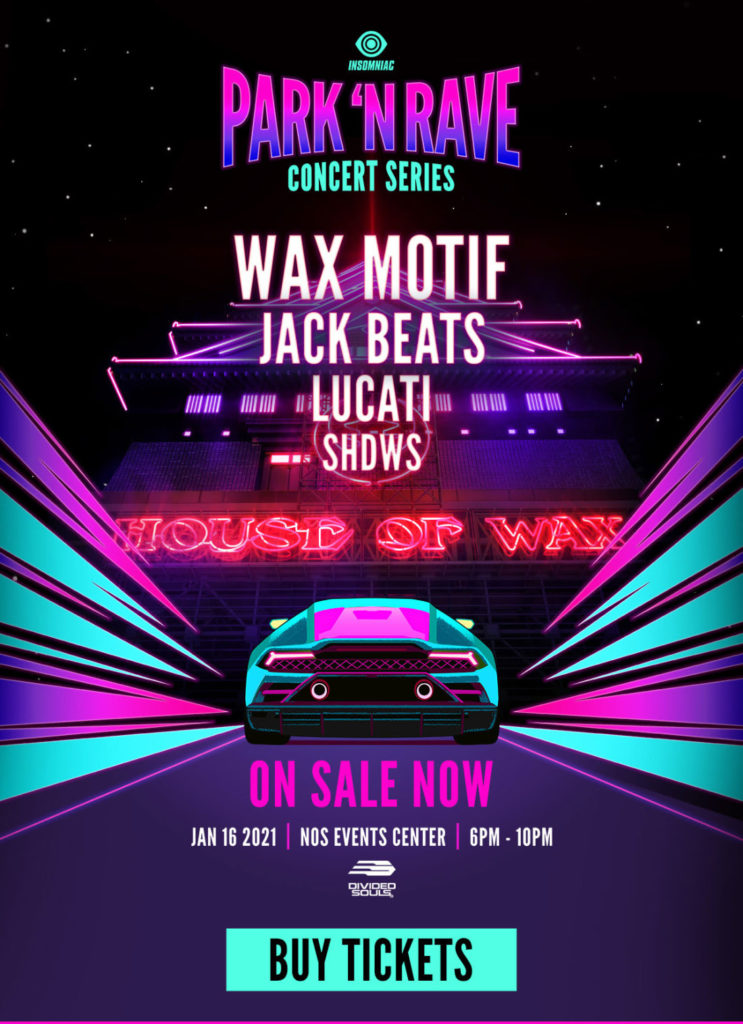 The House of Wax Park N Rave takeover will feature an all-star lineup of the industry's top bass house artists including performances by Wax Motif, Jack Beats, Lucati, and SHDWS.
Wax Motif & Corrupt (UK) – All Black Everything (with Scrufizzer)
This announcement comes just shortly after Wax Motif revealed his final release of the year with Corrupt (UK) titled, "All Black Everything ft. Scruffizer," which is currently available to stream/download via Divided Souls.  The track has been the artist's secret weapon throughout the year as it saw its debut in numerous livestream events including EDC Las Vegas Virtual Rave-A-Thon back in May, and at HARD Summer BBQ Rave-A-Thon on Insomniac TV. 
Insomniac Events has already begun rolling out a slew of Park N Rave events for the end of December 2020 into January 2021. Among these events include a SayMyName HARD takeover on Sunday, December 27, a Bassrush Bear Grillz Park N Rave on Wednesday, December 30, a HARD takeover with JOYRYDE on Friday, January 8 and Saturday, January 9, and a Wooli Bassrush Park N Rave scheduled for January 15.
The brand has also announced a series of six deadmau5 Park N Rave events, which are scheduled to kick-off on New Year's Eve and run throughout the month of January. For additional information related to all Insomniac's upcoming Park N Rave events, please visit its official website.
Tickets to the House of Wax Park N Rave are currently on sale now at the following link with tickets starting at $200 per vehicle for up to five people.  
Wax Motif House of Wax Park N Rave
Saturday, January 16, 2021
6-10 PM
18+
NOS Events Center
689 S. East Street
San Bernardino, CA 92408