deadmau5 & friends announce a birthday thing Park N Rave event, which is scheduled to take place on Sunday, January 3, 2021, at NOS Events Center.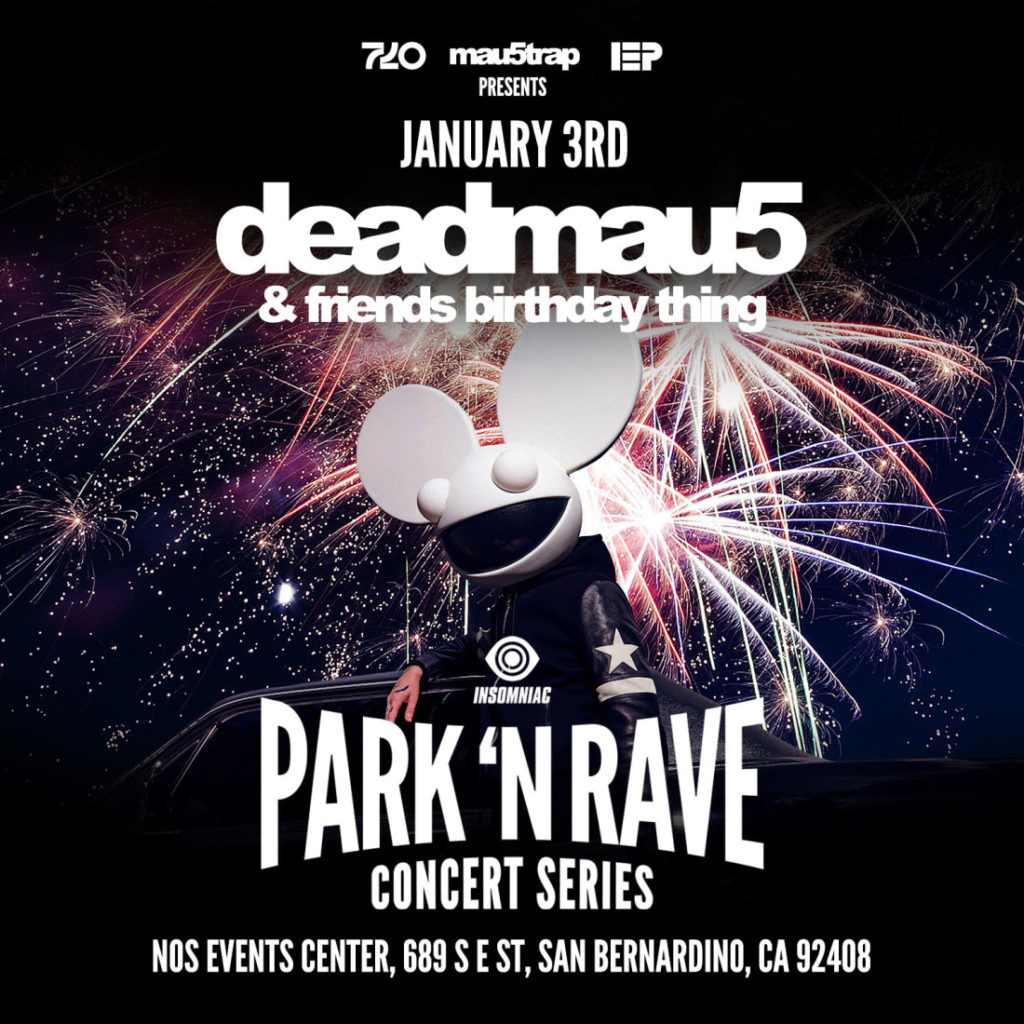 Falling right before deadmau5's birthday on December 5, birthday thing aligns perfectly with the five upcoming deadmau5 Park N Rave events that will kick off on New Year's Eve and New Year's Day. Marking the artist's sixth performance at the end of December and into January, the artist has already confirmed dates to perform on Thursday, December 31, Friday, January 1, a special Testpilot set on Saturday, December 2, and sets at The Chula-Vista Drive-In on January 7 and January 8. With the lineup still yet to be announced for deadmau5 & friends birthday thing, it is highly recommended to secure passes in advance.
This announcement comes after a slew of Park N Rave events have already been announced at the end of December 2020 into January 2021. Among these events include a special two-night event with Valentino Khan on December 18 and 19, a SayMyName HARD takeover on Sunday, December 27, a Bassrush Bear Grillz Park N Rave on Wednesday, December 30, a HARD takeover with JOYRYDE on Friday, January 8 and Saturday, January 9, and a Wooli Bassrush Park N Rave scheduled for January 15.
Tickets to deadmau5 & friends birthday thing are currently on sale now starting at $310 per vehicle and increase in price as the vehicles are located closer to the stage. Each vehicle is allowed to hold up to five people but there are add-on options available to allow an additional three people per vehicle. To receive further information or to purchase tickets, please visit the event's official website.
Deadmau5 – New Year's Eve
Deadmau5 – New Year's Day
Factory 93 Presents: Testpilot
Deadmau5 & friends birthday thing:
NOS Events Center
689 S. East Street
San Bernardino, CA 92408
Deadmau5 – Chula Vista Drive-In
North Island Credit Union Amphitheatre
2050 Entertainment Cir.
Chula Vista, CA 91911