Relentless Beats announced WAVES: A Relentless Beats Destination Event which is scheduled to take place on May 27-May 31, 2021 in Cabo San Lucas, Mexico.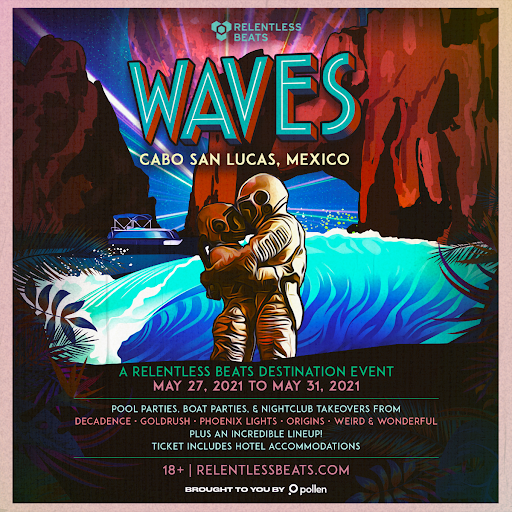 In collaboration with the industry-recognized destination travel company Pollen, the five-day four-night destination event will feature pool parties, boat parties, and nightclub takeovers from favorite brands that include Decadence, Goldrush, Phoenix Lights, Origins, and Weird & Wonderful.
This announcement comes just weeks after Relentless Beats celebrated the success of their socially distant pod concert experiences, which took place over five weekends from October through November at Rawhide Event Center in Arizona.
Welcoming over 16,000 attendees, the near sold-out events featured performances by Kayzo on October 9 and 10; Adventure Club on October 16 and 17; NGHTMRE on October 23 and 24; Deorro and Party Favor for Ritual Halloween weekend; Subtronics on November 6 and 7; and Green Velvet who closed out the series on November 8.
The lineup still has yet to be announced, but fans should expect one that is explosive based on who previously performed at their prior events.
To pre-register for WAVES: A Relentless Beats Destination Event please visit the event's official website. Tickets will start at $599 per person with monthly payment plans available. This does not include flights and transportation to the event. Travelers must be 18+ at the time of travel. No entry will be enforced at hotels or venues without a valid ID.
WAVES: A Relentless Beats Destination Event
Cabo San Lucas, Mexico
May 27 – May 31, 2021
Pre-Register for tickets here