Prime Social Group and Pollen announce the debut of Breakaway Beach with a stellar lineup of music acts, as it is scheduled to take place at the Grand Oasis in Cancun, Mexico on June 3-6, 2021.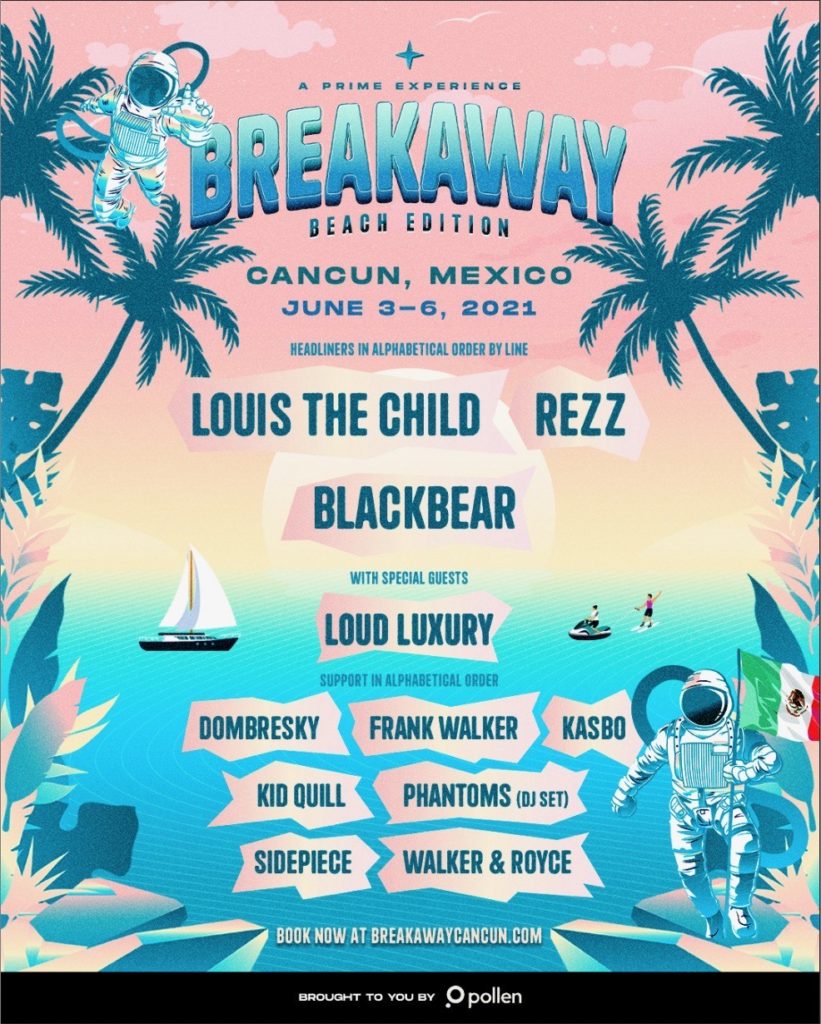 An immersive experience that will merge destination travel with world-class music all into one, Breakaway Beach will feature a diverse mix of DJ sets from top electronic music artists. With headlining performances by Louis The Child, Rezz, and Blackbear, the programming will also feature a special guest performance by Loud Luxury. There will also be support by modern house stars Walker & Royce, Dombresky, and SIDEPIECE plus performances by producers Kasbo, Frank Walker, and Phantoms.
The four-day and three-night experience will be taking over the beaches, hotels, and clubs of Cancun for an intimate escape for all of its attendees. The multi-genre curation of talent makes Breakaway one of North America's most celebrated festival brands to align perfectly with Pollen's legacy for crafting seamless travel experiences.
"We're excited to partner with Pollen in launching Breakaway Experiences — these experiences are exclusive to Pollen. You can't find them anywhere else.

We started the PSG festival department with Spring Break in Puerto Vallarta, Mexico featuring acts like Avicii, Tiesto, Steve Aoki, & more – so couldn't be happier getting back to our roots with Breakaway Beach. Expect the same amazing production, artist talent, & experience you're used to from Prime Social, Breakaway, & Pollen – only this time at an all-inclusive resort in Mexico!"

Adam Lynch from Prime Social Group
With no lack of options, travelers will be able to explore the natural beauty and endless activities Cancun has to offer. Whether it's playing beach volleyball with artists, swimming in the Caribbean Sea, or enjoying a range of all-inclusive culinary options, attendees will find themselves immersed in boat parties and poolside sets programmed throughout the entirety of their stay.
Packages for Breakaway Beach are currently on sale now where luxury accommodations at Grand Oasis Cancun await. All packages include rooms, exclusive access to Breakaway events, immersive activities, plus food and drink for the entire stay. Fans can secure their spot in paradise with a $25 deposit and monthly payments.
There will also be VIP options that will grant access to the newly renovated, Grand Oasis Pyramid which is home to bars, spas, gyms, pools, fine dining restaurants, clubs, and beach clubs. VIP access will also include front of the line passes for all bars and events. To register for access to all of the package plan options, please visit the following link.
Prime Social Group is one of North America's premier music event producers. The 'Breakaway' brand has quickly become one of the nation's most talked-about festival outposts, producing successful events in four markets in 2019.