Acclaimed EDM artist Bear Grillz is scheduled to headline Insomniac's Bassrush Park N Rave on Wednesday, December 30, 2020, from 5 pm – 9 pm at NOS Events Center.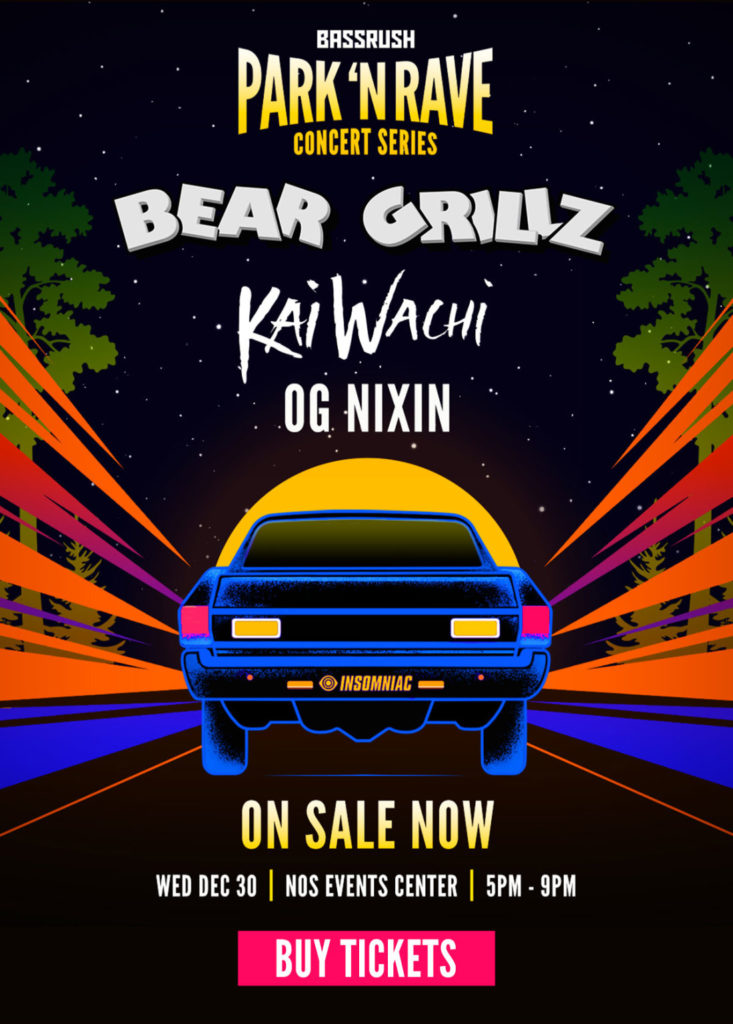 The event is sure to close out the year on a heavy note as it features the sounds of Bear Grillz, Kai Wachi, and OGNixon to keep people's head bobbing throughout the night.
This announcement recently follows Bear Grillz's highly-anticipated sophomore album release titled, Friends: The Album, which is currently available to stream/download now via Dim Mak. EDMunplugged had the opportunity to speak with Bear Grillz about how the album came about in an exclusive interview featured here.
This event is just one of many Park N Rave events scheduled to take place in the month of December and at the start of the new year. Insomniac Events has already announced a Bass takeover with Subtronics on December 11 and 12, a special two-night event with Valentino Khan on December 18 and 19, and a New Year's Eve (December 31) and New Year's Day (January 1, 2021) celebration with deadmau5.
Tickets are currently on sale now for the Bear Grillz Park N Rave event starting at $200 per vehicle to hold five passengers. There are also add-on ticket options available to add an additional three people per vehicle, making the party a total of eight passengers per car. For additional information or to purchase tickets, please visit the following link.
Bear Grillz Bassrush Park N Rave
Wednesday, December 30, 2020
5 pm – 9 pm
18+
NOS Events Center
689 S. East Street
San Bernardino, CA 92408