Insomniac announced that SayMyName & Nitti Gritti will be performing a Bassrush Park N Rave on December 26 at NOS Events Center in San Bernardino, California.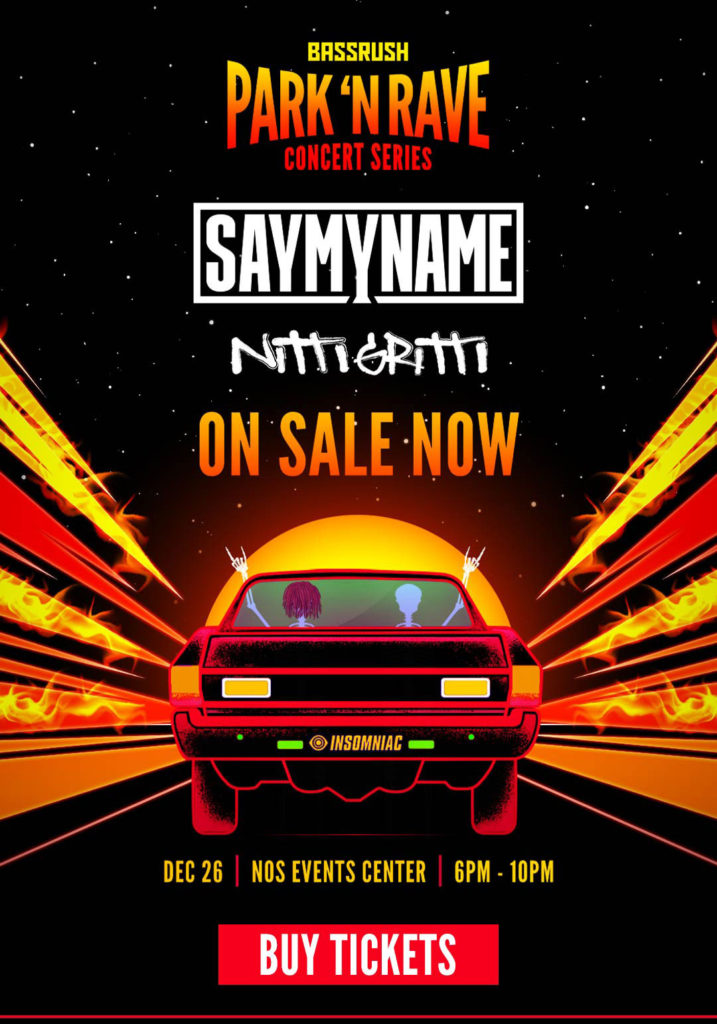 This announcement comes shortly after Insomniac revealed a plethora of Park N Rave Events that will occur through December and into January at NOS Events Center and the new Chula Vista Drive-In in San Diego, California.
Some of the upcoming events at NOS Events Center include a two-night performance by Audien on December 4 and 5, a special early event with Day Trip on December 6, a Bass takeover with Subtronics on December 11 and 12, a special two-night event with Valentino Khan on December 18 and 19, and a series of five performances by deadmau5, which will kick-off on New Year's Eve.
Kicking off the Chula Vista Drive-In series will be a Dreamstate trance takeover with performances by Markus Schulz, Cosmic Gate, and Infected Mushroom, and more on December 11 and 12.  deadmau5 will continue the series as he headlines two performances at the venue on January 7 and 8.  With more events expected to be announced in the coming weeks, please visit the Chula-Vista Drive-In's official website for the most up-to-date announcements.
Tickets to the upcoming SayMyName & Nitti Gritti Bassrush takeover are currently on sale at the following link.  Tickets start at $200 for up to five people per car and increase in price depending on how close the vehicle is to the stage.  There is also the ability to add-on an additional three more people to a vehicle, making it a total of eight passengers per vehicle.
For those who would like to participate in a good cause, Insomniac Cares and Musically Fed will be accepting food donations of non-perishable items when scanning tickets at any of the upcoming Park N Rave events at NOS Events Center.   For additional information, please visit the here.