World-renowned DJ/producer Plastik Funk announced the launch of a new-for-2020 capsule collection, which saw its premiere this past weekend and can be found at the following link.
Partnering with the creative team beind WorkiT, which specializes in the refinement of merchandise fashion, the collection features hoodies for the winter months, elongated long-sleeve tees, masks, in addition to an exclusive gym bag to gear you up for an extensive workout.  Containing something for everyone, the eight-piece capsule collection features bold fonts with a mix of catchy slogans that include "Funk The World" and "Funk You Very Much."  The Plastik Funk x WorkiT collection is sure to appeal to anyone no matter what style, and will have fans and audiophiles around the world clamoring for more.
Plastik Funk is a world-renowned DJ and producer who has released a slew of Beatport top 10 hits including "Who" with Tujamo, "Dare Me" with NERVO and Tim Morrison, and "Raveille" with Timmy Trumpet. The artist has garnered millions of streams worldwide with his trademark house sound, which has been embraced by fans all over the world. He has performed at some of the most desirable festivals and events including World Club Dome, Ultra Europe, Tomorrowland, and Parookaville. Now, the artist's coveted fans can show their support proudly with the artist's own Plastik Funk x WorkiT collection.
EDMunplugged had the pleasure to sit down with Plastik Funk in an exclusive interview after seeing his new-for-2020 capsule collection for the first time.
Plastik Funk in an exclusive interview
What made you initially decide to create your own clothing line? What was the inspiration behind it?
We had merchandise for the last two years, and the merchandise was doing really well, but it was more to get fans a shirt. I always had in mind to create something which is more of a clothing line, a bit more special, a bit more love into the details.And during quarantine time I had a bit more time to work on stuff I never really had time to. My problem is, I always try to do things myself. I never give it to a team, because if I give something to the fans, it has to be me. So, it's always a time problem when I want to finish projects. I was sitting together with one of the designers of Donna Roma and he was telling me everything he did before, and he showed me the shirts they just created. They were amazing.

They talked to me about doing a sponsorship, but then I was like, "Okay let's do something together." I brought some of my favorite clothes because I'm not a fashion designer. He created the first designs, and I was so happy with it. He really nailed it right away. And then we were just working a whole night and the first clothing was there.

I wanted to keep it basic for the beginning. I want to build it up step-by-step. Right now it's shirts and hoodies, which is good for the winter for events if we can go back to events. And after this, we will start with jackets. We will also do jogging pants and other stuff, but I want to do it step-by-step. I don't want to do a catalog, and you don't really see the little details in the beginning.
The 2020 clothing line was created with the creative team behind WorkiT. How did that collaboration come about?
They created a brand, which is called Donna Roma Perez, and the brand name was sponsoring me before .I was talking to the one guy, his name is Sabias, who said like, 'I'm the designer.' And I was like, 'All right. Let's meet up.'

I was together with the team. The team is great. They're creative, they're very good, organized. We curated a nice and basic store, which really shows you everything in no time. And yeah, it's just fun to work with them.
You said that your favorite piece from the collection was the hoodie?
Actually, I liked the thin hoodie with the icon on the back. I really like those. Every time we do something, it's the same with music, I try to test it. I'm kind of a perfectionist with stuff like that, and I did the same with the clothes. Sometimes you see people go crazy and the one with "Funk You Very Much," the hoodie people were going crazy over. The "Funk You Very Much" hoodie, we have quite a lot of pre-orders already.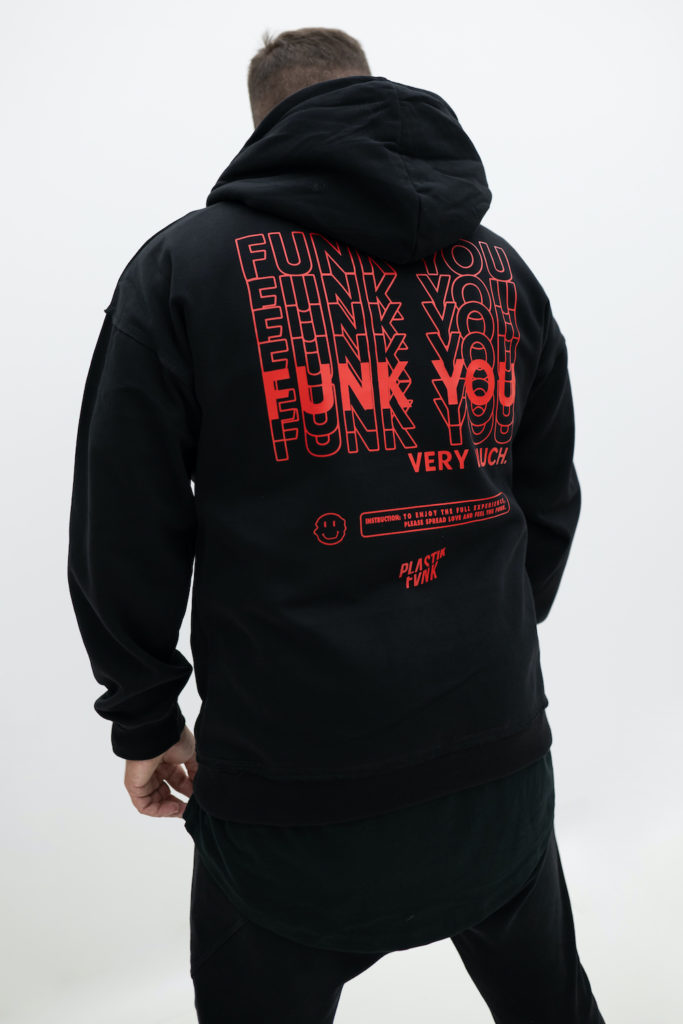 If you had to describe the collection in one word, what would it be and why?
Funky. I could not use a different word than funky. Right?

The thing is I wanted to do merchandise. We try to work with my team to support the whole team around me by taking pictures, creating the merch, selling the merch, because obviously at the moment, most of the people in my industry are not making any money. It's a pretty tough time. What we do is we try to create projects, which help ourselves, but also help other people. Especially with sticking with our team and then trying to make it bigger all around the world.
You have some catchy slogans, "Funk the World," "Funky You Very Much." How did you come up with the slogans? Did you create that yourself or was the team involved?
Most of the time it happened during interviews. The "Funk You Very Much" happened in an interview in Brazil. The guy on the radio always said, "Ha ha. Fuck you very much." And we said, "Okay, that's not nice to say on the radio. You should say funk you very much." And I started laughing. So "Funk You Very Much" has been following us since then, and that was 10 years ago.

The Funk Family thing actually came up by the fans. I saw the hashtag #FunkFamily so many times which made me so happy to see…These people are the most important people for me to get the energy, to go through all this, to travel, to work on music, to sleep. But every time I'm on stage, I'm the happiest person on Earth. To the people who call themselves, Funk Family is the greatest feeling, you can have. To have your fans as a family, that's amazing.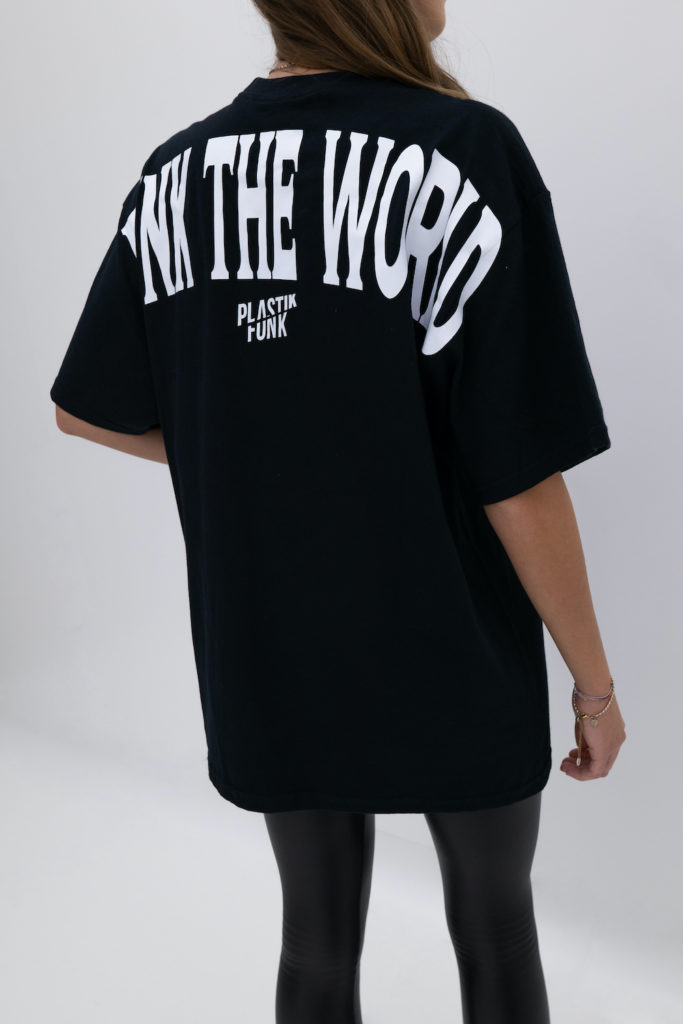 We can't talk to you without talking about your music. Do you have any new music coming out in the future? Maybe in 2021?
Yeah, this year we already released more music than we ever released in one year. I just had a release last week on Hexagon, which is doing really, really well actually. And we're releasing a club mix of "Feet Don't Touch," which was released in November. In January, I'm releasing a remix and a new mixed mash on Revealed. I'm releasing a collaboration with Nicola Fasano on Revealed. And yeah, we're almost done with a follow-up collaboration with NERVO, which will be out very soon, hopefully. We're just clearing the rights because it's a rework again. And yeah, I have another six, seven trucks ready, and we just see when and how to release it.
Plastik Funk & Inpetto – Lost [Hexagon] Stream/Download
You have provided remixes for David Guetta, Shaggy, and deadmau5 and worked with Tujamo, NERVO, and Firebeatz. If there is anyone that you would still like to work or collaborate with?
Actually, I love Pharrell Williams as an artist because I love the way he is as a musician, but he's an artist in so many ways. I like that he's a rapper, he's a singer, a writer, a producer, a drummer. He has so many different projects. I love his creativity.

And for me, I love to step out of my dance music EDM box sometimes and just do something totally different. So I would love to work with someone like Pharrell Williams and just be in a studio and watch and see how he works and how his creative process is working. To create a track together would be a dream.
What's been the hardest part about being off the road during this time? What has been the best part?
Actually, for my body, it's been maybe the healthiest year in 10 years. That's for sure. I'm doing a lot of sports at the moment about five to six times a week.

For me, it's tough to not be on the road. This is not a job; it's pure passion.

It was a healthy year. But with the other side, it's tough to realize sometimes that you don't know when this whole thing will end. For me, it's music. It's trying to stay in my workflow, trying to be creative, try to do new merchandise, new clothing, I'm even creating a new coffee with some partners believe it or not.
Where are you most looking forward to performing when things go "back to normal?" and Why?
Actually, at the moment, I really don't care. It can be 100 people, 50 people, and I will be super happy and enjoy every minute of it.

I really, really miss it. And I can't wait to go back. I mean, sure Asia is one of my biggest markets, but I can't wait to travel the world again. I mean, last year it's been a blessing and an amazing year. I played 190 shows and I was everywhere. I want to go back to every country, play everywhere, and just have a good time with the Funk Family.
What aspirations do you have for yourself as an artist in the near/distant future?
At the moment I feel like I found my sound I'm really, really happy with, and I want to bring this to the next level. I just did more Reggae music lately which is super fun. And it feels like I'm getting more creative with writing as well because a couple of years ago, I was only the producer, but never really the writer. Now I got more into writing, which is a lot of fun. You're like part of the whole song. I want to get better at this. I want to become a better musician and my DJ skills always try to get better and better. So I can't wait to test it out again.
We would like to thank Plastik Frunk for taking the time to interview. For additional information on the artist, please visit his official Facebook Page.
The Plastik Funk x WorkiT collection can be seen and purchased at the store's official website.