Relentless Beats, Arizona's leading dance music and EDM promoter, recently announced their newest 2-day socially distant experience, Adventure Club: Duality, which is set to take place on Oct. 16 and Oct. 17 at Rawhide Event Center in Phoenix, Arizona.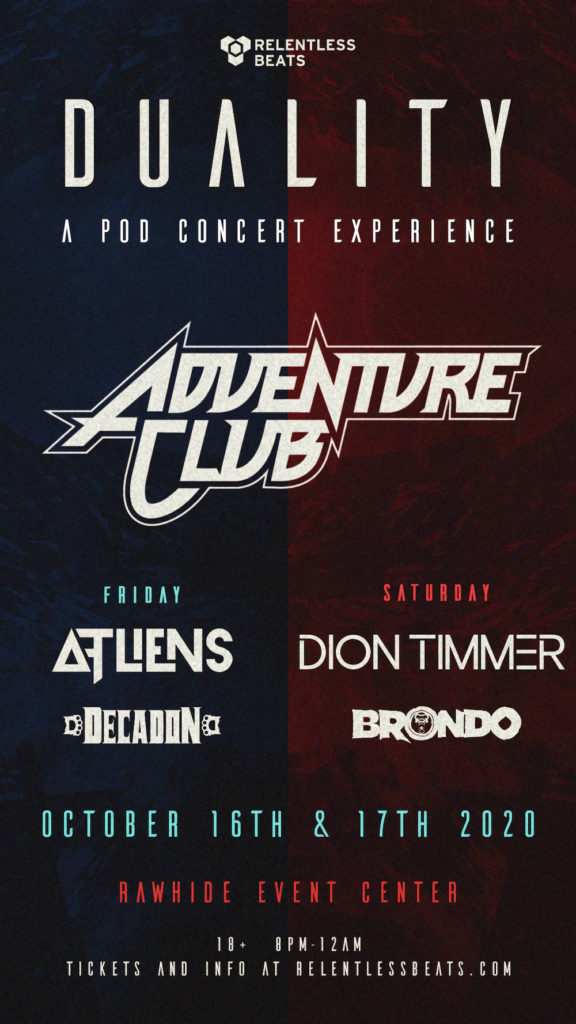 Adding to their event series, which will kick off this weekend with a performance by Kayzo, ticket holders will be able to enjoy the melodic tunes of Adventure Club next weekend paired with openers ATLiens and Decadon on Friday and Dion Timmer and Brondo as openers on Saturday.  
Tickets are currently available starting at $195 plus taxes and fees for each socially distanced pod holding an occupancy of five people. There will be the option to add three other to parties at the gate.
Relentless Beats will continue to follow State, Federal, and CDC guidelines for outdoor gatherings, with temperature checks taken upon arrival, facemask requirements, hand-wash and sanitation stations, and social distancing in place.
Patrons will be required to certify that they do not and have not experienced COVID-19 symptoms in the last 14 days.  Gates will open at 7 pm, and it is highly recommended to arrive before the show begins.  Everyone in each pod must arrive together.   No outside food or beverages will be allowed but food and beverages may be delivered and ordered online.  For additional information, please visit the promoter's official webpage at the following link.