Cosmic Gate announced a two-part virtual concert series, which is scheduled to stream performances from Miami's The Temple House dream-factory on Oct. 3 and Oct. 17. Tickets are currently on sale for the dual event and can be purchased at the following link.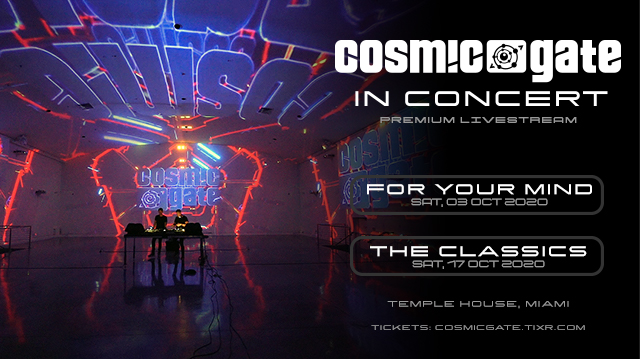 The electronic dance music duo intends to take premium live streaming to new heights with these performances. The duo will be implementing within their set visuals and technology created by Emmy-nominated artists in addition to numerous ways fans can get involved at home.
The duo will kick-off the live streaming extravaganza with a set Oct. 3 titled "For Your Mind," which will be a two-hour modern performance with retina enhancing visuals. There will be a plethora of new and exclusive Cosmic Gate composed music to accompany the graphics. Music featured within the set will include their collaboration with Andrew Bayer on, "The Launch" as well as remixes of Andrew Rayel's new single, "Everything Everything." Also included will be the recent releases, "Universal Love" and "Your Mind."
Their second live stream on Saturday, Oct. 17 appropriately titled, "The Classics" will presumably feature the duo's trance induced classics throughout the performance; however, more details regarding this stream are still yet to be announced.
For a sneak peek at what is to come in the virtual event, the two have released a teaser video which can be seen below.
These performances will mark their first time reuniting after six months, which makes the anticipation of the events even more heightened.
"naturally we hold out hope that the current situation doesn't rule out every event for the rest of 2020. Like many though, we don't like the way it's looking. "We live to play for our fans and if we have to be creative to do that, that's what we're gonna do. So we're doing two unique events that'll allow us all to club 'apart-but-together' in the absolute mask-free safety, and with the added thrill that we're going to be able to take you hundreds of 'places' we otherwise couldn't! The Temple House is a place where – digitally – our wildest 'wanna-play-there' dreams come true. So for two Saturdays in early autumn, push back your couch, zoom up the brightness (& volume!), and join us for some shows that'll bring us together for an experience we'll never forget!"

– Cosmic Gate
Tickets for Cosmic Gate In Concert are $9.99 USD for each show or $15.99 USD for both events, with limited early bird tickets (at a 20% discount rate) available now. Regional streaming times for the show below are listed below, which will also be available to watch or re-watch video-on-demand-style two hours after their first broadcast.
Berlin – 12:00 am CET
New York – 6:00 pm EST
Los Angeles – 3.00 pm PST
Melbourne – 8:00 am AEST
Singapore – 6:00 am SGT