On Sept. 4 Diplo announced the release of a brand new ambient album titled, MMXX which is currently available to stream here.
Featuring a number of collaborations with Rhye, Mikky Ekko, Good Times Ahead, and Lunice, the album is meant to increase global awareness about mental health.
"I've been experimenting with making ambient music for years now. In some ways, it's a return to my roots—my first album Florida was all super chill instrumentals. For the last few years, I've been collaborating with a bunch of friends playing ambient sets around L.A., and when the pandemic hit we decided to lay some of it down. It's been a huge stress reliever and meditative experience for me, hope it can be the same for you. Checking in with ourselves and taking care of our mental health is so important, now more than ever."

– Diplo
Diplo has partnered with the Smithsonian's National Air and Space Museum to present "Under Ancient Skies" a series of four, intimate outdoor events where the artist will play his ambient music for a small, socially distanced audience. The event will feature stargazing as the main attraction led by the museum. Further, the artist intends to release a companion album with the Smithsonian that will feature spoken word astronomy stories following the events.
Profits from the album sales will benefit two charities, The Black Emotional and Mental Health Collective (B.E.A.M.), a group of activists committed to the emotional and mental health and healing of Black communities; and The Loveland Foundation, which provides access to mental health resources and financial assistance to Black women and girls.
To further solidify cement the importance of mental health, Diplo will be featuring five tracks from MMXX on the meditative app Calm.
MMXX Tracklist:
1. MMXX – I
2. MMXX – II
3. MMXX – III (feat. Mikky Ekko)
4. MMXX – IV
5. MMXX – V
6. MMXX – VI
7. MMXX – VII
8. MMXX – VIII (feat. Lunice)
9. MMXX – IX (feat. Mikky Ekko)
10. MMXX – X (feat. Good Times Ahead)
11. MMXX – XI
12. MMXX – XII (feat. Rhye)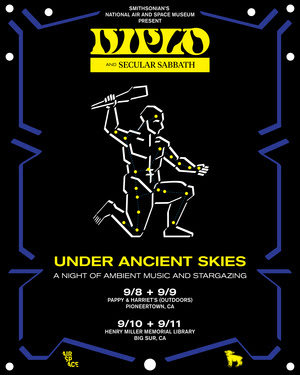 "Under Ancient Skies" Dates:
Sept. 8 – Pappy and Harriet's (Pioneertown, CA)
Sept. 9 – Pappy and Harriet's (Pioneertown, CA)
Sept. 10 – Henry Miller Memorial Library (Big Sur, CA)
Sept. 11 – Henry Miller Memorial Library (Big Sur, CA) – SOLD OUT