On June 17, Beyond Wonderland announced a Virtual-Rave-A-Thon which is set to be held online on Saturday, June 20 and Sunday June 21.
The festival, which will include top performance acts from a myriad of genres (trance, house, bass and techno) will include (listed alphabetically): 3LAU, Blunts and Blondes, Carnage (after hours set), Cash Cash, Dash Berlin, Ghastly, Good Times Ahead, Habstrakt, Laidback Luke, Lucii, Manila Killa, Meduza, Mitis, Nitti Gritti, Sage Armstrong B2B Luke Andy SayMyName, Showtek, Testpilot, William Black, and Yehme2.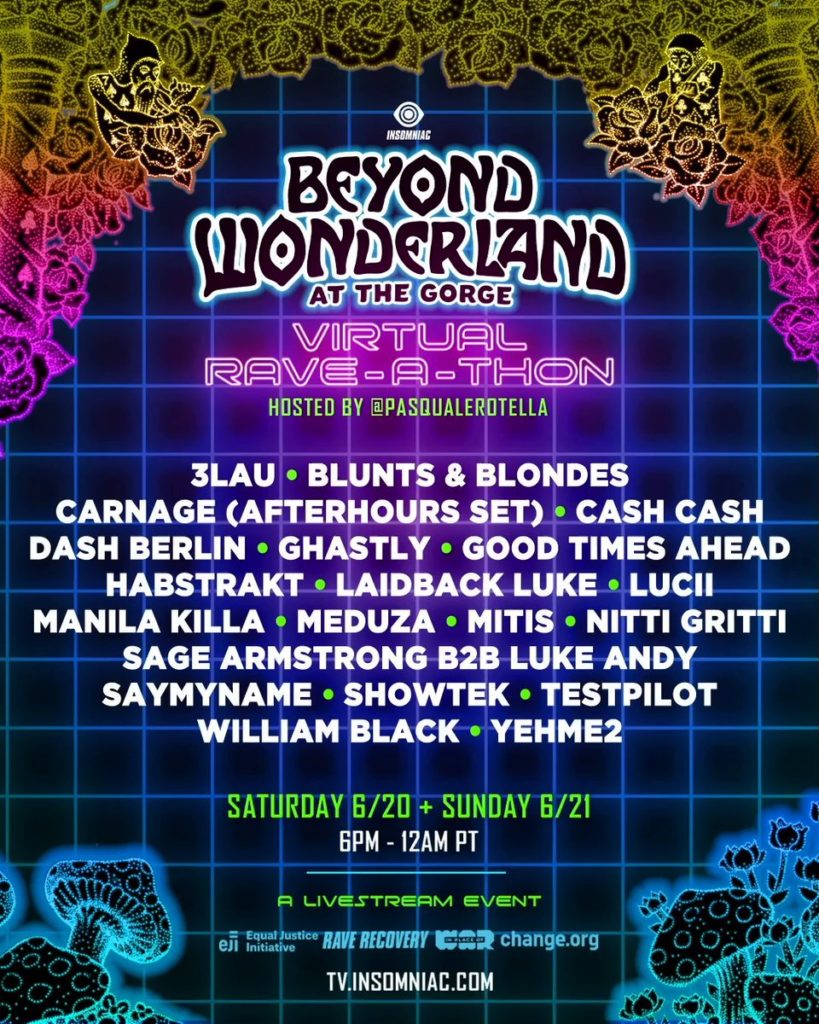 Beyond Wonderland is an annual event that has entertained nearly 400,000 attendees. Known to take place at The Gorge, one of the West Coast's most iconic venues, Beyond Wonderland continues to tell the tale of Alice and her adventures in the festival's psychedelic storybook. The festival is known for Insomniac Events' cutting-edge stage production, art installations, and an array of dancers and performers.
Fans will be able to livestream the two day event at the following links via: TV.Insomniac.com, YouTube, or Twitch. The Rave-A-Thon will be accepting donations toward the Equal Justice Initiative, a charity to fund representation for those who may have been wrongfully convicted and Rave Recovery, offering members of the dance music community aid durin the Coronavirus pandemic. For additional information, please head over to BeyondWonderland's official webpage where further details and updates will be announced.