Featuring Patrick Topping, Nicole Moudaber, ANNA, Carl Craig, Dennis Cruz & more
New York City's underground event promoters Teksupport revealed its 2023 summer programming events, which will feature some of the world's most noteworthy house and techno artists for their open-air, all-night events, which are slated to take place from July through September.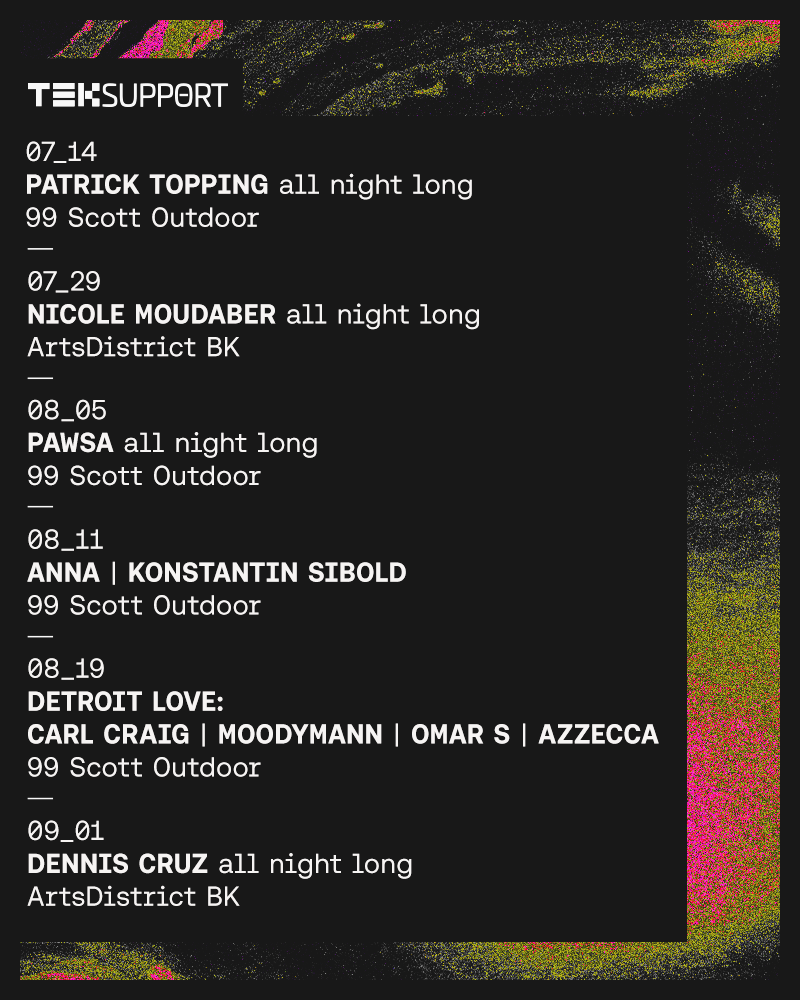 Combining wide open spaces with unparalleled production and the best in dance music, Teksupport will kick off the summer with a headlining performance by Patrick Topping at 99 Scott Outdoor where the Trick label boss will perform all night long on Friday, July 14th.  MOOD Founder, Nicole Moudaber will be taking the decks in ArtsDistrict in Brooklyn on Saturday, July 29th. The venue will feature its 360-degree projection technology and world-class audiovisual elements, making it one show fans will not want to miss. 
In August, dance music fans can head to 99 Scott Outdoor where PAWSA will be performing all night long on August 5th, ANNA & German DJ and producer Konstantin Sibold will perform on August 11th, and Carl Craig's Detroit Love will be featured on August 19th. Detroit Love will feature performances from fellow Detroit icons Moodymann and Omar S, eclectic rising star Azzecca, and Carl himself. 
Teksupport will close out the summer on September 1st at the ArtsDistrict in Brooklyn where Dennis Cruz will be performing all night long. For additional information, please visit Teksupport's Facebook page.
Teksupport NYC 2023 Summer Programming:
July 14th: Patrick Topping (all night long) at 99 Scott Outdoor
July 29th: Nicole Moudaber (all night long) at ArtsDistrict Brooklyn
August 5th: PAWSA (all night long) at 99 Scott Outdoor
August 11th: Anna, Konstantin Sibold at 99 Scott Outdoor
August 19th: Detroit Love: Carl Craig, Moodymann, Omar S., Azzecca at 99 Scott Outdoor
September 1st: Dennis Cruz (all night long) at ArtsDistrict Brooklyn