World renowned Ibiza club Amnesia announced its 2023 summer lineups for its immersive Pyramid party every Sunday from June 11th to October 8th.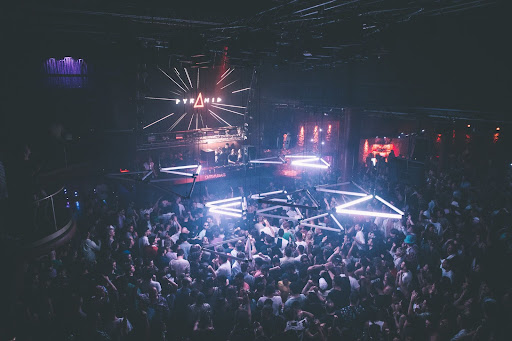 Making it a truly diverse lineup, headliners will include Caribou, Bonobo (DJ Set) Ricardo Villabolos, Nina Kraviz, Raresh, Richie Hawtin and more. The eclectic mix of internationally desirable talent will also include live acts that will cover the most exciting sounds from the house, techno, minimal and electro vanguard.
Curating a spectacular lineup of talent, Amnesia's Pyramid opening party on June 11th will feature a special three-way back to back set between Ricard Villalobos, Raresh and Franco Cinelli on the Terraza next to Nima Gorji and Cuartero. The Main Room will welcome Andres Campo, Deborah De Luca, Kobosil and Luca Donzelli making it an unforgettable night of the best in techno.
All summer the hottest in dance music will be taking over Pyramid. In June, the lineups will feature Honey Dijon, Nina Kraviz, Marco Farone, Maceo Plex and techno star Reinier Zonneveld. 
In July, Deborah de Luca, Caribou, Klangkuenster, and Pan-Pot will be featured on the decks. In August, Charlotte De Witte, Richie Hawtin, a DJ set by Totally Enormous Extinct Dinosaurs, and three hour sets from Deborah De Luca and Marco Farone will be the month's highlights.
In September, Adam Beyer, Kolsch, Maceo Plex, Alan Fitzpatrick, Kobosil, Richie Hawtin, and Nina Kraviz will be some of the stars featured at Amnesia. 
On October 8th the season will come to an end with Enzo Siragusa, Gianluca Pegoiani, Mar-T, a back to back set between Ricardo Viallobos and Luciano, Deborah De Luca and Marco Farone, plus more still yet to be announced.
Revelers will lose themselves on the world's most famous dance floor amongst immersive production on a scale that has not been seen before.  To receive tickets, please visit Amnesia's official website.
11-JUN
OPENING PARTY
TERRAZA
CUARTERO
NIMA GORJI
RICARDO VILLALOBOS b2b RARESH b2b
FRANCO CINELLI
MAIN ROOM
ANDRES CAMPO
DEBORAH DE LUCA
KOBOSIL
LUCA DONZELLI
18-JUN

IN COLLABORATION WITH JUNCTION 2
TERRAZA
BARRY CAN'T SWIM
CERI
HECTOR COUTO
HONEY DIJON
KERRI CHANDLER
MARCO FARAONE
MAIN ROOM
BEN UFO
DAX J
NINA KRAVIZ
OTIK
25-JUN
TERRAZA
GRETA LEVSKA
MAR-T
MACEO PLEX
RAXON
 MAIN ROOM
LUCA DONZELLI
MARCO FARAONE
REINIER ZONNEVELD LIVE
STELLA BOSSI
2-JUL
TERRAZA
POWERED BY SUNWAVES
[A:RPIA:R]
PRASLEA
 MAIN ROOM
ANDRES CAMPO
DEBORAH DE LUCA
KLANGKUENSTLER
LUCA DONZELLI
9-JUL
TERRAZA
 MAIN ROOM
ENRICO SANGIULIANO
KLANGKUENSTLER
LILLY PALMER
VIVIANA CASANOVA
16-JUL
TERRAZA
AVALON EMERSON
CARIBOU LIVE
MANO LE TOUGH
MAR-T
SPECIAL REQUEST
 MAIN ROOM
HÉCTOR OAKS
NINA KRAVIZ
REGAL
23-JUL
TERRAZA
CAAL
MAHER DANIEL
RICARDO VILLALOBOS
SONJA MOONEAR
 MAIN ROOM
CLARA CUVÉ
KOBOSIL
NICO MORENO
30-JUL
TERRAZA
DJ BORING
MACEO PLEX
MAR-T
RAXON
 MAIN ROOM
ENRICO SANGIULIANO
JULIET FOX
PAN-POT
REINIER ZONNEVELD LIVE
6-AUG
TERRAZA
SOLO TECHNO
CHARLOTTE DE WITTE
KINK LIVE
LUCA DONZELLI
RICHIE HAWTIN
SAMA'ABDULHADI
 MAIN ROOM
999999999
CHARLIE SPARKS
FATIMA HAJJI
PARFAIT
13-AUG
TERRAZA
BONOBO (DJ SET)
JENNIFER CARDINI
SQUIRE
TOTALLY ENORMOUS EXTINCT DINOSAURS (DJ SET)
 MAIN ROOM
DEBORAH DE LUCA (3-HOUR SET)
LUCA DONZELLI
MARCO FARAONE (3-HOUR SET)
20-AUG
TERRAZA
MAR-T
RICHIE HAWTIN
SAMA´ ABDULHADI
TBA
MAIN ROOM
ADIEL
HÉCTOR OAKS
NINA KRAVIZ
TBA
27-AUG
TERRAZA
ARAPU B2B PRIKU
MAHER DANIEl b2b SPECIAL GUEST
ION PANANIDES AND ALEX POTT
VILLALOBOS b2b LUCIANO
 MAIN ROOM
BEC
INDIRA PAGANOTTO
LAYTON GIORDANI
MARCO FARAONE
3-SEP
TERRAZA
MACEO PLEX
RENATO RATIER
TBA
MAIN ROOM
999999999
I HATE MODELS 3-HOUR SET
LEE ANN ROBERTS
10-SEP
TERRAZA
CAAL
CUARTERO
ENZO SIRAGUSA
SIDNEY CHARLES
MAIN ROOM
ANDRES CAMPO
DEBORAH DE LUCA 3-HOUR SET
LUCA DONZELLI
TRYM
17-SEP
TERRAZA
DJ HARVEY
RARESH
RICARDO VILLALOBOS
THOMAS STATION B2B OBEE
B2B JONNY ROCKS
MAIN ROOM
ANNA TUR
HÉCTOR OAKS
NINA KRAVIZ
RICHIE HAWTIN
24-SEP
TERRAZA
ADAM BEYER
KÖLSCH
MACEO PLEX
MAR-T
MAIN ROOM
ALAN FITZPATRICK
KOBOSIL
LILLY PALMER
1-OCT
TERRAZA
MAIN ROOM
FATIMA HAJJI
KOBOSIL
MANU SANCHEZ
REINIER ZONNEVELD LIVE
8-OCT
TERRAZA
ENZO SIRAGUSA
GIANLUCA PEGOIANI
MAR-T
VILLALOBOS b2b LUCIANO
MAIN ROOM
DEBORAH DE LUCA
MARCO FARAONE
TBA