Bass music artist Riot Ten announced the release of his highly-anticipated sophomore album, Hype Or Die: Homecoming, which is available to stream/download now via Dim Mak.
Fueled with a diverse range of sounds from dubstep, riddim, trap, and house, Hype Or Die: Homecoming is a 13 track display of non-stop driving action. With previous releases that include "Get Out," "Ready For War," and "Poppin," the LP also delivers a variety of new face-melting releases that include the hip-hop infused "Back On My Shit," "Break It" and "Pickle Juice." With an assortment of support from the likes of STARX, Bok Nero, Dogma, and many more, the album is a trailblazing precedent of what the future of bass music could become.
"Bar none, this album is the best body of work that I've ever created. I wanted to keep the essence of my signature "hype or die" sound, while also stepping outside of the box, and I couldn't be happier with how it came out. When I first started the process, the goal was never to create a full-length album. However, with so much downtime during the pandemic, the ideas kept flowing and the songs compiled. This album really sums up who I am as a producer in the bass music world and I'm beyond excited to finally put it out." 

Riot Ten
In accordance with the album's release, Riot Ten will be embarking on a massive Hype Or Die 2021 Tour that will be making its way to highly-anticipated festivals that include Lollapalooza and Bass Canyon.  For tickets, dates, and more information, please visit the following link.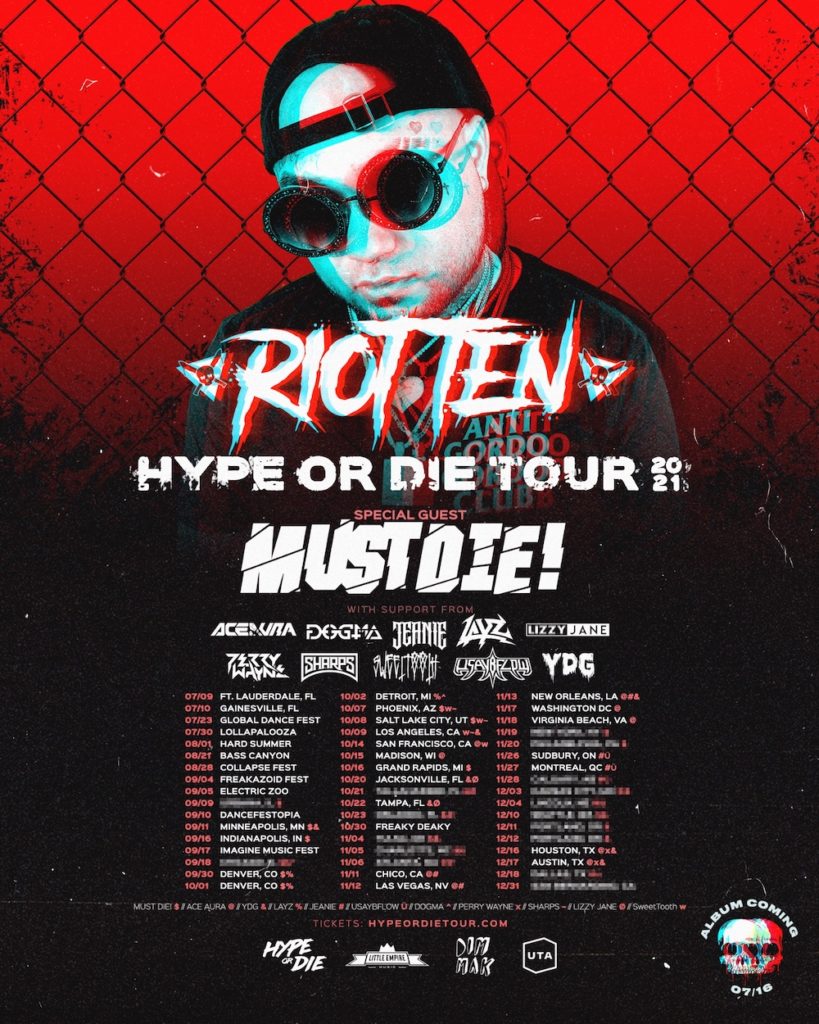 This fall Riot Ten will embark on his massive Hype Or Die 2021 Tour strapped with a diverse undercard featuring the likes of MUST DIE!, LAYZ, JEANIE, Lizzy Jane, and many others. The tour includes Riot Ten's coveted slots at some of the nation's highly-renowned festivals, such as Lollapalooza and Bass Canyon, as well as plenty of curated show experiences. 
Riot Ten – Hype Or Die: Homecoming
Get Out w/ STARX feat. BLUPILL & Dopeboylo
Came To Rage feat. Bok Nero
Control feat. Add1ction
Back On My Shit feat. Mikes Dead
Don't You
Silence (Interlude)
Poppin w/ CHRMNDRS feat. Krystall Poppin 
Kickstart feat. Global Mongo
Ready For War w/ Dogma feat. Joe Buras Of Born Of Osiris
Pickle Juice 
Break It
Death Wish w/ Perry Wayne feat. Titus
Homecoming (Outro)