After recently releasing the stellar track "So What" featuring A R I Z O N A, Louis The Child reveal a cinematic music video for the single that is available to stream/download now via Interscope Records. 
Louis The Child – So What feat. A R I Z O N A
Directed by Chase O'Black, the video follows a story of the highs and lows of a tumultuous relationship. With sun-kissed vibes, the visuals pan from nostalgic happy times with each other, to being alone and waiting for the other person to call. Paired perfectly with the track's lyrics that say, "So what if he don't care," the video culminates with an explosive fight at a party and leaving off with them moving on to better things.
"So What" saw its release earlier this month and has already accumulated over 2.8 million streams worldwide.  The track marks the first single off Louis The Child's forthcoming project Euphoria which is due out later this year.
The single's release also coincided with the announcement of the duo's long-awaited North American Euphoria Tour, which will kick off this summer.  Featuring support from Jai Wolf, K.Flay, The Knocks, Washed Out, What So Not, Whethan, Crooked Colours, Elderbrook, EVAN GIIA, Goth Babe, ilo ilo, MEMBA Slenderbodies, and Win & Woo, tickets are currently on sale at the following link.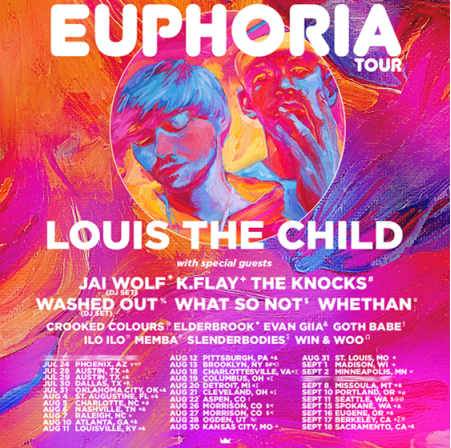 Louis The Child Euphoria Tour Dates
| | | | | |
| --- | --- | --- | --- | --- |
| DATE | VENUE | CITY |  SUPPORT | |
| 7/24 | Rawhide Event Center | Phoenix, AZ | w/ Jai Wolf (DJ Set), K.Flay & ilo ilo | |
| 7/28 | Stubb's Waller Creek Amphitheater | Austin, TX | w/ K.Flay & EVAN GIIA | SOLD-OUT |
| 7/29 | Stubb's Waller Creek Amphitheater | Austin, TX | w/ K.Flay & EVAN GIIA | SOLD-OUT |
| 7/30 | South Side Ballroom | Dallas, TX | w/ K.Flay & EVAN GIIA | SOLD-OUT |
| 7/31 | The Criterion | Oklahoma City, OK | w/ K.Flay & EVAN GIIA | |
| 8/4 | The St. Augustine Amphitheatre | St. Augustine, FL | w/ Jai Wolf (DJ Set) & EVAN GIIA | |
| 8/5 | Charlotte Metro Credit Union Amphitheatre | Charlotte, NC | w/ Jai Wolf (DJ Set) & EVAN GIIA | |
| 8/6 | Ascend Amphitheater | Nashville, TN | w/ Jai Wolf (DJ Set) & EVAN GIIA | |
| 8/7 | Red Hat Amphitheater | Raleigh, NC | w/ Jai Wolf (DJ Set) | |
| 8/10 | Coca-Cola Roxy | Atlanta, GA | w/ Jai Wolf (DJ Set) & EVAN GIIA | |
| 8/11 | Iroquois Amphitheater | Louisville, KY | w/ Jai Wolf (DJ Set) & EVAN GIIA | |
| 8/12 | Stage AE | Pittsburgh, PA | w/ Jai Wolf (DJ Set) & EVAN GIIA | |
| 8/13 | The Brooklyn Mirage | Brooklyn, NY | w/ What So Not, The Kocks, Elderbrook, and Win & Woo | SOLD-OUT |
| 8/18 | Sprint Pavillion | Charlottesville, VA | w/ Jai Wolf (DJ Set) & Slenderbodies | |
| 8/19 | EXPRESS LIVE! | Columbus, OH | w/ Jai Wolf (DJ Set) & Slenderbodies | |
| 8/20 | Masonic Temple Theatre | Detroit, MI | w/ Jai Wolf (DJ Set) & Slenderbodies | |
| 8/21 | Jacobs Pavilion at Nautica | Cleveland, OH | w/ Jai Wolf (DJ Set) & Slenderbodies | |
| 8/22 | Belly Up | Aspen, CO | w/ Goth Babe | SOLD-OUT |
| 8/26 | Red Rocks Ampitheatre | Morrison, CO | w/ What So Not, Elderbrook & Goth Babe | SOLD-OUT |
| 8/27 | Red Rocks Ampitheatre | Morrison, CO | w/ What So Not, Elderbrook & Goth Babe | SOLD-OUT |
| 8/28 | Ogden Twilight | Ogden, UT | w/ Washed Out (DJ Set) & Goth Babe | SOLD-OUT |
| 8/30 | Arvest Bank Theatre at The Midland | Kansas, MO | w/ Whethan | |
| 8/31 | St. Louis Music Park | St. Louis, MO | w/ Jai Wolf (DJ Set) | |
| 9/1 | Sylvee | Madison, WI | w/ Jai Wolf (DJ Set) | SOLD-OUT |
| 9/2 | Armory | Minneapolis, MN | w/ Whethan | |
| 9/8 | KettleHouse Amphitheater | Missoula, MT | w/ Jai Wolf (DJ Set) & EVAN GIIA | |
| 9/10 | McMenamins Edgefield Amphitheater | Portland, OR | w/ Jai Wolf (DJ Set) & MEMBA | |
| 9/11 | WaMu Theater | Seattle, WA | w/ What So Not, Crooked Colours & MEMBA | |
| 9/15 | Pavilion at Riverfront | Spokane, WA | w/ Jai Wolf (DJ Set) & EVAN GIIA | |
| 9/16 | Cuthbert Amphitheater | Eugene, OR | w/ Jai Wolf (DJ Set) & EVAN GIIA | |
| 9/17 | Greek Theatre | Berkeley, CA | w/ K.Flay, Slenderbodies & ilo ilo | |
| 9/18 | Memorial Auditorium | Sacramento, CA | w/ Whethan & EVAN GIIA | |