Famed electronic music trio Above & Beyond announces the release of a brand-new compilation titled, The Club Instrumentals which is available to stream/download via Anjunabeats.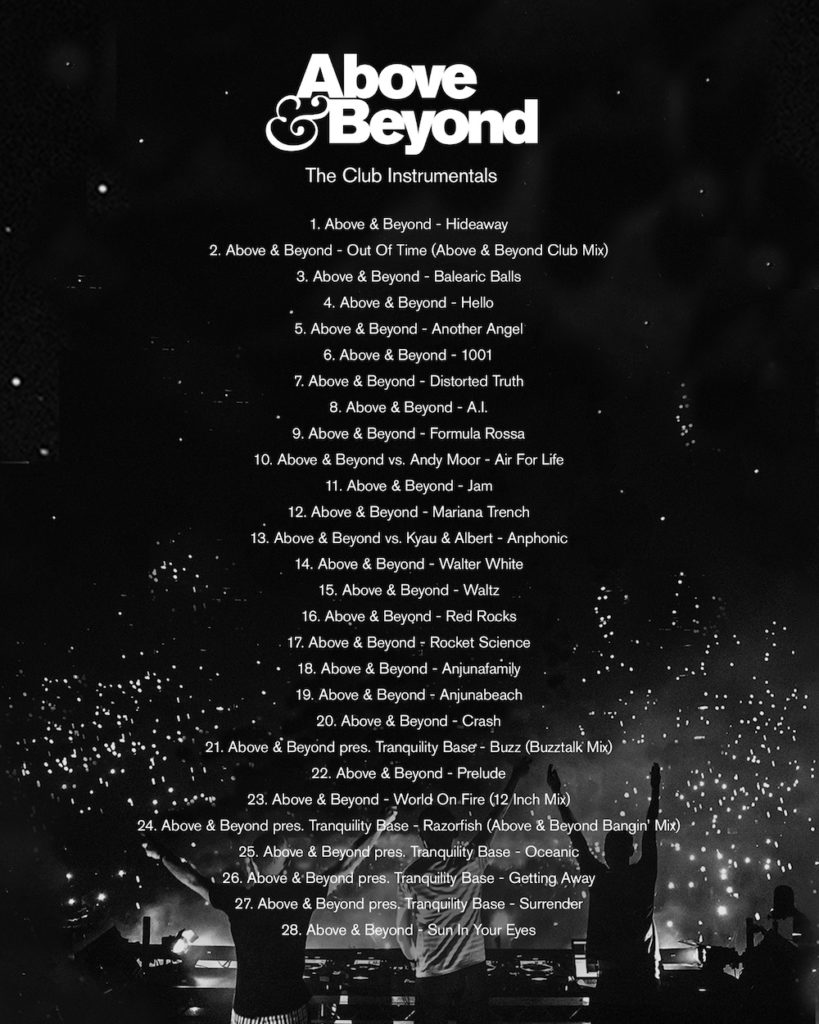 Featuring an array of mixed and unmixed extended versions of essential Above & Beyond club hits, The Club Instrumentals is a 28-track collection of thor biggest festival cuts released just in time for the summer. Spanning 15 years, the collection encompasses iconic tracks from the band's impressive discography that includes "Air For Life," "Sun In Your Eyes," "Prelude," and "Hello," alongside a selection of fan-favorite singles and archive selections from the band's Tranquility Base alias.
Above & Beyond are a Grammy-nominated English electronic music group made up of Jono Grant, Tony McGuinness, and Paavo Siljamäki. They are consistently placed in DJ Mag's Top 100 DJ poll each year
Above & Beyond have performed and headlined some of the biggest electronic music events including Ultra Music Festival, Electric Daisy Carnival, Electric Forest, Tomorrowland, and Stereosonic.  They are also known for their memorable live performances, spearhead the revered Anjunabeats record label, and host their own weekly radio show Group Therapy Radio.  For additional information related to Above & Beyond, please visit their official website.
Above & Beyond – The Club Instrumentals
Above & Beyond – Hideaway
Above & Beyond – Out Of Time (Above & Beyond Club Mix)
Above & Beyond – Balearic Balls
Above & Beyond – Hello
Above & Beyond – Another Angel
Above & Beyond – 1001
Above & Beyond – Distorted Truth
Above & Beyond – A.I.
Above & Beyond – Formula Rossa
Above & Beyond vs. Andy Moor – Air For Life
Above & Beyond – Jam
Above & Beyond – Mariana Trench
Above & Beyond vs. Kyau & Albert – Anphonic
Above & Beyond – Walter White
Above & Beyond – Waltz
Above & Beyond – Red Rocks
Above & Beyond – Rocket Science
Above & Beyond – Anjunafamily
Above & Beyond – Anjunabeach
Above & Beyond – Crash
Above & Beyond pres. Tranquility Base – Buzz (Buzztalk Remix)
Above & Beyond – Prelude
Above & Beyond – World On Fire (12 Inch Mix)
Above & Beyond pres. Tranquility Base – Razorfish (Above & Beyond Bangin' Mix)
Above & Beyond pres. Tranquility Base – Oceanic
Above & Beyond pres. Tranquility Base – Getting Away
Above & Beyond pres. Tranquility Base – Surrender
Above & Beyond – Sun In Your Eyes