Dubstep artist Subtronics is about to embark on the Monster Energy Outbreak Tour, which will kick-off on April 16 and will travel to 11 US cities over 19 dates.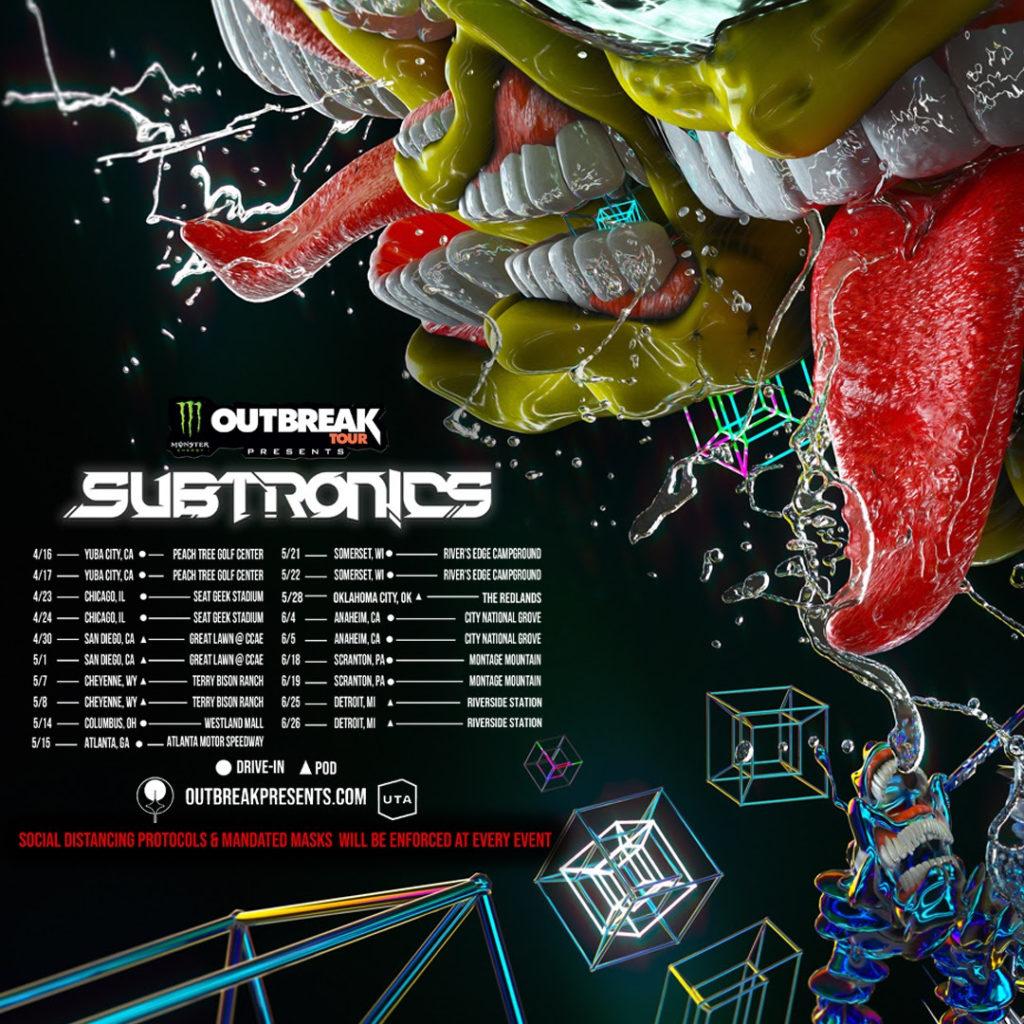 Known for his cutting-edge sound design and high-octane energy live, Subtronics will be delivering an explosive string of socially distanced drive-in shows from the Spring into the Summer. The Monster Energy Outbreak Tour will begin in California and travel to Chicago, San Diego, Atlanta, Detroit, and other major cities across the country. Fans will be able to revel in the music from the comfort of their own cars or from socially distanced pods set up at the show.
"So stoked and honored to be headlining the Monster Energy Outbreak Tour this year!  Being blessed with the opportunity to share all my music, new and old, with my fans in partnership with them is something I feel enormous gratitude towards."

Subtronics
Since its inception in 2011, the Monster Energy Outbreak Tour has showcased the hottest breakthrough artists on groundbreaking nationwide tours. It is the largest national touring brand in the club and theater space, with alumni including Post Malone, Kendrick Lamar, Macklemore, The Chainsmokers, Mike Shinoda, Cole Swindell, and many others. 
Tickets to the Monster Energy Outbreak Tour featuring Subtronics are available now at the following link.  Please see below for the list of tour dates.
Monster Energy Outbreak Tour Presents: Subtronics
April 16 – Yuba City, CA – Peach Tree Golf Center
April 17 – Yuba City, CA – Peach Tree Golf Center
April 23 – Chicago, IL – Seat Geek Stadium
April 24 – Chicago, IL – Seat Geek Stadium
April 30 – San Diego, CA – Great Lawn @CCAE
May 1 – San Diego, CA – Great Lawn @CCAE
May 7 – Cheyenne, WY – Terry Bison Ranch 
May 8 – Cheyenne, WY – Terry Bison Ranch
May 14 – Columbus, OH – Westland Mall
May 15 – Atlanta, GA – Atlanta Motor Speedway
May 21 – Somerset, WI – River's Edge Campground
May 22 – Somerset, WI – River's Edge Campground
May 28 – Oklahoma City, OK – The Redlands
June 4 – Anaheim, CA – City National Grove
June 5 – Anaheim, CA – City National Grove
June 18 – Scranton, PA – Montage Mountain
June 19 – Scranton, PA – Montage Mountain
June 25 – Detroit, MI – Riverside Station Detroit
June 26 – Detroit, MI – Riverside Station Detroit