An Insomniac TV takeover is announced for Kaleena Zanders + Friendz on Wednesday, March 31 at 8 pm PST with Party Pupils as special guests.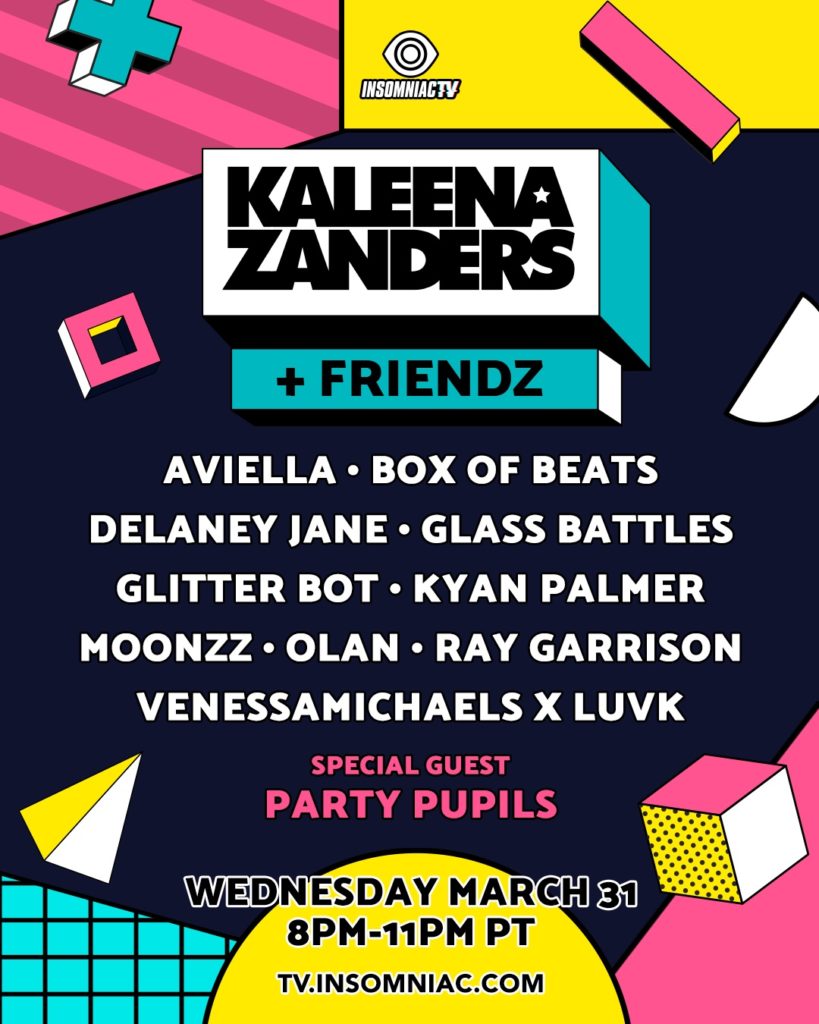 Featuring a range of vocalists who have been enlisted to a number of hit dance music tracks, Kaleen Zanders + Friendz will be featuring performances by Aviella, Box Of Beats, Delaney Jane, Olan, and more with a special guest appearance by Party Pupils as well.
With an aim to amplify the voice of the "top liner," Kaleena Zanders is using her curatorial influence to showcase the voices that anchor dance music's hits played in the club, at festivals and on the radio, . The takeover will expose the faces and solo sounds of some of the most familiar, genre-bending artists.
This announcement coincides with the upcoming release of Kaleena Zanders' debut solo EP, "Everything We Have Misaligned." The EP has already been spotlighted on Spotify's coveted 'New Music Friday' playlists in four countries and features the recent released singles, "Set Me Off" and "Remedy."
Kaleena Zanders is a Los Angeles-based singer-songwriter-producer who is known for the hit singles, "Stonger Than I've Ever Been" and "California."  The artist has performed at some of the most esteemed festivals in the world including Coachella, EDC, and Snow Globe
Kaleena Zanders + Friendz lineup
Aviella (Dimmak)
Box Of Beats (1.3M TikTok)
Delaney Jane (Spinnin', Mad Decent, Dimmak)
Glass Battles
Glitter Bot
Kyan Palmer (Spinnin', 1.3M Tik Tok)
Moonzz (Foreign Family Collective, big Noise)
Olan (Anjunabeats)
Ray Garrison
VenessaMichaels x Luvk
Special Guests: