Insomniac Events revealed that it will be hosting a Basscon Park N Rave at NOS Events Center on Friday, March 26 from 6-10 pm.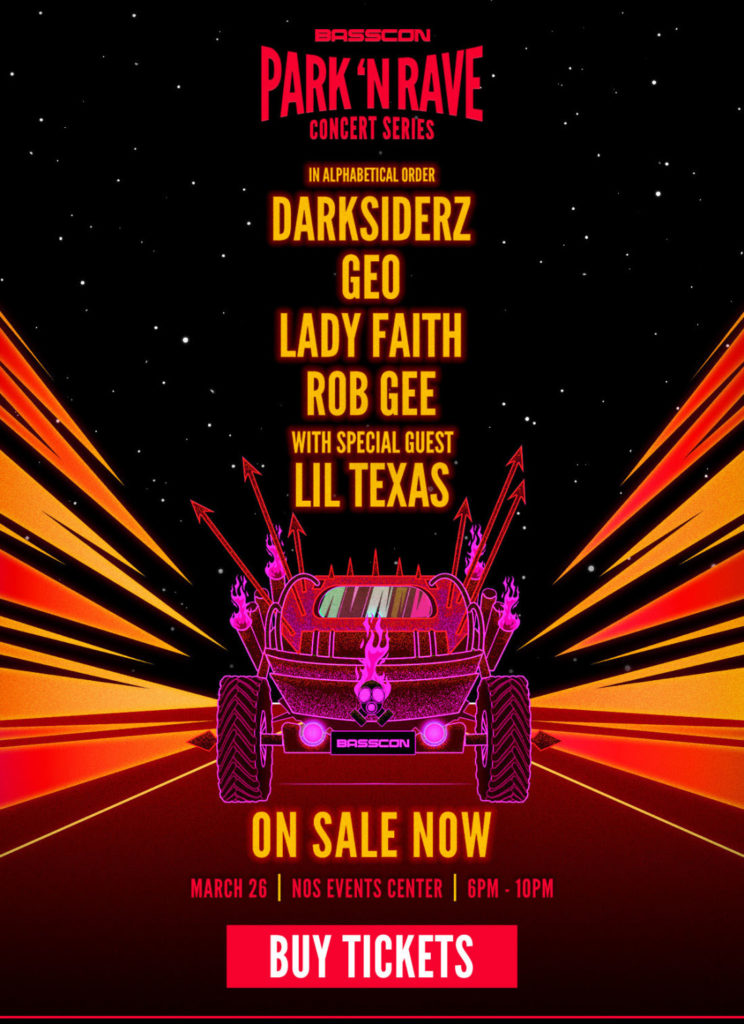 Featuring an all-star lineup of raucous dance music artists, Basscon Park N Rave will be welcoming performances by Darksiderz, Geo, Lady Faith, Rob Gee with a special guest appearance by Lil Texas. Basscon is known to be the epicenter for hardcore, hard-style, and other strands of high-octane dance music.  The brand has received a placement at a number of Insomniac festivals including the coveted wasteLAND stage at EDC Las Vegas.
DJ Isaac for Basscon: Wasteland Livestream
This event follows a number of recent Park N Rave announcements slated for the month of March and April.  This includes a back-to-back performance by Kill The Noise and Mat Zo on Saturday, March 13, a Park N Rave celebration for KHSMR's debut album, Harmonica Andromeda on Friday, March 19, and Saturday, March 20, a Dombresky Park N Rave on Friday, April 2, and a Blunts & Blondes Bassrush Park N Rave on Saturday, April 10.
Tickets to Insomniac's Basscon Park N Rave are currently on sale now at the following link starting at $200 per vehicle for up to five people.  Tickets will increase in price for those closer to the stage.  Each spot is given on a first-come, first-serve basis, so it is recommended to arrive prior to the start of the event at 6 pm.  The event will be following all COVID-19 restriction guidelines. For additional information on Insomniac's Park N Rave events, please visit its official website.
Basscon Park N Rave
Friday, March 26, 2021
DARKSIDERZ
GEO
LADY FAITH
ROB GEE
WITH SPECIAL GUEST
LIL TEXAS
NOS Events Center
689 S. East Street
San Bernardino, CA 92408