UNUM Festival Albania 2021, an exciting new underground event, revealed its full list of headliners which is scheduled for June 3 – 7, 2021 in Shengjin, Albania.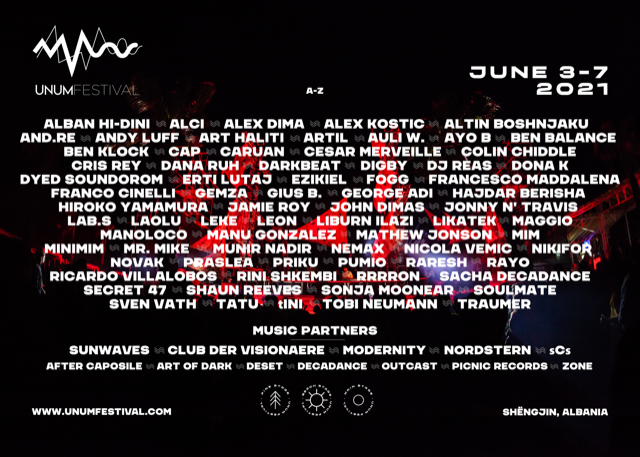 Boasting an impressive roster of talent, UNUM Festival Albania 2021 will feature headlining performances by Sven Vath and Ben Klock, Mathew Jonson, Dana Ruh, Tobi Neumann, Manu Gonzalez, Jamie Roy, Andy Luff, and Colin Chiddle.  This adds to its previously announced artists Ricardo Villalobos, Priku, Praslea, tINI, Sonja Moonear, Shaun Reeves, Raresh, Cesar Merveille, Dyed Soundorom, Leon, and more.
UNUM Festival 2021 – Phase One lineup
"This event will 100% take place in a responsible way and Covid secure fashion as it has full government approval, regardless of restrictions in other countries. So even if it has to become an event for just locals or those able to travel, then this is what will happen. This is thanks to Swallow Events, our partners in this, providing their rapid testing service for the festival to ensure everyone who enters is tested and virus-free beforehand. We are taking all measures required to ensure safety measures are followed at all times and there will be zero tolerance on this matter"

UNUM Festival 2021
UNUM Festival is set to take place in an uncommercialized setting that allows for non-stop music night and day, plus sunrise and sunset parties, beach parties, water sports, plenty of local culture, food and drink offerings as well as isolated bays and gold sand beaches to explore.
Partnered with iconic brands Sunwaves, Modernity, Club Der Visionaere, Nordsten, and sCs, UNUM comes with a full guarantee from the Albanian Ministries of Tourism, Environment, and Health that the event will go ahead as planned.
Tickets to UNUM Festival 2021 are currently on sale now at the following link starting at €139 for general admission.