Insomniac Events reveals the lineup for its brand-new, east coast event Abduction 2021: The Florida Invasion on Saturday, April 10 at Lot 54 at The Vanguard in Orlando, Florida.
Abduction 2021: The Florida Invasion
Expected to be a "massive musical good time," the 7-hour music event will be featuring some of the most revered artists in dance music including 4B, Acraze, Barely Alive, Bassrush, Dazy, Diplo, Dirty Audio, Dombresky, Habstrakt, Jinx, Pierce Rated R, Sloth, Tchami, and Virtual Riot.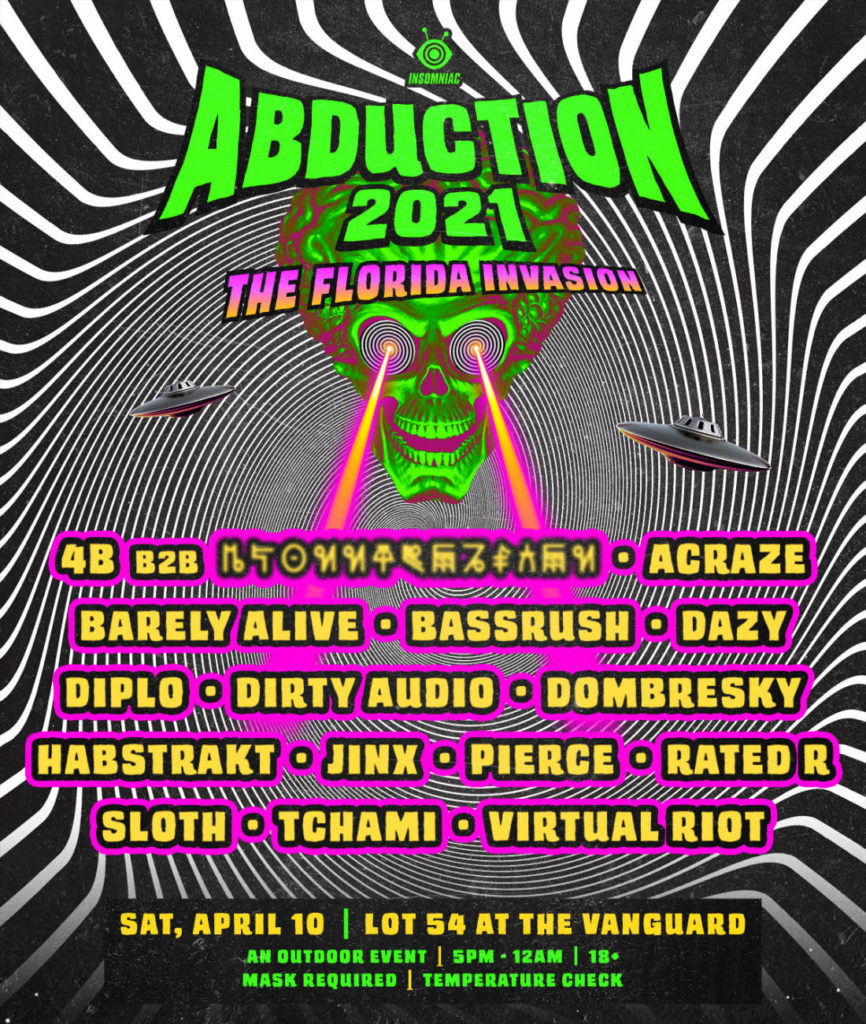 Tickets for Abduction 2021 will go on sale on Thursday, February 25 at 12 pm EST with Tier 1 GA passes starting at $29.99. The event will be outdoors with mask requirements and temperature checks at the door. For additional information on Abduction 2021, please visit its official website.
Insomniac Events has become one of the first promoters to pull-off socially distanced events successfully amidst the COVID-19 pandemic.  They have built this reputation through their ever-popular Park N Rave event series held weekly in San Bernardino, California.
Abduction 2021: The Florida Invasion
Saturday, April 10
5-12 pm
18+
Lineup:
4B
Acraze
Barely Alive
Bassrush
Dazy
Diplo
Dirty Audio
Dombresky
Habstrakt
Jinx
Pierce
Rated R
Sloth
Tchami
Virtual Riot
Lot 54 at The Vanguard
54 W. Concord St.
Orlando, FL 32801