Beatport & Absolut announce a special New Year's Eve live-stream event titled Dance The Year Away, which will be a 20-plus hour online party hitting more than 15 time zones with DJs in cities around the world.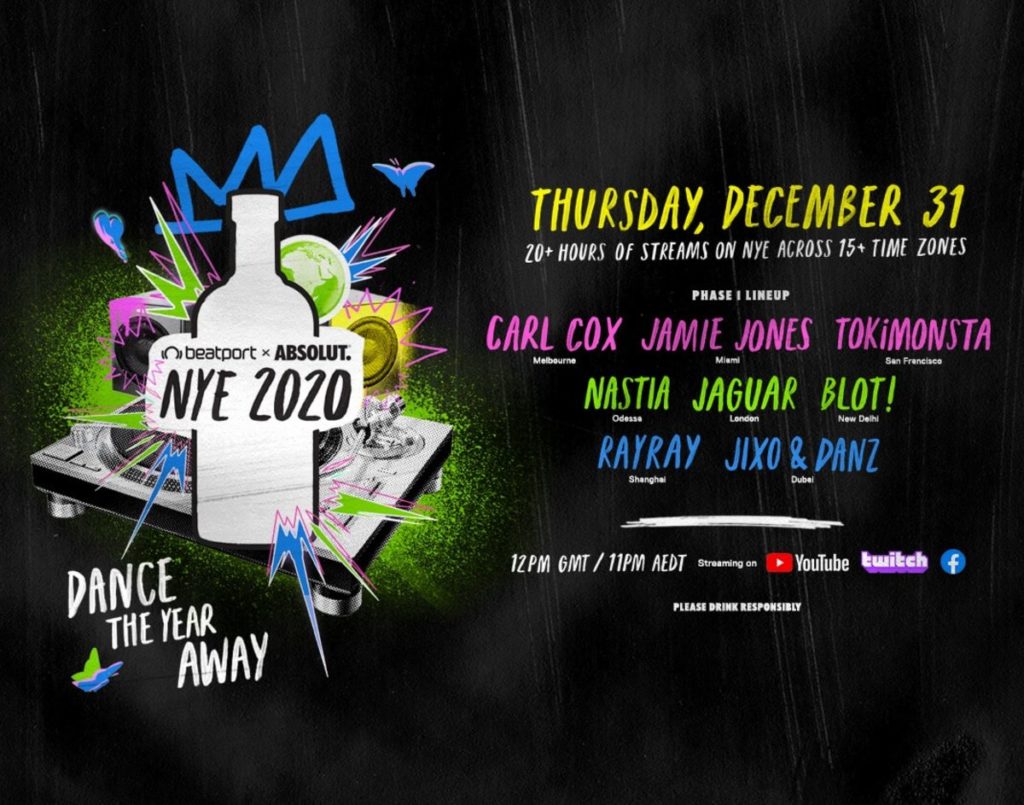 The event, which will begin just before midnight local time in Melbourne, Australia with a special performance set by Carl Cox, will also feature sets from Jamie Jones, BLOT! Jaguar, TOKiMONSTA, and more. The livestream will travel to major cities around the world to experience each city countdown to the new year. After they hit each time zone, they will close with another Carl Cox set in Melbourne to wrap-up the event.
"This has been a challenging year for everyone. But one silver lining has been how the dance community has rallied around live streams to keep the culture that we all love alive. Coming together with Absolut to host this incredible lineup performing from cities all over the world is the best way to send 2020 packing."

Ed Hill, Vice President of Media Group at Beatport
Since COVID-19 has taken the music industry by storm, Beatport's ReConnect livestreams have raised money for COVID-19 relief and aid for Beirut. Their genre showcases and artist takeovers have delivered an eclectic range of talent and performers to watch in the comfort of your home.
Please see below for the phase-one lineup for Dance The Year Away with the cities each artist will be performing in. Expect more artist announcements in the coming weeks as it gets closer to the event's date. For the most up-to-date information on the event, please visit the event's website.
Beatport & Absolut – Dance The Year Away on New Year's Eve
Melbourne: Carl Cox
Tokyo: TBD
New Delhi: BLOT!
Bangkok: TBD
Dubai: Jixo & Danz
Odessa: TBD
Berlin: TBD
London: TBD
London: Jaguar
Florianopolis: TBD
Miami: Jamie Jones
Calgary: TBD
San Francisco: Tokimonsta
Melbourne: Carl Cox