On July 10, Groove Cruise announced a benefit live stream event titled, Virtual Sail Aways Live which is scheduled to be held on July 17-19 at 5:00 pm ET each day on The Groove Cruise twitch channel. All proceeds will benefit the Whet Foundation's COVID-19 Relief Fund.
Marking their fifth charity-focused live stream event, Virtual Sail Aways Live will host 30+ DJs and artists with headlining talent from Christina Novelli, Nurko, Halogen, Mesto, Futuristic Polar Bears and more. Artists will be performing from locations around the world such as the United Kingdom, the Netherlands, Italy, Canada, New Jersey, and Miami plus there will be live visuals added to simulate a real in-person show.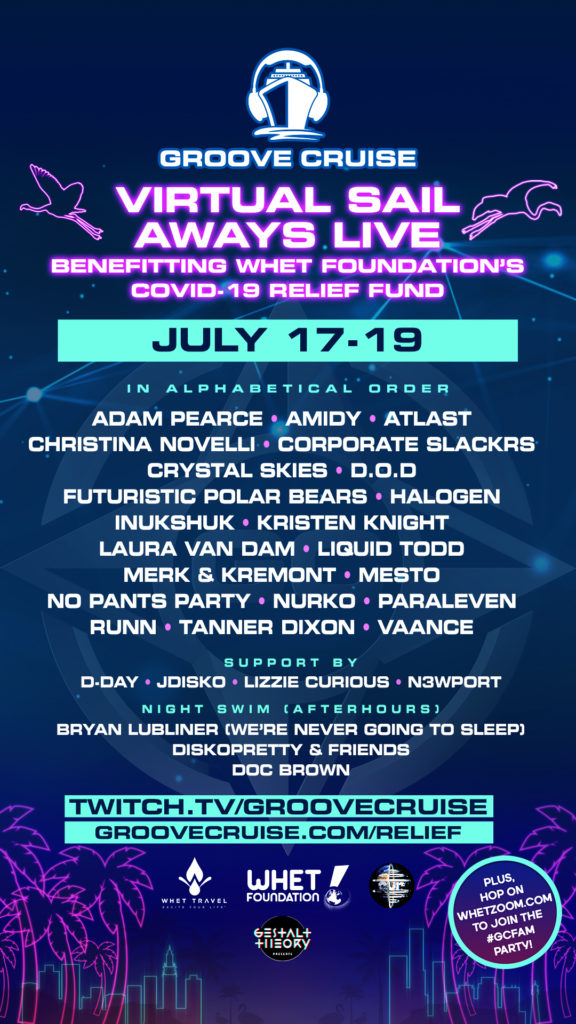 Adding to the event will also be an after hours called Night Swim where viewers can stay up all night together to watch DJs perform 10+ hour sets. Further, #GCFAM WhetZoom parties will be hosted and can fill up to 500 people.
The Whet Foundation COVID-19 Relief Fund has eased the financial burdens of artists, health workers, former employees and partner companies that have laid off employees. The Groove Cruise website is where anyone facing hardships from COVID-19 (including viewers) can still apply for a relief grant or donate to this cause.
Whet Travel is the leader in independent music cruise experience Groove Cruise, which takes place twice a year departing from Miami and California. Their relief charity events have been taking place since April with their last event raising nearly $40,000 and welcoming nearly 100,000 live viewers.