On June 16, In My Elements 2020 announced its initial dates and lineup which is scheduled to be held in a private location in Northeastern, Pennsylvania on July 10-12. The location will only be disclosed to ticket holders. 'In My Elements' is known to be an open air retreat that combines music, art, wellness, and activities.
Music, which will span its Air and Water stages, will include performances by: Maceo Plex, DJ Tennis, Doc Martin, DJ Holographic, The Golden Pony, Tony Y Not, Papyon, and more regional DJs still yet to be announced.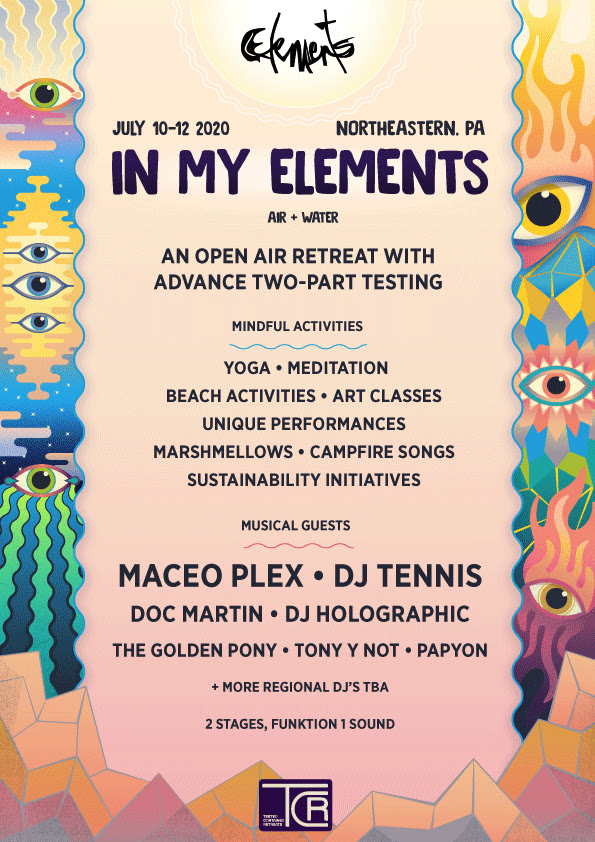 The retreat will ask all individuals to ditch their cellphones in order to attain a full digital detox with mindful activities. This will include morning yoga, meditations to help calm the mind, lakeside games, unique performances, marshmallows, campfire songs, art installations, and sustainability initiatives.
To ensure the safety of all its patrons, this boutique retreat will be held at a strictly limited capacity of 250 people. The retreat will be providing on-site, advanced COVID-19 testing, which all staff, talent, and patrons will be asked to complete while employing thorough disinfection protocols throughout the three day event.
All guests will stay in boutique cabins that will have the essential needs of hot showers, bathrooms, and electricity. For those who have a larger group, there will an opportunity to bunk together. All cabins will be operating at fifty percent capacity to allow proper distancing measures.
"A primary goal of "In My Elements" is to pave the way and provide guidance for how advance testing could allow increased capacities for gatherings, so that events around the country, including our Elements Music & Arts Festival, can open safely in the fall."

Timothy Monkiewicz, Co Founder of Elements/BangOn!NYC
All inclusive meal plans are also available to purchase. Attendees will be able to choose from a variety of options to suit any dietary restriction. This is a BYOB, so be sure to pack any favorite beverages.
Limited tickets are available to RSVP on a first come first serve basis, be sure to sign-up at the following link: In My Elements RSVP.