Lovefest Serbia unveils a massive lineup for its 2021 edition, which is scheduled to take place at Vrnjacka Banja on August 5-7, 2021.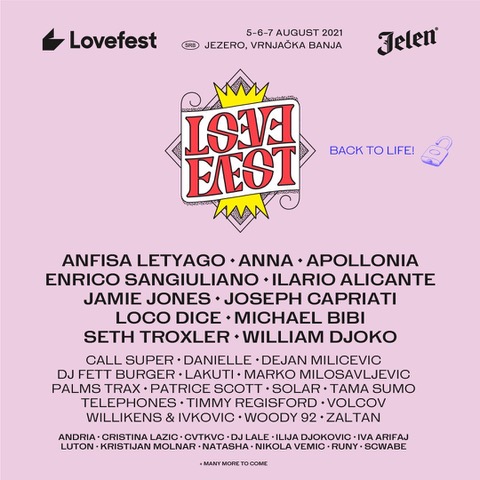 Featuring a show-stopping lineup of house and techno acts, Lovefest Serbia will be welcoming performances by Michael Bibi, Joseph Capriati, Seth Troxler, Ilario Alicante, Loco Dice, as well as the underground Parisian trio, Apollonia. 
Marking the festival's fifteenth anniversary, Lovefest will be operating at full capacity and fully COVID-19 proof.  Strict guidelines will be upheld where only fully-vaccinated people will be able to enter with a negative PCR test.  Further, body temperature checks will be taken upon entry. Payment at the festival will be made exclusively with tokens to avoid additional contact. 
Tickets to Lovefest Serbia 2021 are currently on sale now at the festival's official website at the following link.  There will be 500 free tickets available for those traveling internationally.  To sign-up for a free ticket, please visit here. 
Lovefest Serbia 2021
Anfisa Letyago
ANNA
Apollonia
Enrico Sanguiliano
Ilario Alicante
Jamie Jones
Joseph Capriati
Loco Dice
Michael Bibi
Seth Troxler
William Djoko
Call Super
Danielle
Dejan Milicevic
DJ Fett Burger
Lakuti
Marko Milosavljevic
Palms Trax
Patrice Scott
Solar
Tama Sumo
Telephones
Timmy Regisford
Volcov
Willikens & Ivkovic
Woody 92
Zaltan
Andria
Cristina Lazic
CVNTKVC
DJ Lale
Ilija Djokovic
Iva Arifaj
Luton
Kristijian Molnar
Natasha
Nikola Vemic
Runy
Scwabe