Dance music duo Gorgon City releases an enchanting forthcoming album single, "Dreams" with Jem Cooke which is available to stream/download now via Astralwerks.
Gorgon City, Jem Cooke – Dreams
Opening with an atmospheric soundscape, "Dreams" is an alluring deep-house single with soft, sensual vocals and glistening sonic textures. Featuring the duo's trademark arpeggiated bassline, the track grooves with ease providing a relaxing soothing addition to any playlist this summer.
"Dreams" marks the last single which is slated to appear on Gorgon City's eagerly awaited third album Olympia due out on Friday, June 25, and follows their recent hit releases "Never Let Me Down" featuring Hayley May, "House Arrest" with Soffi Tukker and "You've Done Enough" featuring DRAMA. The 18-track album is expected to feature a range of exciting new talent in the form of Grace Grundy and Aura James with past collaborations as well.
Olympia Tracklist:
Tell Me It's True
Oxygen (with Aura James)
You've Done Enough (with DRAMA)
Dreams (with Jem Cooke)
Body Language (with Cami)
When You're Gone
House Arrest (with Soffi Tukker)
Never Let Me Down (with Hayley May)
Sweet Temptation
Nobody (with DRAMA)
Lost Feelings
Tears (with Grace Grundy)
Waiting For The Right Time
Ecstasy (with Jem Cooke)
Foolproof (with Hayden James & Nat Dunn)
Burning (with Evan Giia)
Thoughts
Freedom (with Josh Barry)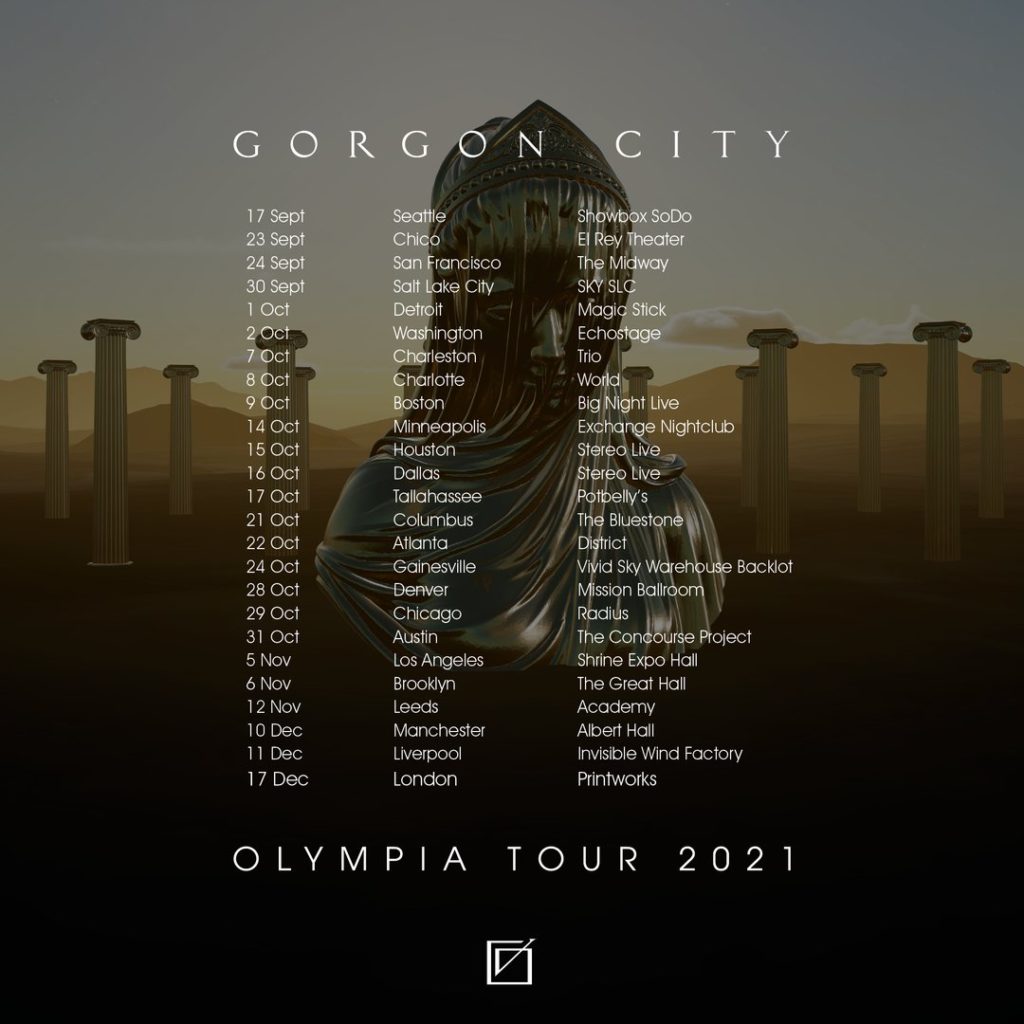 To coincide with this announcement, Gorgon City are set to embark on one of their biggest and boldest tours to date. Kicking off in September, the Olympia Tour will be making a number of notable stops in New York City, Chicago, Los Angeles, and London. Please see below for the complete list of tour dates.
OLYMPIA – TOUR DATES
9/17/21 – Seattle – Showbox SoDo
9/23/21 – Chico – El Rey is Theater
9/24/21 – San Francisco – The Midway – SOLD OUT
9/30/21 – Salt Lake City – SKY SLC
10/1/21 – Detroit – Magic Stick – SOLD OUT
10/2/21 – Washington – Echostage
10/7/21 – Charleston – Trio
10/8/21 – Charlotte – World
10/9/21 – Boston – Big Night Live
10/14/21 – Minneapolis – Exchange Nightclub
10/15/21 – Houston – Stereo Live
10/16/21 – Dallas – Stereo Live
10/17/21 – Tallahassee – Potbelly's
10/21/21 – Columbus – The Bluestone
10/22/21 – Atlanta – District
10/24/21 – Gainesville – Vivid Sky Warehouse Backlot
10/28/21 – Denver – Mission Ballroom
10/29/21 – Chicago – Radius
10/31/21 – Austin – The Concourse Project
11/5/21 – Los Angeles – Shrine Expo Hall – SOLD OUT
11/6/21 – Brooklyn – The Great Hall
11/12/21 – Leeds – Academy
12/10/21 – Manchester – Albert Hall
12/11/21 – Liverpool – Invisible Wind Factory – SOLD OUT 
12/17/21 – London – Printworks – SOLD OUT