BSH Island Croatia 2021 revealed its full lineup, which is scheduled to take place from July 1-5 at Zrće Beach on the Island of Pag.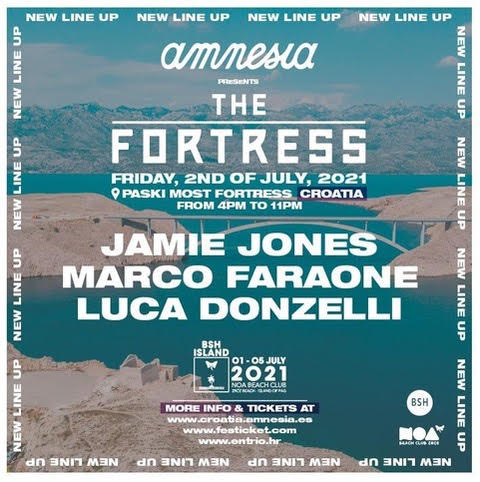 Following its safe and successful pre-party featuring Dennis Cruz last week, BSH Island Croatia unveils that it will be welcoming the likes of Jamie Jones, Ilario Alicante, Paco Osuna, Richy Ahmed, Marco Faraone, Dennis Cruz, Sidney Charles, and more at Noa Beach Club and Kalypso Club.
Marking the highlight event, Amnesia will be hosting a very special Sunset Session party at a spectacular 17th-century Fortress on Friday, July 2nd from 4 pm to 11 pm. The Amnesia Fortress will continue well into the evening as cutting-edge brands like Do Not Sleep, Under No Illusion Recordings and Pablo's House are all set to host stages with after-hours sessions at Kalypso Club.
To coincide with this announcement, BSH also announced that Croatia is open to welcome visitors on July 1 as long as they provide a negative test result, are fully vaccinated with proof, or have recovered from the virus. All events going forward will have no restrictions for those who are in possession of an EU Digital Covid certificate. For information on how to secure a Covid passport, visit here.
Tickets to BSH Island Croatia 2021 are currently on sale now at the following link. For additional information, please visit the event's official website.
BSH ISLAND – YACHT PARTY LISTINGS
Friday, July 2
Afterparty after Amnesia Fortress with yacht cruising from the Fortress back to Noa Beach Club for the rest of the programme on.
July 3
Afterparty after Noa Beach Club
July 4