Electronic music duo Louis The Child collaborates with the dance-pop trio, A R I Z O N A to release a stunning new single titled, "So What"  that is available to stream/download now.
Louis The Child – So What feat. A R I Z O N A
Opening with a gorgeous vocal, "So What" is a laid-back release with summer-laden vibes perfect for the forthcoming season. With carefree lyrics, the sun-kissed track features uplifting soundscapes and a dance-pop beat that caters to a global audience.
The euphoric release aligns in perfect tandem with the duo's highly-anticipated North American Euphoria Tour.  Kicking off this summer, the tour will see stellar support from Jai Wolf, K.Flay, The Knocks, Washed Out, What So Not, Whethan, Crooked Colours, Elderbrook, EVAN GIIA, Goth Babe, ilo ilo, MEMBA Slenderbodies, and Win & Woo.  Hitting a number of major cities across the states, the duo will be embarking to Phoenix, Austin, Brooklyn, Chicago, among many others.
Tickets for Louis The Child's Euphoria Tour will go on sale today at 11 am local time and can be purchased here. See the full list of tour dates below.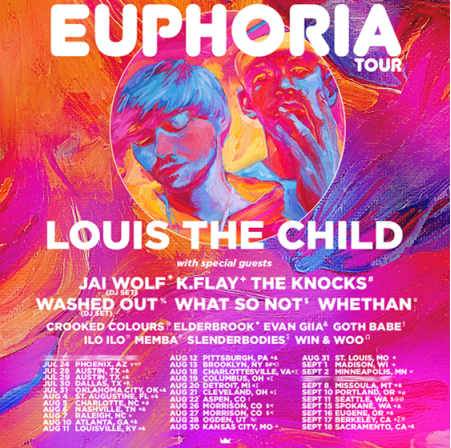 Louis The Child Euphoria Tour Dates
| | | | |
| --- | --- | --- | --- |
| DATE | VENUE | CITY |  SUPPORT |
| 7/24 | Rawhide Event Center | Phoenix, AZ | w/ Jai Wolf (DJ Set), K.Flay & ilo ilo |
| 7/28 | Stubb's Waller Creek Amphitheater | Austin, TX | w/ K.Flay & EVAN GIIA |
| 7/29 | Stubb's Waller Creek Amphitheater | Austin, TX | w/ K.Flay & EVAN GIIA |
| 7/30 | South Side Ballroom | Dallas, TX | w/ K.Flay & EVAN GIIA |
| 7/31 | The Criterion | Oklahoma City, OK | w/ K.Flay & EVAN GIIA |
| 8/4 | The St. Augustine Amphitheatre | St. Augustine, FL | w/ Jai Wolf (DJ Set) & EVAN GIIA |
| 8/5 | Charlotte Metro Credit Union Amphitheatre | Charlotte, NC | w/ Jai Wolf (DJ Set) & EVAN GIIA |
| 8/6 | Ascend Amphitheater | Nashville, TN | w/ Jai Wolf (DJ Set) & EVAN GIIA |
| 8/7 | Red Hat Amphitheater | Raleigh, NC | w/ Jai Wolf (DJ Set) |
| 8/10 | Coca-Cola Roxy | Atlanta, GA | w/ Jai Wolf (DJ Set) & EVAN GIIA |
| 8/11 | Iroquois Amphitheater | Louisville, KY | w/ Jai Wolf (DJ Set) & EVAN GIIA |
| 8/12 | Stage AE | Pittsburgh, PA | w/ Jai Wolf (DJ Set) & EVAN GIIA |
| 8/13 | The Brooklyn Mirage | Brooklyn, NY | w/ What So Not, The Kocks, Elderbrook, and Win & Woo |
| 8/18 | Sprint Pavillion | Charlottesville, VA | w/ Jai Wolf (DJ Set) & Slenderbodies |
| 8/19 | EXPRESS LIVE! | Columbus, OH | w/ Jai Wolf (DJ Set) & Slenderbodies |
| 8/20 | Masonic Temple Theatre | Detroit, MI | w/ Jai Wolf (DJ Set) & Slenderbodies |
| 8/21 | Jacobs Pavilion at Nautica | Cleveland, OH | w/ Jai Wolf (DJ Set) & Slenderbodies |
| 8/22 | Belly Up | Aspen, CO | w/ Goth Babe |
| 8/26 | Red Rocks Ampitheatre | Morrison, CO | w/ What So Not, Elderbrook & Goth Babe |
| 8/27 | Red Rocks Ampitheatre | Morrison, CO | w/ What So Not, Elderbrook & Goth Babe |
| 8/28 | Ogden Twilight | Ogden, UT | w/ Washed Out (DJ Set) & Goth Babe |
| 8/30 | Arvest Bank Theatre at The Midland | Kansas, OH | w/ Whethan |
| 8/31 | St. Louis Music Park | St. Louis, MO | w/ Jai Wolf (DJ Set) |
| 9/1 | Sylvee | Madison, WI | w/ Jai Wolf (DJ Set) |
| 9/2 | Armory | Minneapolis, MN | w/ Whethan |
| 9/8 | KettleHouse Amphitheater | Missoula, MT | w/ Jai Wolf (DJ Set) & EVAN GIIA |
| 9/10 | McMenamins Edgefiled Amphitheater | Portland, OR | w/ Jai Wolf (DJ Set) & MEMBA |
| 9/11 | WaMu Theater | Seattle, WA | w/ What So Not, Crooked Colours & MEMBA |
| 9/15 | Pavilion at Riverfront | Spokane, WA | w/ Jai Wolf (DJ Set) & EVAN GIIA |
| 9/16 | Cuthbert Amphitheater | Eugene, OR | w/ Jai Wolf (DJ Set) & EVAN GIIA |
| 9/17 | Greek Theatre | Berkeley, CA | w/ K.Flay, Slenderbodies & ilo ilo |
| 9/18 | Memorial Auditorium | Sacramento, CA | w/ Whethan & EVAN GIIA |