Founder of Dirtybird Records, Claude VonStroke, announced Dirtybird CampINN 2021 will be held at the Avanti Palms Resort and Conference Center in Orlando, Florida from Friday, May 14, 2021, to Monday, May 17, 2021.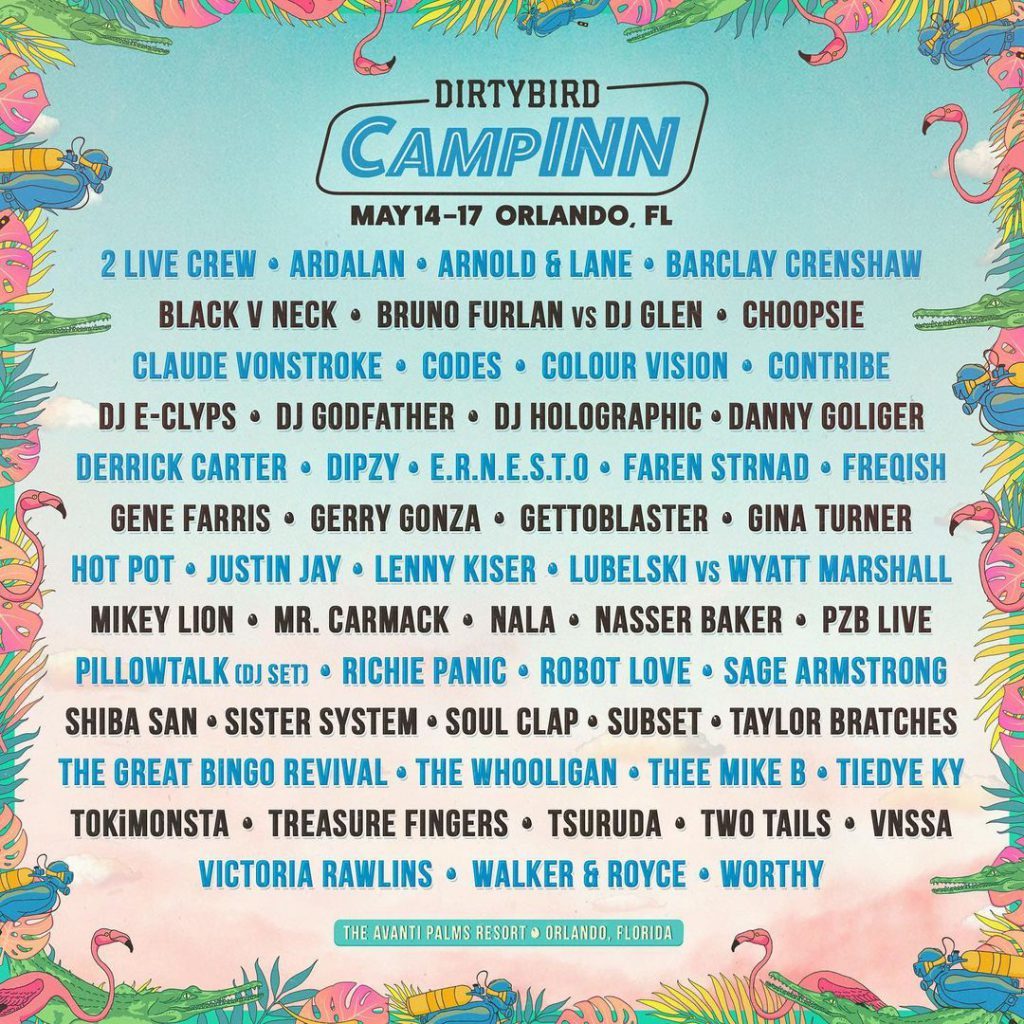 In true Dirtybird CampINN fashion, the four-day, three-night extravaganza will be featuring an eclectic range of acts from house to hip-hop including performances by 2 Live Crew, Claude VonStroke, DJ Holographic, Derrick Carter, Gene Farris, Gina Turner, Mikey Lion, Shiba San, Soul Clap, TOKiMONSTA, Treasure Fingers, Walker & Royce, and more. 
As part of Dirtybird's 15th birthday celebrations in 2020, Dirtybird CampINN will be taking over an entire resort for a massive long weekender in Orlando. Guaranteed to be an all-new, unique experience happening over three days, fans will relish in resort amenities, play poolside, and most importantly, party late at night. The festival theme will be "70s hotel," somewhere between Pee Wee's Playhouse and Mad Men.
Dirtybird CampINN will operate under a rigorous set of self-established guidelines to ensure the safety of its staff and patrons. Face coverings are mandatory and required indoors at all times. Festival staff will be providing bandanas to attendees upon entry, but they encourage guests to bring their own. Social distancing at the Avanti Palms Resort grounds is also "encouraged," but notably not obligatory.
For additional information regarding Dirtybird CampINN 2021 festival, please visit its ticketing website.
Dirtybird CampINN 2021
Dates: Friday, May 14, 2021 – Monday, May 17, 2021
Price: $75.00 – $500.00
Packages will include:
Three (3) nights in Orlando, FL (Check-in: May 14th; Check-out: May 17th)
Two (2) or four (4) Weekend Passes
One (1) room for two (2) or four (4) guests
2 person rooms have ONE KING Bed
4 person rooms have TWO QUEEN Beds
All hotel taxes
Avanti Palms Resort & Conference Center
6515 International Drive
32819
Orlando, FL, US
Dirtybird CampINN 2021 Lineup
2 Live Crew
Ardalan
Arnold & Lane
Barclay Crenshaw
Black V Neck
Bruno Furlan
Choopsie
Claude VonStroke
Codes
Contribe
Corey Hurley
DJ E-Clyps
DJ Glen
DJ Godfather
DJ Holographic
Danny Goliger
Derrick Carter
Dipzy
E.R.N.E.S.T.O
Faren Strnad
Freqish
Gene Farris
Gerry Gonza
Gettoblaster
Gina Turner
Hot Pot
Justin Jay
Lenny Kiser
Lubelski
Mikey Lion
Mr. Carmack
Nala
Nasser Baker
PZB Live
Pillowtalk (DJ Set)
Qlank
Richie Panic
Robot Love
Sage Armstrong
Shiba San
Sister System
Soul Clap
Subset
Taylor Bratches
The Whooligan
Thee Mike Bee
Tiedye Ky
TOKiMONSTA
Treasure Fingers
Tsuruda
Two Tails
VNSSA
Victoria Rawlins
Walker & Royce
Worthy