SerotonINN Sound Series, a brand new electronic music festival, announces its debut on Friday, March 12, and Saturday, March 13, 2021, at the DoubleTree by Hilton in Denver, Colorado.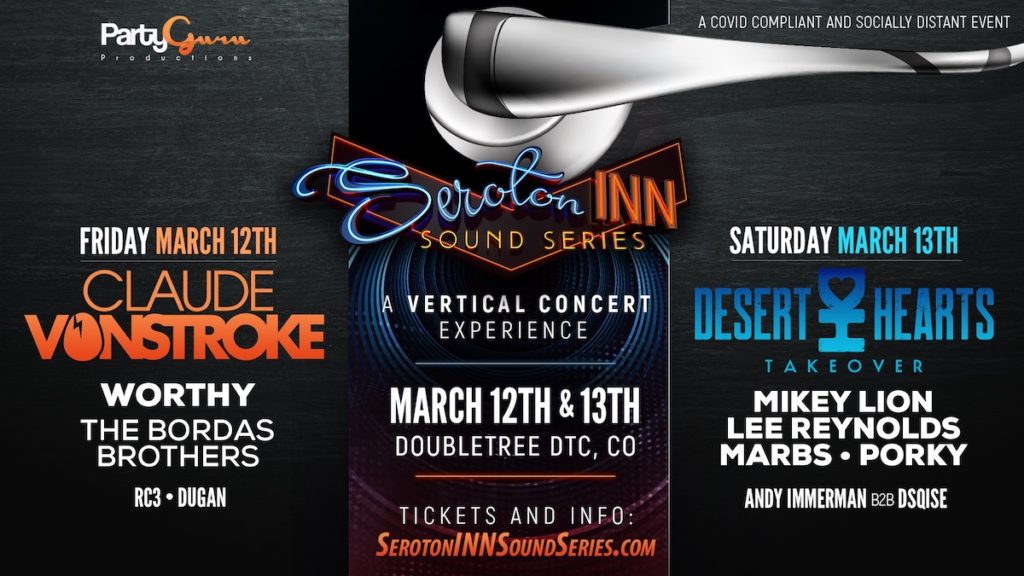 Featuring two socially-distanced days of sets from some of EDM's most revered artists, SerotonINN Sound Series will be presenting performances by Claude VonStroke, Worthy, Mikey Lion, Desert Hearts, Lee Reynolds, and more.
Marking the first installment of what will be a multi-part series, SerotonINN will be one of the first vertical festivals in the United States and the first in Colorado. This unique socially distant event will follow all CDC guidelines and allow guests to view the show from the comfort of their own private hotel room balconies.
Whether it is for one night or two, the DoubleTree is a spacious venue with a one-of-a-kind indoor atrium that includes six floors of balcony rooms providing ideal viewing of the artists and performers on the stage. There will also be VIP options for a select number of guests to enjoy one of the VIP tables located on the floor of the atrium or on one of the landings located on the floors of the hotel.
Tickets for SerotonINN Sound Series are currently on sale now at the following link where fans can choose to book a room for one night or two. For additional information on SerotonINN Sound Series, please visit its official website.