DJ/producer David Guetta announced a New Year's Eve charity livestream, "United At Home" broadcast live from Paris.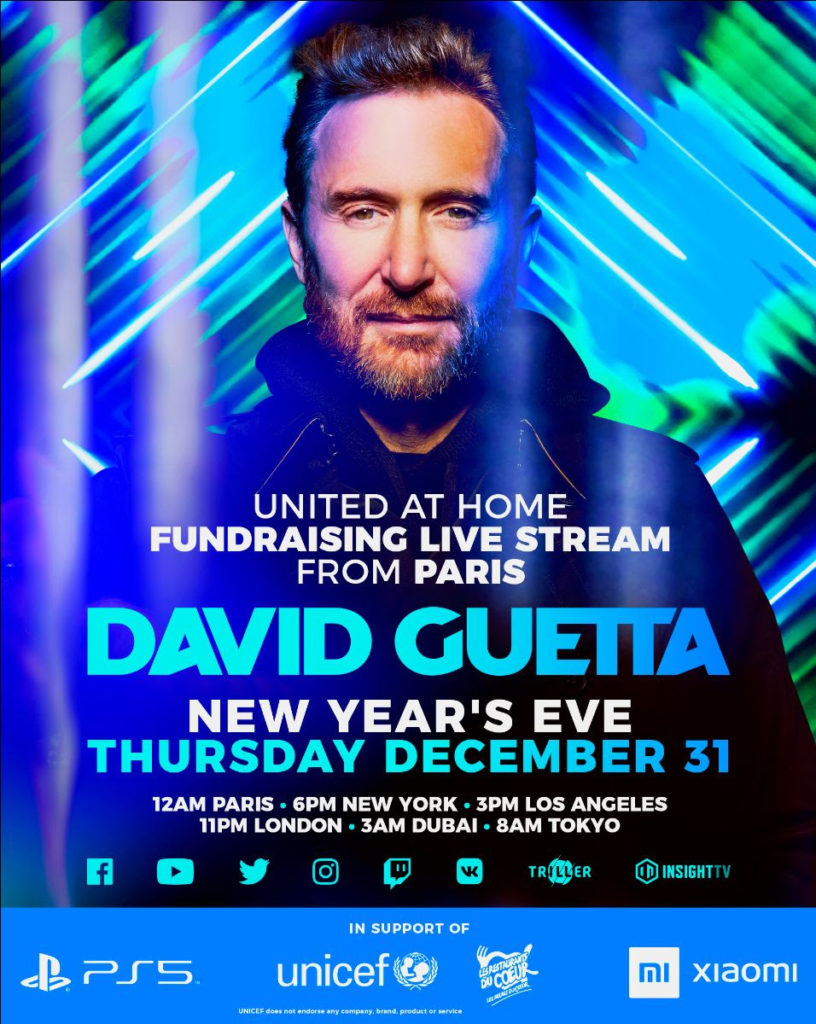 Marking David Guetta's third "United At Home" livestream event, his  New Year's Eve performance will be broadcast live from Paris at midnight and can be viewed by tuning into Facebook, YouTube, Instagram, Twitter, Twitch, VK, Insight TV, and Triller.  Live from the city of lights, the performance will shed love and light with an assortment of the artist's massive catalog of releases amidst one of the most romantic cities in the world.
In partnership with PS5 and Xiaomi, all proceeds from the event will benefit UNICEF and Les Restos du Coeur, one of France's biggest charities distributing food packages and hot meals to those in need.
David Guetta | United at Home – Fundraising Live from NYC
David Guetta's "United At Home" charity events have raised over $1.5 million dollars and have garnered over 50 million views for its Miami and New York editions. His performance in Miami back in April saw 8000 locals dancing to the artist's iconic songs from their balconies, and in May Guetta performed at New York City's Top of the Rock Observation Deck.  Breaking the Guinness World Record for having the most-watched DJ set on Facebook, the artist has delivered some of the most memorable livestreams of 2020.  The artist continues to unite people from around the world in the comfort of their own homes by inviting the world to join him on New Year's Eve to spread the holiday spirit by giving back to those in need. David Guetta's New Year's Eve performance can be streamed live from the artist's official Facebook Page.
David Guetta – United At Home New Year's Eve – Live from Paris
Paris – Midnight
London – 11 PM
Los Angeles – 3 PM
New York- 6 PM 
Dubai – 3 AM
Tokyo – 8 AM