HARD Events x JOYRYDE will take over Insomniac's Park N Rave event series at NOS Events Center on Friday, January 8, and Saturday, January 9.  The two-night event will feature a headlining performance by JOYRYDE with additional special guests.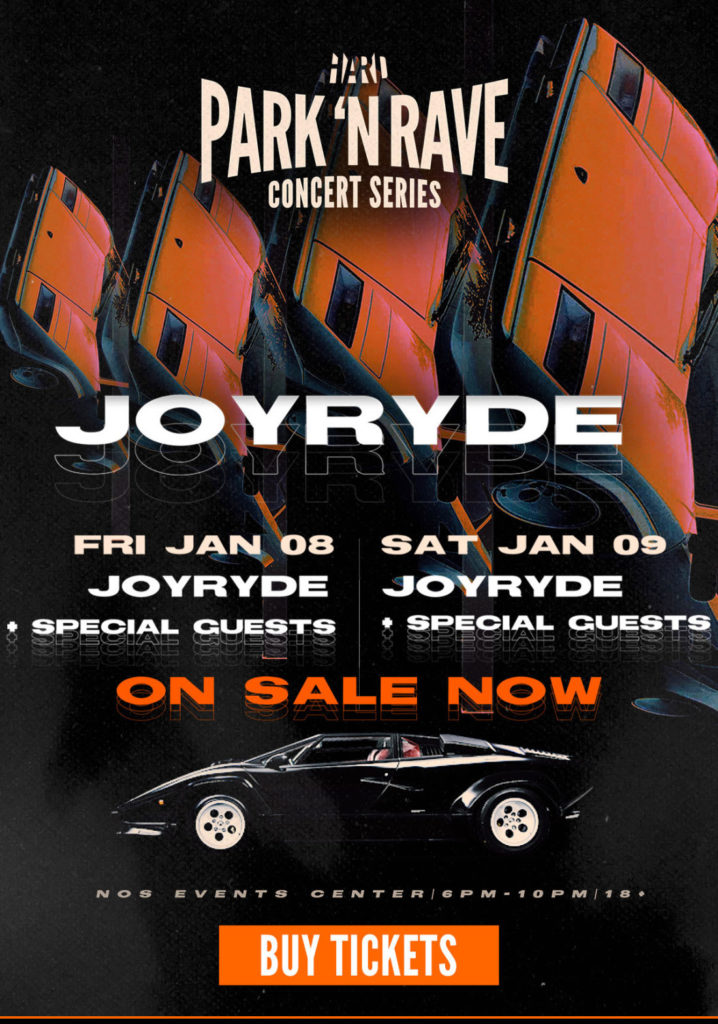 This announcement comes after Insomniac Events revealed a number of upcoming shows for its Park N Rave events series this December.  Among those events include a two-night performance by Audien on December 4 and 5, a special early event with Day Trip on December 6, a Bass takeover with Subtronics on December 11 and 12, and a special two-night event with Valentino Khan on December 18 and 19.  The event series plans to close out the year with five performances by deadmau5, which will kick-off on New Year's Eve (December 31) and New Year's Day (January 1, 2021).
Insomniac recently announced the expansion of its popular Park N Rave events as it added a new venue, the Chula Vista Drive-In in San Diego, California.  Dreamstate will be the first to kick-off the San Diego series with performances by Cosmic Gate and Infected Mushroom on Friday, December 11, and Markus Schulz on Saturday, December 12.  Taking the venue to new heights will be a back-to-back headlining performance by deadmau5 on Friday, January 7, and Saturday, January 8.  
Tickets for JOYRYDE x HARD Events Park N Rave takeover are currently on sale now at the following link. This will be an 18+ event but passengers who are 21+ will be allowed to bring their own alcohol into the venue.  The event starts at 6 pm.  Please arrive early to secure the best space.  
JOYRYDE x HARD Events Park N Rave:
Friday, January 8
NOS Events Center
18+
Saturday, January 9
NOS Events Center
18+ 
NOS Events Center
689 S. East Street
San Bernardino, CA 92408