Mat Zo has announced that he will be embarking on a five-date virtual tour with the popular video game platform Minecraft to support his album release, Illusion of Depth.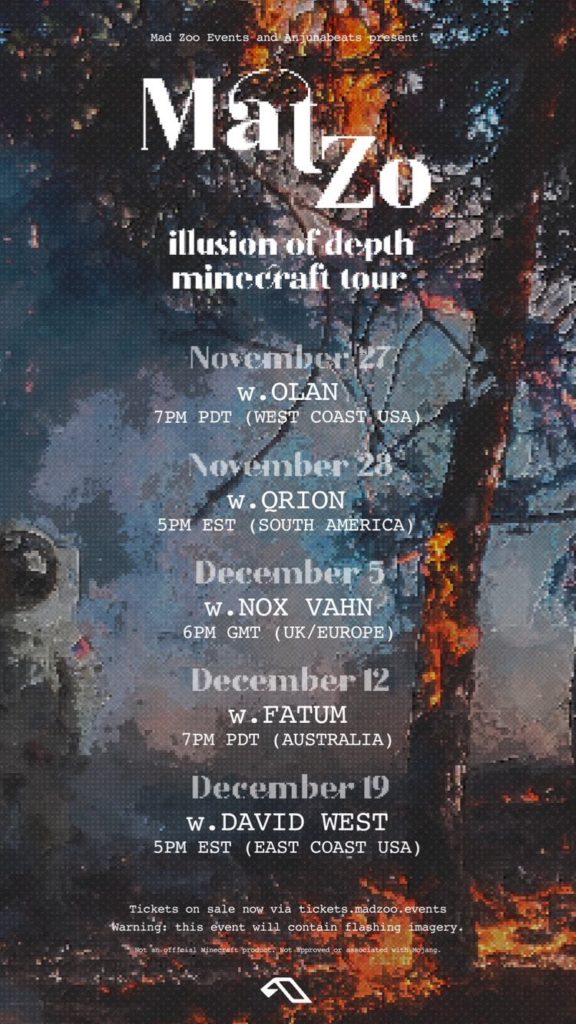 This announcement follows the success of Stratosfest, which was a next-level Minecraft music event that was spearheaded by Mat Zo as well. Proving he is one of the most forward-thinking and revolutionary artists in electronic music, the one-of-a-kind tour will be adding even more technical innovations to enhance the immersive online experience for concertgoers.
"We've been throwing some crazy Minecraft parties this year. MZAF, Hospitality, and Mad Zoo in the Void, Stratosfest, were all groundbreaking in some way and I'm super proud to be part of the team who put them together. Our next big accomplishment is using MIDI timecoding to control the visuals. This has never been done before in Minecraft, and it's possibly the first time MIDI timecoding has been achieved in any interactive virtual event."

Mat Zo
Featuring a diverse range of electronic music acts, Mat Zo says,
"The tour kicks off with Olan, my collab buddy who features heavily on my new album. Then Qrion on the next day, making a return from her unforgettable set at Stratosfest. Nox Vahn, one of my favorite up and comers on the scene, and Fatum, with whom I go way back to my first shows in the US. The final date of the tour features David West, who is probably one of my favorite producers of all time and had a huge impact on me growing up. This tour is going to be really special for many reasons and I can't wait to experience it with all of you!'
Tickets to Mat Zo's Minecraft virtual tour are currently on sale at the following link. This event will contain flashing imagery and is not an official Minecraft product. It is not approved or associated with Mojang.
Mat Zo Minecraft Virtual Tour Dates
November 27 – @ 7 pm PST – West Coast, USA (with special guest Olan)
November 28 – @ 5 pm EST – East Coast, USA (with special guest Qrion)
December 5 – @ 5 pm GMT – UK/Europe (with special guest Nox Vahn)
December 12 – @ 7 pm PDT West Coast, USA (with special guest Fatum)
December 19 – @ 5 pm EST East Coast, USA (with special guest David West)