On June 29, Diplo released the video for "Do Si Do" featuring Blanco Brown. The track, which is taken from his country album, Diplo Presents Thomas Wesley Chapter 1: Snake Oil, can be heard now via Columbia Records at the following, Snake Oil.
Directed by Brandon Dermer, "Do So Di" is the second video release from Diplo's debut country album. The first video, "Dance With Me" featuring Thomas Rhett and Young Thug, can be viewed at its corresponding link.
Joined by Young Thug, Noah Cyrus, and Orville Peck last week, Thomas Wesley performed an exclusive set in Fortnite, which will be rebroadcast at 9 a.m. PT / 12 p.m. ET. Having been Diplo's second set in Fornite in recent weeks, he became the first artist to ever play live in the game back in May.
Snake Oil includes the double Platinum single, "Heartless" with Morgan Wallen in addition to "Lonely" with the Jonas Brothers, "Do Si Do" with Blanco Brown, and "So Long" with Cam. In addition, the album also features new collaborations with Zac Brown, Danielle Bradbery, Cyrus, Peck and more.
Having long been brooding about the idea of a country project since 2019 where he welcomed Lil Nas X and Billy Ray Cyrus for the live debut of "Old Town Road," Diplo has since released his own remix of the track. Having appeared on stage at the 2020 Grammy Awards alongside Lil Nas X, Billy Ray Cyrus, Mason Ramsey, BTS and more, Diplo performed the number one hit live to the world. Please see below for a complete track list of the album.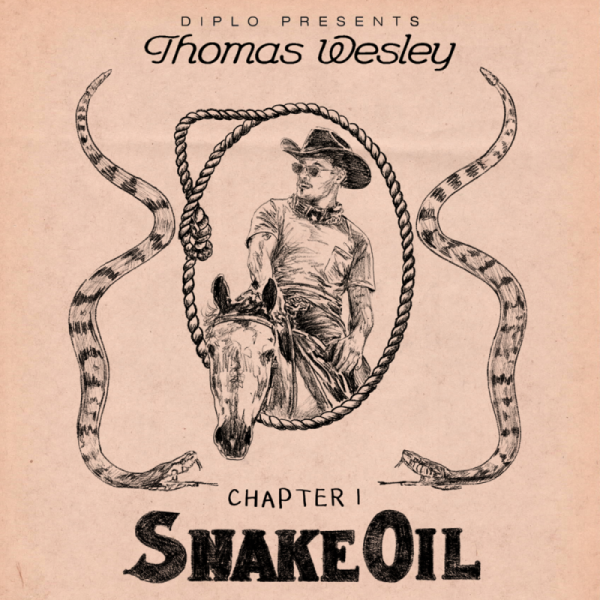 Diplo Presents Thomas Wesley Chapter 1: Snake Oil
Intro feat. Orville Peck
So Long feat. Cam
Heartless feat. Morgan Wallen
Lonely with Jonas Brothers
Dance With Me feat. Thomas Rhett & Young Thug
Do Si Do feat. Blanco Brown
On Mine feat. Noah Cyrus
Real Life Stuff feat. Julia Michaels & Clever
Hometown feat. Zac Brown & Danielle Bradbery
Heartbreak feat. Ben Burgess
Heartless with Julia Michaels & Morgan Wallen
Old Town Road (Diplo Remix)