Legendary dance music artist Paul Oakenfold releases a new documentary film titled, 'SoundTrek: A Music Journey To Mount Everest' which is available to stream exclusively here via the movie and music service  FlixFling.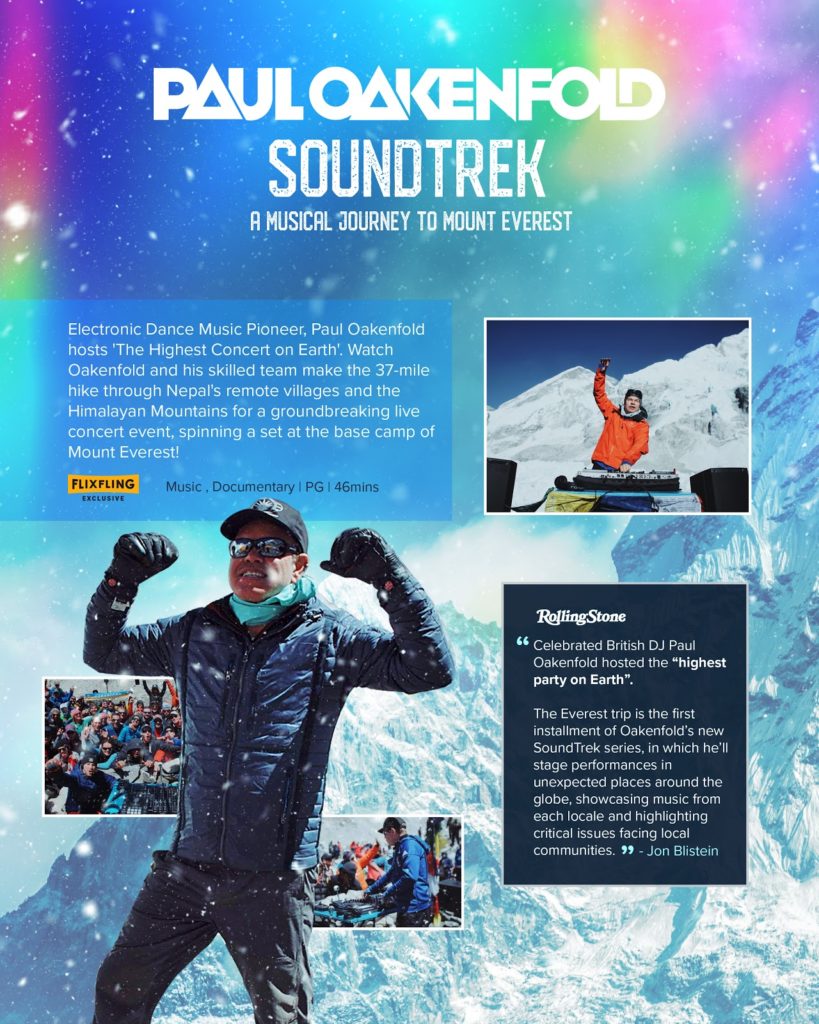 Capturing Paul Oakenfold's April 2017 hike through Nepal, SoundTrek documents the artist's monumental journey through the Himalayan Mountains for a groundbreaking live DJ set at the base camp of Mount Everest.
Marking the "highest concert on earth" at an altitude of 18,800 feet above sea level, the record-breaking show was seen by more than three million worldwide viewers when it streamed live.
The three-hour concert marked the first SoundTrek event that encompassed aspects of music travel, live performance, and philanthropy. SoundTrek Mount Everest raised money for Supporting Nepal's Children and Youth Music.  New charities will be chosen for each SoundTrek expedition based on the local relevance of each iconic location.
"The success of SoundTrek Mount Everest was just the beginning. Based on the amount of money raised for charity and the global success of the adventure, I plan to do many more SoundTreks around the globe."

Paul Oakenfold 
 "SoundTrek is ultimately about people and the connections made with others in these experiences. For me, it is the pinnacle example of how relationships are forged and how the bonds made between individuals can resonate change and awareness in the world.  I'm blessed to be a part of it and one day show my children what we can do when we work together with an open heart and a determined mind."   

Matthew Walk, SoundTrek co-creator
The epic event was captured by internationally recognized and award-winning cinematographer, Mark Fisher, of Fisher Creative.
Stream Paul Oakenfold's SoundTrek: A Music Journey To Mount Everest here. For additional information on Paul Oakenfold, please visit his official website.